Why is a custom closet better than a regular closet? A custom closet takes into account your lifestyle, your design tastes, your budget, your space limitations and what exactly you're trying to organize. You definitely can't get that from a one-size-fits-all closet. Here's how to customize your very own closet so that it works for you and your lifestyle here in Central Illinois, Springfield, Chicago, Peoria, Bloomington, Champaign, Elgin, Barrington Lake County, McHenry County, Kane County, Dupage County and Cook County.
Closet Systems
First things first when you want to put a new closet together: come up with a closet system. A closet system is essentially a blueprint of what kind of closet you want, depending on what room it's in and what it needs to organize. A foundation is designed and put into place that would be suitable for the room you're in and the space you have. Drawers, shelving and cabinetry also serve as the foundation for your new addition.
Reach-In Closet
A reach-in closet system allows you to increase the use of a small space and make adjustments based on evolving needs. Drawers, shelves, inserts, differing heights of hanging rods, and other options give clothing, shoes and accessories a home that is organized and easily accessible.
A configuration of custom materials, finishes and accessories will customize your reach-in closet. A popular example is the Delancy Closet from California Closets: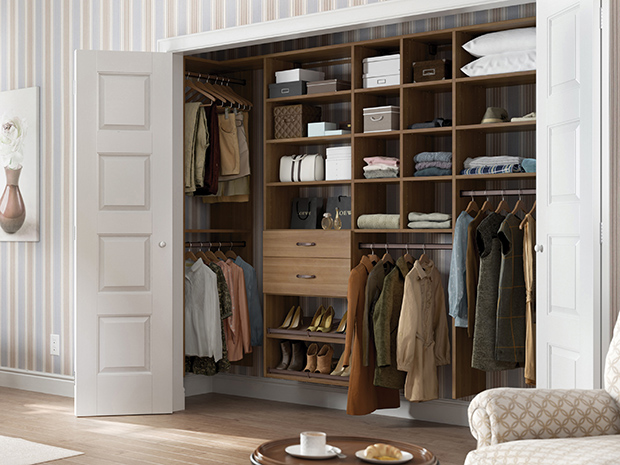 Walk-In Closet
For those with more space, a walk-in closet is the ultimate way to express yourself. With plenty of room to roam and decorate, in addition to closet accessories such as shelving, shoe storage, drawer dividers and jewelry drawer dividers, you can add custom LED display lighting, bench seating and a center island.
With a walk-in closet, the sky is the limit. One of our most popular walk-in closets is the Fashionista Walk-In: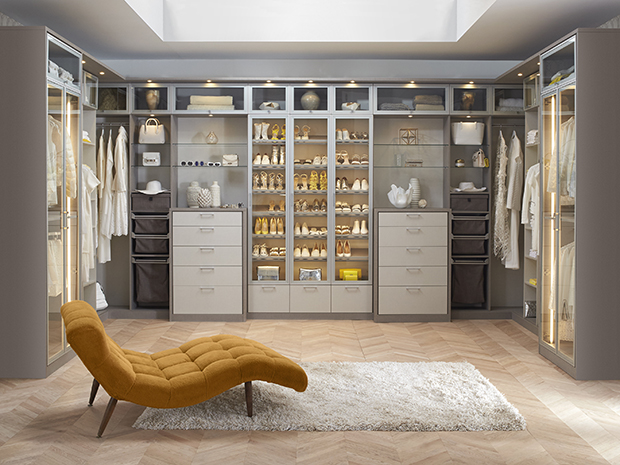 Wardrobe
Closet Accessories
Get started on your very own custom closet today by contacting the California Closets Central Illinois team. You'll receive a complimentary, in-home expert design consultation to go over your unique space and budget. Featured on Houzz, California Closets has nearly four decades of experience in the industry.