Are you out of space in your Austin home? In a sought-after destination such as Austin, it's common to have a smaller space. The designers from California Closets put together a comprehensive list to refer to when it comes to maximizing your space for its ultimate storage potential, whether you live in Austin, New Braunfels, San Marcos, Wimberley, Canyon Lake Area, San Antonio, or greater Central Texas.
The multipurpose room is a brilliant idea for those who want it all. Need a guest room but don't want to sacrifice having a living area or home office? You can have both. A Murphy bed is an expert space saving solution that folds up and into the wall so that by daytime, you can use the space for whatever you want. Custom cabinets are integrated in the Murphy bed solution so that either you or guests can store items while the area stays clean.
The garage is a great place for storage. Why? Because more often than not, you're the only one accessing it. Custom storage cabinetry in the garage takes into mind your quantity of storage and your design tastes for a beautiful look. Holiday décor, tools, sporting and gardening equipment and other items can easily find a home in the deep storage cabinets, drawers, shelves and baskets. Take advantage of every square inch by utilizing precious wall space.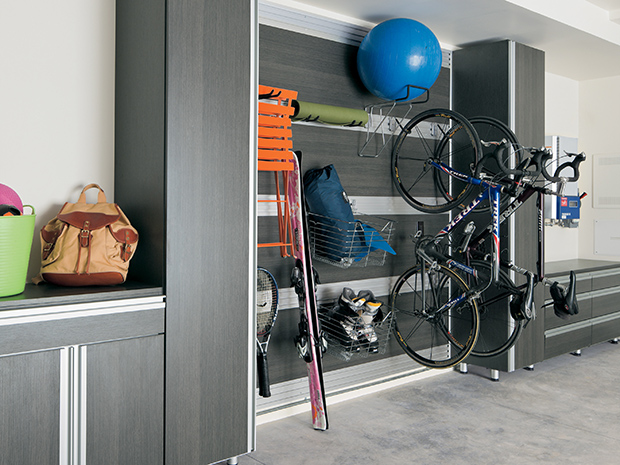 If you're maxed out on space in the bedroom, fear not. A customized reach-in closet will help organize everyone's items — even the shoe obsessed.
A custom-designed closet includes space-saving options, such as multiple hanging areas, adjustable shelving, drawers, baskets, and hampers.
Pullout accessories such as belt, tie, scarf, and valet rods maximize space and organization.
A set of drawers in a reach-in closet adds storage capacity and puts everything within reach. Our drawers feature dovetail construction, undermount slides, and quiet soft-close mechanisms to ensure superior quality and a lifetime of use.
Options for on- or off-the-floor construction are available to fit budget, aesthetic, and storage needs.
Take advantage of corners with custom solutions that maximize small spaces.
Have you ever thought about incorporating storage into your kids' play area?
Although it may seem impossible, you can sneak in storage easily. Here's how:
Drawers and baskets make it easy to go from playing with toys on the floor to placing them back in their designated storage spaces.
Window-seat shelving creates a perfect nook for reading with storage for books underneath.
Pullout baskets are ideal for storing multiple sizes and shapes of toys as well as clothing for easy visibility.
Integrated desks create a space for working on projects or doing homework. Desk storage, from shelves with doors to drawers, can corral school supplies.
Shelving keeps items off of the floor and in a dedicated space, making cleanup simple.
Small storage areas and cubbies ensure that items like blocks and figurines always end up in their proper places.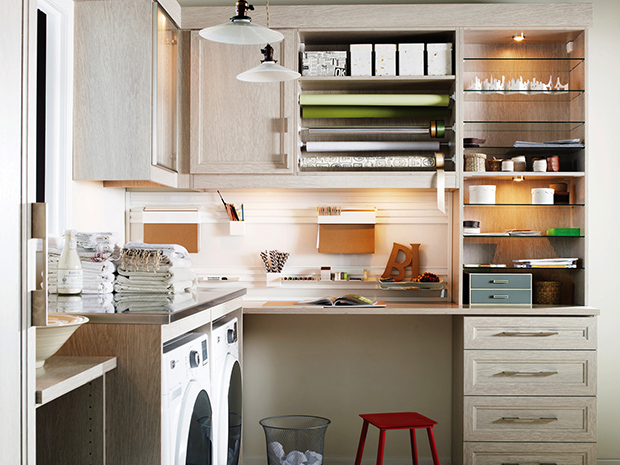 Have you ever thought about redesigning your laundry room so that it has plenty of storage potential? In addition to having drawers, cabinets and shelving to organize your laundry and cleaning supplies, the utility room is a great place to store materials and conduct projects in. Upper storage and shelving for paper, scissors, tape and more will give you a dedicated space to work (with the addition of open counter space).
If you're ready to maximize your space and use all the potential your home already has, contact the California Closets Austin team today. You'll receive a complimentary expert in-home design consultation where our designers will work with you one-on-one to go over your unique space and budget. Or, stop by our Austin showroom to see everything we have to offer.