A Touch of Glamour for Fashion Blogger Lana Alicia
client: Lana Alicia
location: Las Vegas, NV
design consultant: Andrea Nava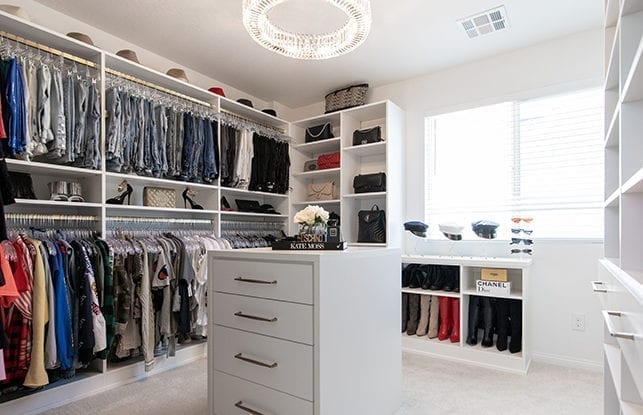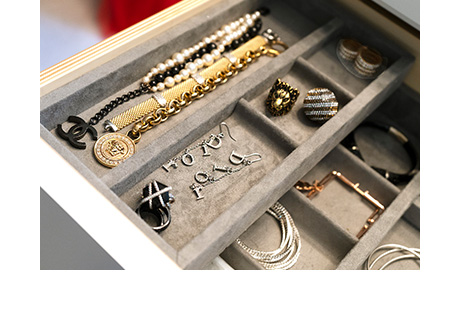 What She Wanted
---

It was all excitement for fashion blogger Lana Alicia and her boyfriend when they built their new home together. Top of Lana's wish list of renovations was turning a guest room into a walk-in closet that would beautifully showcase and organize her wardrobe. The space needed to feel clean and serene like the rest of the home, but also flaunt a bit of her personal style to make it feel like her own. After researching ideas and options, Lana turned to California Closets Las Vegas to design the custom closet of her dreams.



When my closet was complete, and time for me to style, it had to scream "Lana Alicia." I didn't want the typical super girly closet with pink accents and a classic
chandelier. I wanted it to be fashion forward, edgy, and designer.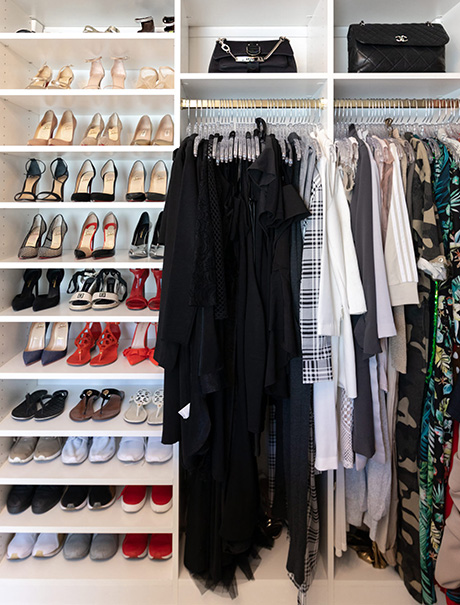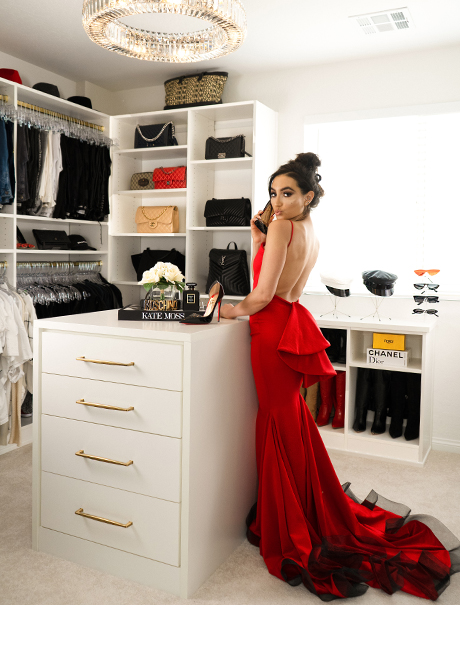 How we did it
---
Lana collaborated with California Closets design consultant Andrea Nava on every detail. Aesthetically, Lana chose a crisp white finish to carry a consistent look throughout her home and offset her impressive wardrobe. She and Andrea decided on gold-toned hardware to add warmth, and Andrea incorporated plenty of open shelving throughout the room—which allowed Lana to further express her personality and creatively display her colorful collections of designer shoes and handbags.
Andrea took great care to accommodate Lana's entire inventory throughout the design process and made sure the room featured the perfect amount of hanging space at the necessary heights for longer and shorter items. She also designated storage areas for Lana's hats, larger boots, sunglasses, and necklaces—and even included valet rods so that Lana could pull together and display looks for upcoming blog shoots. To accommodate coats, jackets, and folded items, Andrea converted the room's existing small closet into a smaller, walk-in closet area. Finally, to complete the room-turned-master-closet, Andrea added an elegant double-sided island to give Lana a chic display area for personal items, as well as additional storage space for folded items and smaller jewelry.
Lana was so thoughtful and passionate about this project, and I couldn't help but mirror that enthusiasm as we worked together to achieve the closet she envisioned—we had
so much fun!
final result
---
To create a boutique-like feel, Lana also added her own bold chandelier to accessorize the space. Now, with her entire wardrobe successfully stored and organized, she can finally enjoy having a closet that truly feels like her own.
Photo Credits:
Haley Whalen
---
Design Details
Hardware & Accessories:
Gold decorative hardware and hanging poles
Microsuede jewelry drawer inserts
Accents:
Slab drawer fronts
*Note: product availability may vary by location
---
---
Why Wait?
Book a free consultation today – and ask about virtual consultations.