Perfecting a Design Studio for Bay Area Interior Designer and Rue Co-Founder Crystal Palecek
client: Crystal Palecek
location: Kentfield, CA
design consultant: Caren Antone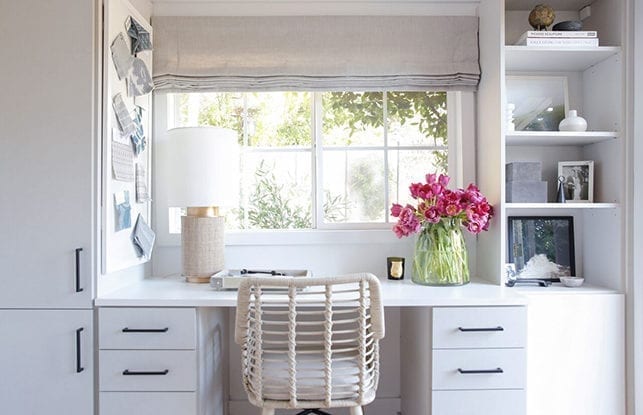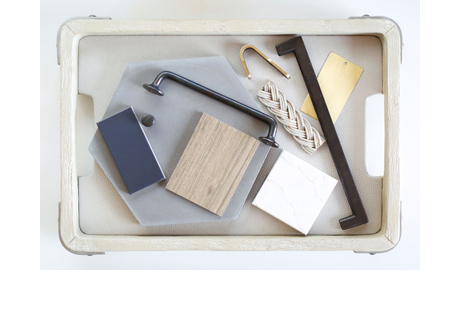 What She Wanted
---
Crystal Palecek, a busy mom and entrepreneur, successfully co-founded and guided the success of Rue magazine by channeling her longtime passion for interior design. During the
process of renovating and redecorating her family's new home, Crystal decided to reimagine the pool cabana into her personal studio where she could transition her professional focus from the pages of Rue to interior design projects. Already striking with its pitched ceiling and exposed beams, the light-filled space needed to feel inviting and echo the classic, California-cool style she had created throughout the rest of her home.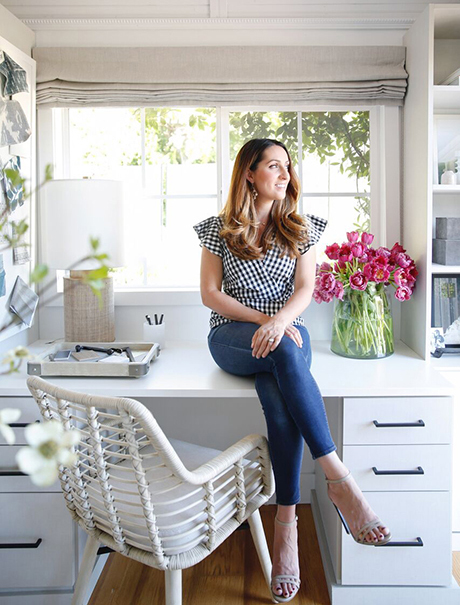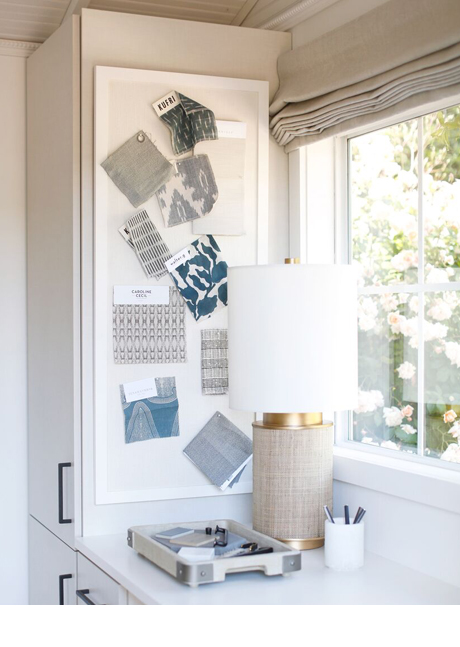 How we did it
---
To achieve her vision, Crystal enlisted the expertise of California Closets San Francisco design consultant Caren Antone. Caren worked within Crystal's desired neutral palette, and considered the multifunctional needs of the entire studio to create a streamlined desk design that would give Crystal ample workspace and storage. Caren and Crystal went over every detail: dedicated space for the printer; separate shelving area to accommodate specific containers of product samples and supplies; a hidden area for a power strip; and open shelving to display books and keepsakes. Finally, to balance the entire space, Crystal curated a contemporary art wall to add visual interest and incorporated a cozy seating area.
A custom built-in by California Closets for my desk area and storage was in my design plan from day one and was definitely a jumping off point.
Since the footprint of the space is limited, I knew this would be an efficient use of space and provide the storage I needed.
final result
---
Crystal now has a pretty and professional home studio where she can focus on her personal design projects. Everything she needs has a place to give her the organized and well-appointed environment she wanted.
---
Design Details
Hardware & Accessories:
Black Bronze handles
Accents:
Base molding
*Note: product availability may vary by location
---
---
Why Wait?
Book a free consultation today – and ask about virtual consultations.