Interior Designer Dina Bandman's Whimsical Nursery
client: Dina Bandman
location: San Francisco, CA
design consultant: Cygridh Rooney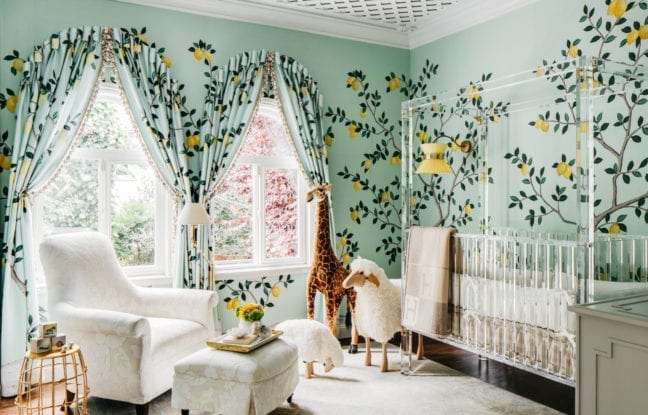 Dina Bandman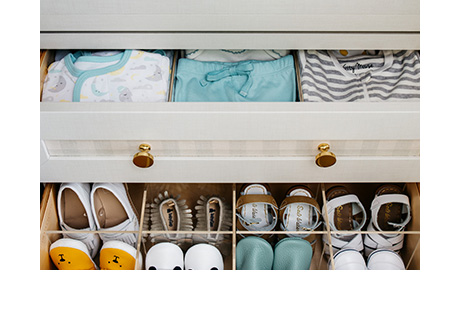 What She Wanted
---
As if it appeared from the pages of a magical fairytale, interior designer Dina Bandman's dreamlike "Lemondrop Lullaby" nursery inspires joy and delight. This cheerful space—first revealed at the 2018 San Francisco Showcase—features bold pops of citrus yellow beaming from the room's custom, hand-painted and sequin-embellished wallpaper from British wallpaper house de Gournay and a stunning 4 poster lucite crib of Dina's own design. Enamored by her recent travels to Italy's Amalfi Coast, Dina wanted to wow visitors with this magnificent twist on the modern nursery, and her touch could be found in every detail—including the closet, which needed to reflect the room's perfect balance of function and finery.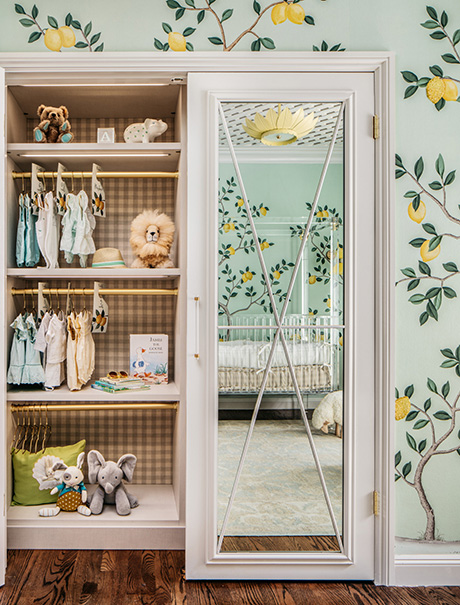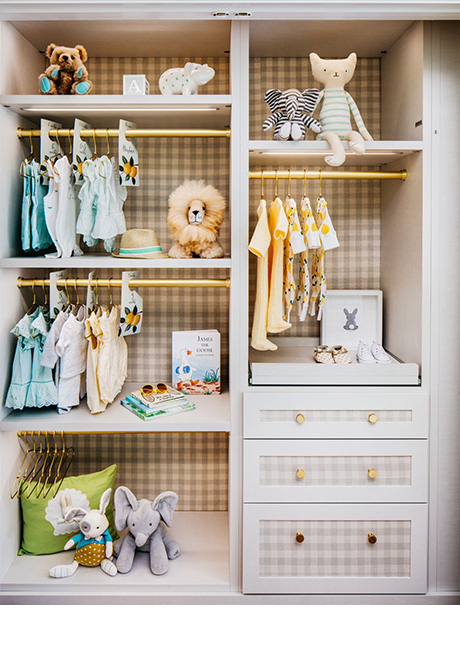 How we did it
---
Dina worked closely with California Closets design consultant Cygridh Rooney to achieve the perfect closet for the nursery. To complement the room's look and feel, Cygridh incorporated accents of gold and acrylic, as well as 5-piece drawer fronts in a linen finish, to play off the rich palette used throughout the nursery. Beyond ample storage, Cygridh's design also featured lighting for added visibility. Finally, to seamlessly tie the whole room together, Dina applied a lovely linen checkered textile to the back of the closet and to the drawer fronts (the same pattern used in the custom nursery bedding) and sourced an embellished, mirror-paneled closet door.
Working with California Closets was a dream—they really listened to all of my ideas for this baby's closet….and there were many!

I wanted to be able to organize everything in a neat and thoughtful manner, but because baby clothing is so adorable, I wanted a few items to be "on display" instead of having everything hidden away. The design we created achieved just that in such a happy decorative way!
final result
---
The final result was spectacular! This custom closet added another charming dimension to the nursery.
Thoughtful, sophisticated, and full of character, the closet—like the rest of the nursery's memorable design—proves that a baby's space can be a defining room in the home.
---
Design Details
Finishes:
Tesoro™ Linen
De Gournay wallpaper as accent applied by client
Hardware & Accessories:
Gold hanging poles
Client supplied knobs
Acrylic cubby drawer divider
Acrylic front-to-back drawer dividers
Pull-out shelf
Accents:
5-pc Square Miter drawer fronts
LED ribbon lighting
*Note: product availability may vary by location
---
Meet the team
Cygridh Rooney
Design Consultant
---
Why Wait?
Book your free consultation today.
Schedule My Free
Design Consultation