Fashion Meets Function for a Style Maven
client: Jude M.
location: Calgary, AB
design consultant: LiShelle Trembath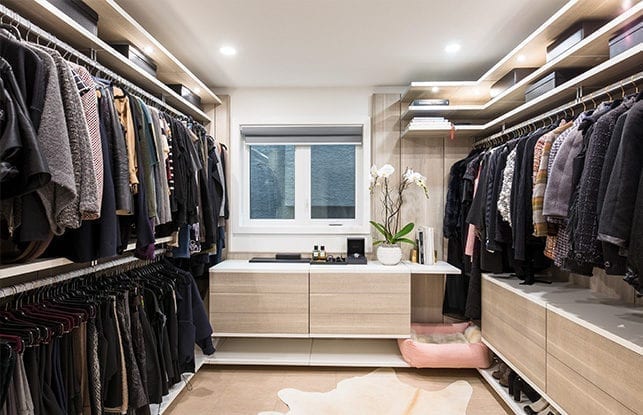 Jude M.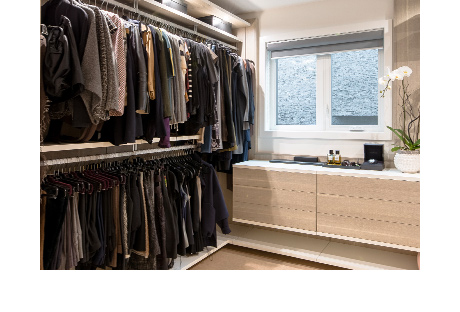 What She Wanted
---
A buyer for Chanel, Jude M. harbors an acute eye for style—one that was dissatisfied by a makeshift closet lacking in both design and order. When her husband agreed to trade his office for the closet of her dreams, Jude knew exactly what she wanted: a signature space that married premium function with her distinct aesthetic—a careful mix of transitional and contemporary distinguished by personalized accents. With her vision in place, she contacted California Closets Alberta to put her ideas in motion.
With her new closet, Jude doesn't have to choose between function and great design. Now all her gorgeous clothing, shoes, and accessories have a beautiful home.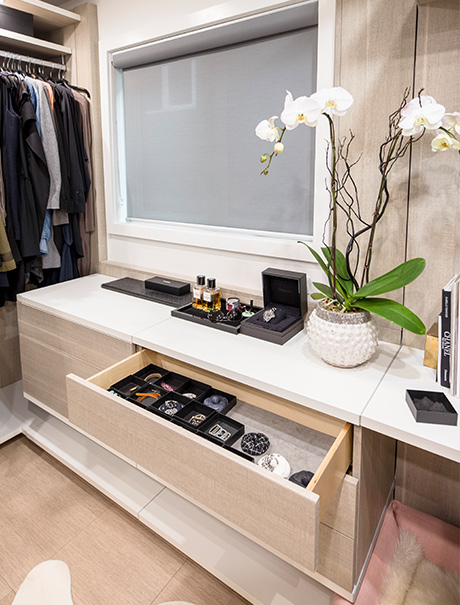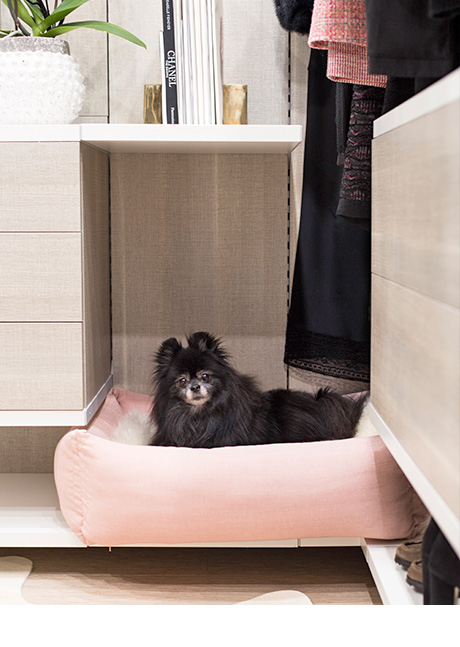 How we did it
---
Designer LiShelle Trembath knew precise attention to detail would lay the groundwork for Jude's clear-cut vision. The duo meticulously reviewed lighting options, paint colors, wall measurements, electrical wiring, and personal requests—a home for beloved pet dog and a shelf for her orchids—to tailor a custom space exactly to Jude's preferences. LiShelle also assessed Jude's wardrobe and accessories to create an artful balance of closed cabinetry, open hanging, and shelving, including plenty of dedicated shoe storage to organize her full collection.
final result
---
A clean-lined closet with classic appeal designed distinctly for Jude, from style to function. The careful color palette matches the rest of the home for seamless integration; an open area beneath an extended shelf provides a perch for her pet; and custom storage throughout makes her wardrobe easily accessible. For once, Jude is proud to leave her closet door wide open—and happily does.
Photo Credits:
Hayley Hudson
---
Design Details
Finish:
Tesoro Pietra Backing and Drawer Faces
Classic White Shelves
Hardware & Accessories:
Fluted Matte Aluminum Hanging Poles
Push to Open Drawers
Accents:
Cool High Intensity Puck Lights
Morning Fog Microsuede Drawer Liners
Aluminum Frame Door w/Mirror Insert
Note: product availability may vary by location
---
---
Why Wait?
Book your free consultation today.