Chic Southern Charm for Fashion Blogger Caitlin Covington
client: Caitlin Covington
location: Charlotte, NC
design consultant: Amber Colo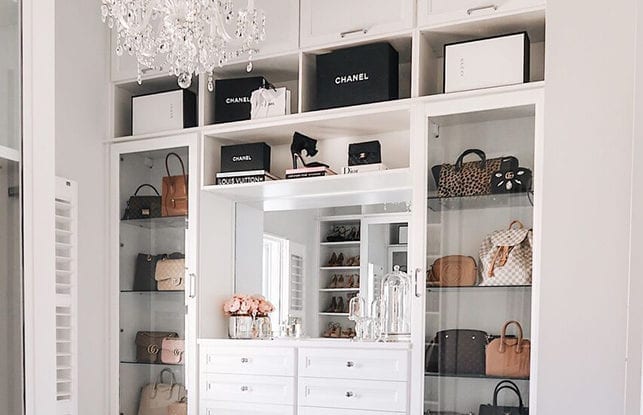 Caitlin Covington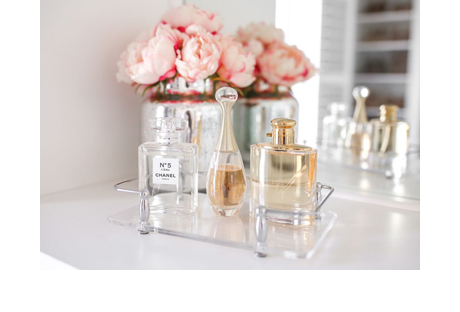 What She Wanted
---
Beauty, quality, and exceptional function—these were the qualities that Southern Curls and Pearls blogger Caitlin Covington wanted reflected in her dream closet. When she first moved into her home, the master closet left much to be desired. Despite being a large space with high ceilings and lovely natural light, its existing storage design made the space difficult to enjoy and properly utilize, and older carpeting didn't exactly enhance the room's aesthetic appeal. When Caitlin was ready to transform the space and bring her discerning vision to life, she collaborated with California Closets North Carolina design consult Amber Colo to achieve exactly what she wanted.
I wanted to take advantage of all the empty wall space—a design that would be both functional and pretty with crystal knobs, a chandelier and even a wall of shoes! Amber nailed EVERY single detail I wanted!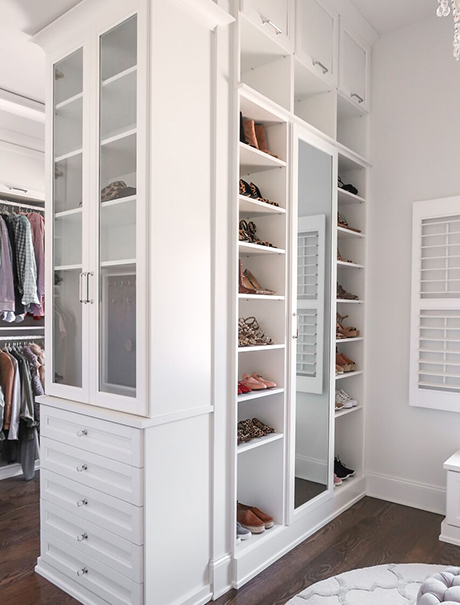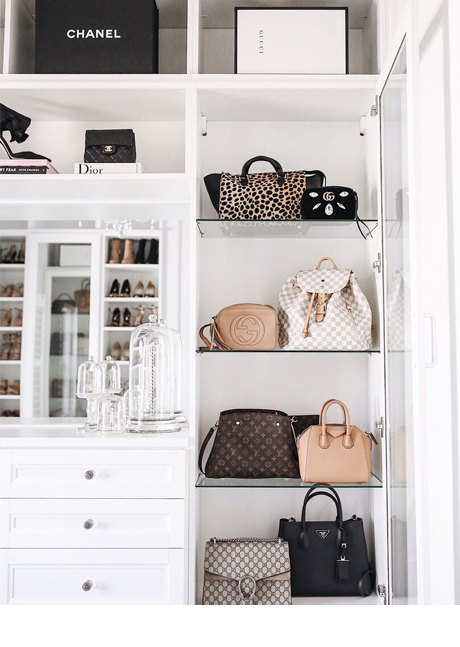 How we did it
---
Amber worked closely with Caitlin on a custom organizational solution to elegantly optimize the whole room. An entire wall for hanging plus ample drawers and shoe storage accommodated Caitlin's wardrobe, while shelving designed with pretty glass doors provided a perfect perch for her collection of handbags. Amber also incorporated special details such as a built-in window seat with drawers and velvet-lined jewelry cabinet. Finally, a full-length mirror and vanity created a sense of openness, and also reflected the room's overall design which Caitlin further enhanced with a chandelier, tufted ottoman, and new floors.
I wanted to give Caitlin a luxurious space with a true WOW factor. She shoots inside her closet often for her blog so it was really important that the space feel clean and composed.
final result
---
Finally a usable space she loves, Caitlin's new master closet provides happiness and peace of mind that is timeless.
---
Design Details
Finish:
Lago® Belissima White
Hardware & Accessories:
Matte Aluminum hanging poles
Polished chrome handles and knobs with crystal
Pull-out valet rod
Pull-out tie and belt racks
Two-tier grey microsuede jewelry inserts
Accents:
Belissima White backing
Mirror backing
Glass shelves
5-piece Modern French drawer fronts
Crown and base molding
LED lighting
*Note: product availability may vary by location
---
---
Why Wait?
Book your free consultation today.
Schedule My Free
Design Consultation