Here in Modesto, it's easy to let your garage get out of hand. At California Closets, we believe the garage is actually a vital extension of your home. If designed properly, you'll have a gorgeous, functional garage space with extra room for your car, storage and projects.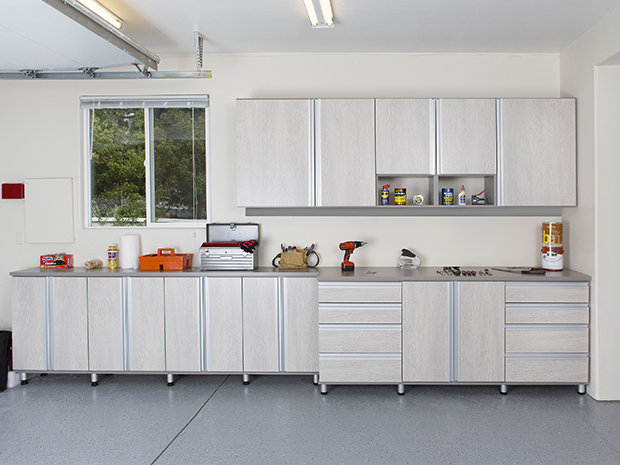 Your Garage as the Ultimate Storage Solution
If your main purpose of your garage is storage, you've come to no better place to reorganize your space. Custom-designed cabinetry, drawers, shelves, and specialty racks create a purposeful room for efficiently storing tools, sports equipment, keepsakes and holiday decorations.
Garage Cabinets stores everything from seasonal décor to sporting goods to tools. Keep items you don't want seen concealed in deep and spacious cabinets that are beautiful enough to elevate your entire garage.
A Garage Fusion Track Wall System is a durable metal component that helps you get the most out of your garage space by storing things on the wall. Everything from bikes to rakes can hang so that absolutely nothing is left on the garage floor.
Garage Baskets easily provides accessible storage for odd-shaped items such as balls, helmets and gardening equipment.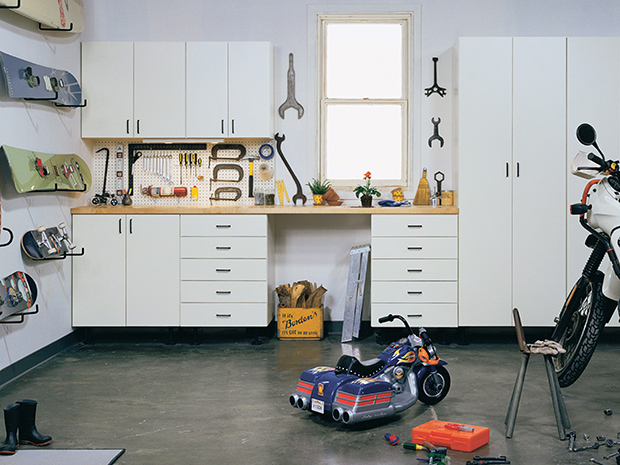 Your Garage as the Ultimate Workspace
If you're a crafter, a carpenter or would love to have a home office in your garage, it is absolutely possible. Versatile storage options, including cabinets and Fusion and Track Wall Systems, organize often-used tools and equipment for easy access. A personalized and integrated workspace maximizes efficiency and square footage.
A Work Counter provides ample space for gardening or working on projects.
Baskets can be designed to hold drop cloths, garden supplies, craft and art supplies, tools, or objects for recycling.
Custom Cabinetry holds items for your hobby or project, as well as necessary tools.
The way we see it, the garage is definitely far from a one-dimensional space. Store items, stow your cars, and get projects done in this multipurpose space. Get started today with the professionals at California Closets Modesto. You'll receive a complimentary expert design consultation to meet your designer here in Modesto, Stockton or Salida. You can also visit our Modesto showroom and discuss your personal goals for your home.