Are you bored with your closet or shelving system in your home? Then it might be time for a redesign. Our Charlotte team from California Closets have put together some design ideas and finishes to revamp your space, whether you live in Charlotte, Gastonia, Concord, Huntersville, Matthews, Monroe, Mooresville, Fort Mill or Port Charlotte.
Shelving and countertops complement the other elements in your storage system. Unique configurations that incorporate floating shelves, leather, and a mix of open and closed designs allow you to tailor a space specifically to your style and needs.
In addition to base closet materials, choose from a range of unique materials and specialty options for shelving and countertops that add design accents to your storage system.
Floating and glass shelves open up a room to create the illusion of more space.
The box-within-a-box design adds visual interest.
Leather infuses your system with a touch of luxury.
Frosted or clear glass shelves showcase your favorite items in style.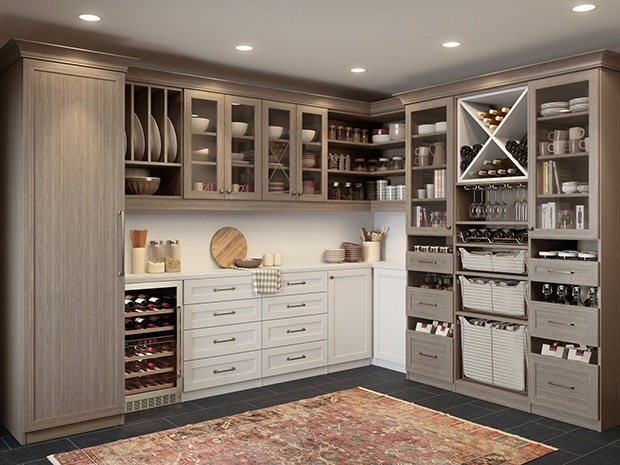 While our storage systems can include countertops built from base closet material, we also offer specialty countertops as luxury accents that complement the other elements in your design.
Beautiful Chroma countertops combine the best of sustainability and functionality with gorgeous colors and styles.
Produced from optical grade engineered resin, Chroma features a durable matte texture that can be easily refinished throughout its lifetime. The surface has amazing clarity—you'd never guess it incorporates 40 percent recycled content.
Specialty back-painted glass and etched glass add can provide variety to a design—anything from subtle visual texture to a bold colorful accent.
Hide leather and recycled leather options add tailored accents for tactile dimension and luxury.
Finishes at California Closets
Every budget, style, and home is unique and different, so we've provided a few different finish options for you here in Charlotte. Some of our popular shelving finishes include: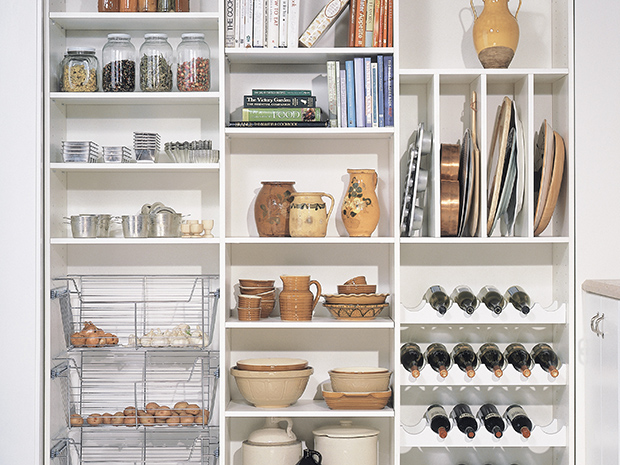 Tesoro™ Collection – Imported from Italy and exclusive to California Closets, this finish is a unique play of rich wood textures, classic textile patterns, and intriguing color contrasts. Tesoro™ designs evoke the stunning dynamics of the fashion industry and set a new benchmark in home décor. All Tesoro ™ colors are CARB (California Air Resources Board) compliant and eco-friendly.
Lago® Collection – Defined by its rich Italian-inspired finishes and unique wood grains, as well as its exceptional craftsmanship. Lago®'s unique grain texture and colors provide the look, feel, and quality of real wood veneer. This finish is as natural as it appears, too: in our commitment to creating healthier homes, we've ensured that Lago ® finishes are CARB (California Air Resources Board) compliant and meet the emissions standards for clean and safe wood.
Classic Collection – Our versatile Classic Collection can be used as the base for an entire system or layered in as a complementary color or design accent. Its color palette was chosen to balance and harmonize with our other material finishes as well as range of decorative styles. All Classic colors are CARB (California Air Resources Board) compliant and eco-friendly.
No matter where you live in Charlotte, you should have a beautiful shelving system and finish that you'll love for years to come. Get started today by contacting the California Closets Charlotte team to set up your free expert design consultation. Featured on Houzz, California Closets has nearly four decades in the storage and closet design industry and is the leading name for homes across the country. Get started today at our Charlotte showroom.