Your bedroom is the most personalized space in your home. And here in Syracuse, you need to be able to come home to something you truly love. The designers from California Closets put together ways to personalize and customize your closet so that it's not only organized, but also speaks your language, whether you live in Rochester, Utica, New Hartford, Clinton, Whitesboro, Rome, Oneida, or Verona.
A custom bedroom closet is crucial for maintaining tranquility within the most relaxing space in your home. The most popular closet types are:
Reach-In Closet: A reach-in closet system allows you to increase the use of a small space and make adjustments based on evolving needs. Drawers, shelves, inserts, differing heights of hanging rods, and other options give clothing, shoes and accessories a home that is organized and easily accessible.
A configuration of custom materials, finishes and accessories will customize your reach-in closet. A popular example is the Delancey Closet from California Closets: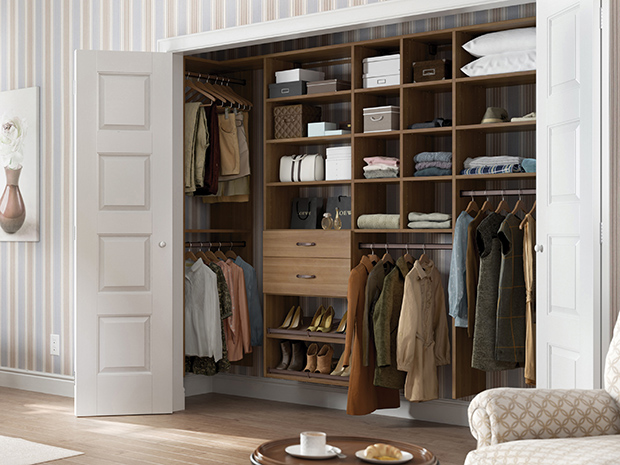 A warm-hued, reach-in storage system complements the colors of the existing room and provides functional organization.
Lago® Roman Walnut system complements the color palette of the bedroom.
Front-to-back reach-in design creates easy accessibility.
Roman Walnut slab drawer fronts lend a seamless aesthetic.
Oil-rubbed Bronze shoe fences keep footwear in place.
Oil-rubbed Bronze poles and decorative hardware offer a monochromatic palette.
Cubbies offer flexible storage for clothing and accessories.
Adjustable shelves enable adaptability.
Fluted Aluminum poles offer space for hanging clothes.
Walk-In Closet: For those with more space, a walk-in closet is the ultimate way to express yourself. With plenty of room to roam and decorate, in addition to closet accessories such as shelving, shoe storage, drawer dividers and jewelry drawer dividers, you can add custom LED display lighting, bench seating and a center island.
With a walk-in closet, the sky is the limit. One of our most popular walk-in closets is the Fashionista Walk-In: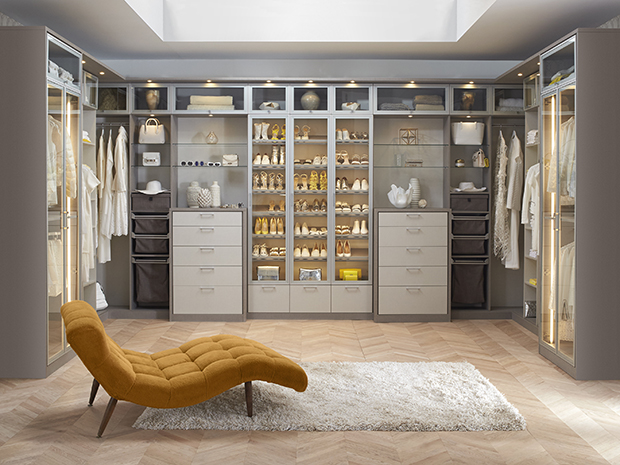 With a soft color palette and rich textural details, fashion meets function for a walk-in closet that feels like a personal boutique.
Tesoro™ Linen and Corsican Weave finishes create a soft color palette.
Matte Aluminum doors with clear glass inserts display shoes and accessories.
Matte Aluminum hardware adds a polished finish.
Two built-in chests with drawers, pullout baskets and hampers offer concealed storage.
Glass shelves showcase collectibles and handbags.
Lighted shoe storage, lit closet side panels and overhead ambient lighting offer a boutique-like feel.
LED technology offers energy-efficient lighting.
Waterfall countertop edge detail and modern top cap trim detail create a built-in look.
Wardrobe:
For those who are tight on space or want a mobile closet, a wardrobe is a beautiful option that moves with you. A custom-designed piece of furniture, a wardrobe system will carry with you through life and can be completely customizable on the inside and out. With the same functions as a reach-in closet, such as multiple hanging areas and drawers, you will have stylish way to organize your items.
One of our popular wardrobe designs, the Hotel Wardrobe fits into many design aesthetics: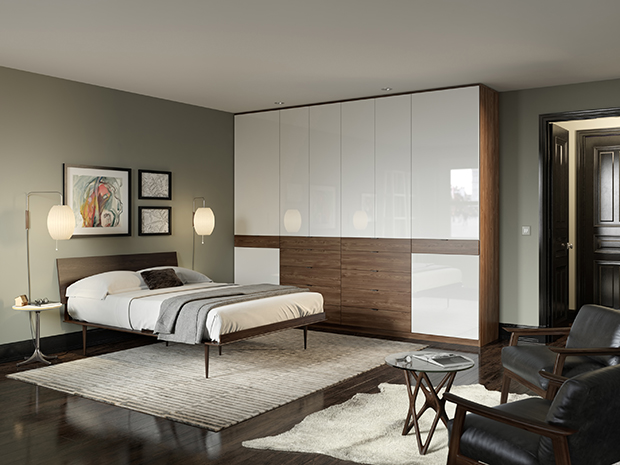 Designed as a custom piece of furniture, this wardrobe adds essential storage to any small space.
Lago® Sorrento finish creates a rich, modern look.
High-gloss White drawer and door fronts provide sleek contrast.
Stainless steel finger pulls and polish.
Slab Lago® Sorrento door fronts add visual interest and contrast to the design.
Oil-rubbed Bronze metal accents and accessories blend seamlessly into the color palette.
Wardrobe style offers concealed storage.
If you're ready to get a beautiful custom closet that speaks your language, contact the design experts at California Closets Syracuse. You'll receive a complimentary in-home expert design consultation to go over your unique home, budget and goals. Featured on Houzz, California Closets has been the leading storage and closet designer transforming homes for nearly four decades. Visit our Dewitt showroom to learn more.