Are you finding that you're running out of space in your master closet here in Roanoke? To help with this issue, sometimes you have to get creative about storage. The California Closets Roanoke team put together simple solutions for residents living in Roanoke, Salem, Southwest Virginia, Charlottesville, Christiansburg, Smith Mountain Lake, Bedford, Lynchburg, Franklin County, Rocky Mount, Blacksburg and Fincastle.
Come up with a System
Before starting a new organization project, you have to come up with a system. Understanding the goals of your room and closet are crucial in order to organize the best way you can. A closet system acts as a blueprint to put everything in place depending on what kind of closet you need: whether a reach-in closet, wardrobe or walk-in closet.
Implement Closet Accessories
You have a rack and a couple of shelves – no wonder you still have a pile of clothes sitting on the floor. In order to organize your closet, you need to have a specific home for every one of your accessories or pieces of clothing. Closet accessories are an easy way to do this. Examples of closet accessories include:
Shoe Storage – From shoe fences to glass shelving, beautifully store and display your collection.
Drawer and Shelf Dividers – Keep your t-shirts, socks and pants separate.
Jewelry Drawer Dividers – Create storage and display for your jewelry, from costume jewelry to precious heirlooms to everyday rings and bracelets.
Hooks and Poles – Hang purses, scarves and more with ease.
Pullout Racks and Accessories – Store tie, belt, scarves and more with racks, valets and mirrors.
Hampers and Baskets – Conceal dirty clothes with pullout hampers and baskets.
Think Up, Not Out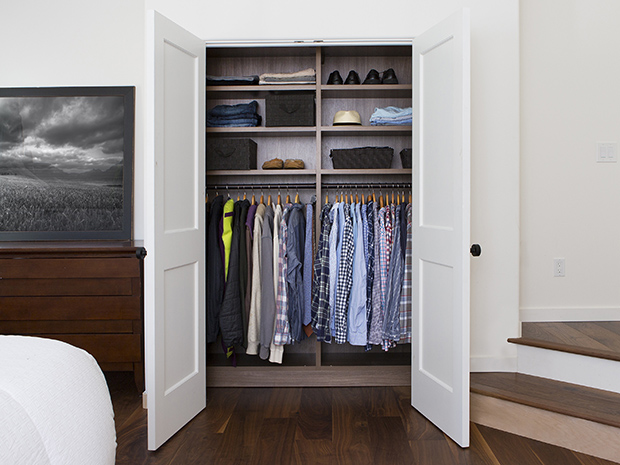 The key to maximizing space is to store in all of the places you haven't thought of before. A slat wall system allows you to hang belts, ties, scarves, earrings and much more so you have a closet that's free of "stuff" on the ground. Other options, such as multiple hanging areas, shelving and more, provide additional storage.
Get stared on your very own closet system by contacting the California Closets Roanoke team. Featured on Houzz, California Closets has been helping residents across the country organize their homes for nearly four decades. Contact the team today to receive your complimentary in-home expert design consultation.