There's a common conundrum for people with limited space in their homes: there's never a place to comfortably sleep guests. You may have a spare room, but don't want to give it up to only be used a small fraction of the year. The solution? Installing a custom wall bed here in Ft. Worth, Arlington, Azle, Bedford, Benbrook,  Burleson, Cedar Hill, Colleyville, Colony, Coppell or Crowley.
A wall bed, also known as a Murphy bed, is a fold-down bed that conveniently rests inside the wall when not in use. This way, you can use your spare room as a home office, playroom, fitness room or something else. The fold-down bed system comes with custom cabinetry and styles, so that it suits your natural home design aesthetic.
Styles of Wall Beds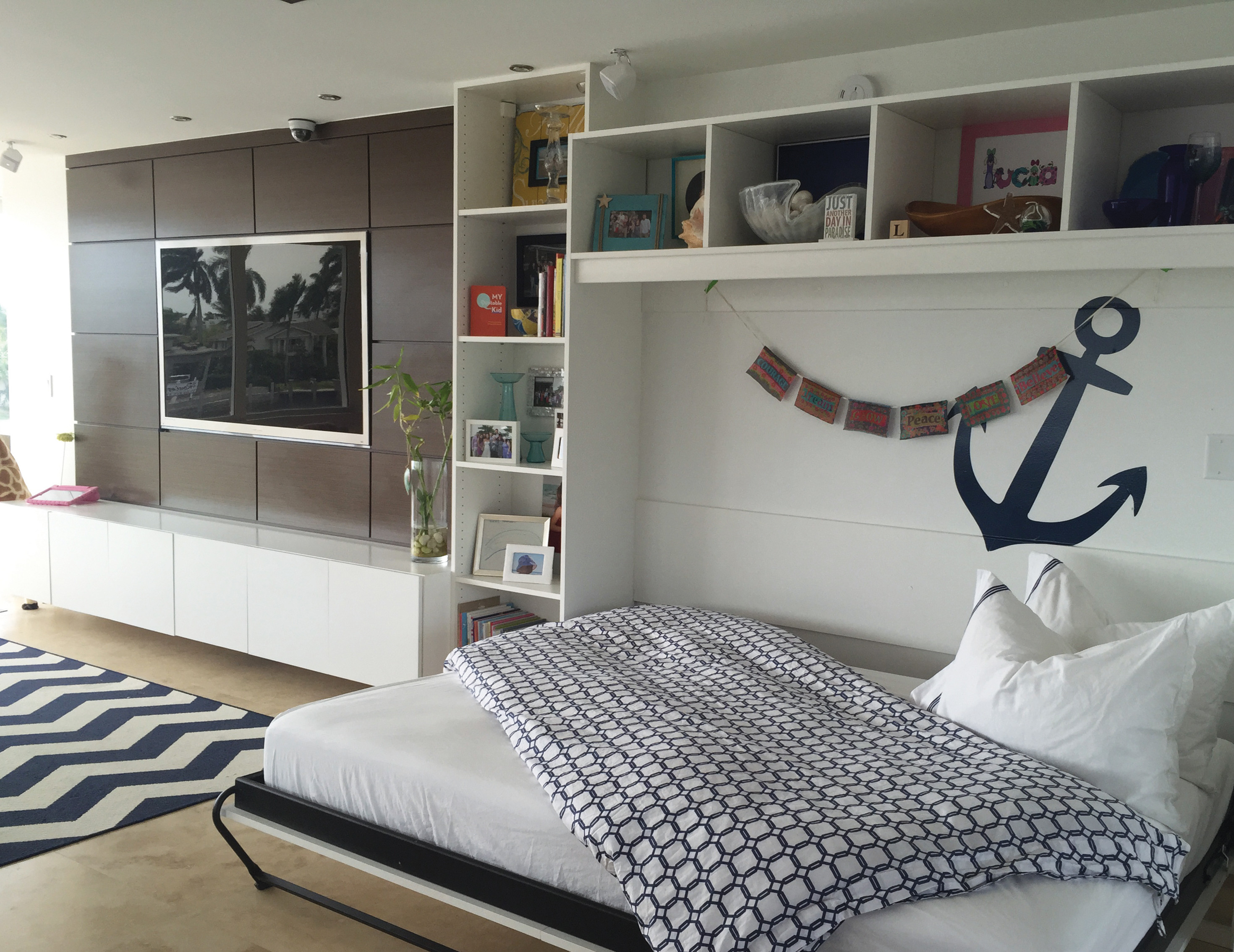 Standard Wall Bed: The more standard configuration, this option feels more like a traditional bed. A more popular choice, the vertical system allows the user to have access to both sides of the bed. Usable storage is included to make the most of the space.
Side-Tilt Wall Bed: Ideal for use in a playroom or office, this configuration perfectly utilizes available wall space. An ideal solution when square footage is minimal, this wall bed has less of a footprint into the room when opened. Usable storage is also included to make the most of the space.
Wall Bed Features
A wall bed creates a multipurpose room to accommodate out-of-town guests without interrupting the everyday functionality of your office space.
A full range of bed sizes accommodates a variety of needs.
A side-tilt option optimizes limited space whereas the standard bed style extends perpendicular to the wall and feels like a traditional bed.
A pullout drawer with a side table acts as a nightstand.
Storage cabinets around the bed store pillows, blankets, and sheets.
Decorative molding and trim options give this unit the look of built-in furniture, seamlessly integrating it into any space.
Create a functional home office with a wall bed in the mix. This creates a highly-organized, functional and multifunctional use of space that you'll have for life, and  one that your guests will enjoy, too.
Get started on your wall bed solution today by contacting the California Closets Ft. Worth team. You'll receive a complimentary in-home expert design consultation to go over your budget, space and needs.