Do you avoid hanging out in your laundry room, and only use it to wash and dry clothes? Regardless of what you might think, the laundry or utility room can be utilized as home storage and an area to conduct projects in. Here's how to redesign your space to make it a multipurpose utility room for homeowners in Dallas, Dalworthington Gardens, Decatur, Dennis, Denton County, DeSoto, Duncanville, Edgecliff Village, Elmo, Rendon, Reno, Rhome or Richardson.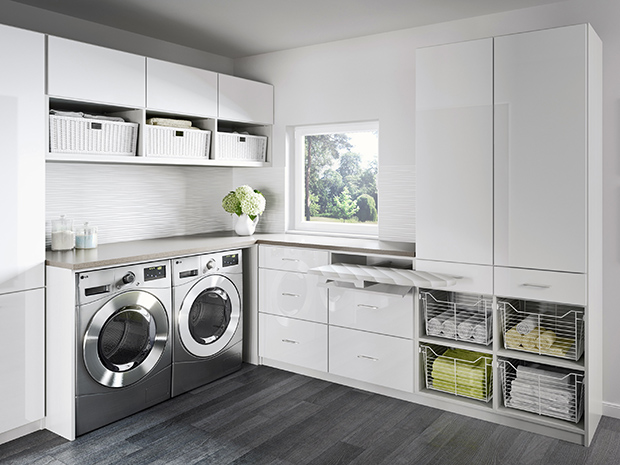 INCORPORATE A COUNTER AREA
Having free space for a counter area is great for folding clothes and linens so you don't have to do it on the floor. Adding plants and jars will elevate the space and breathe new life into the space.
UTILIZE BASKETS AND BINS
Make sorting laundry easy and fun by getting plenty of baskets and bins for towels, whites, darks, socks and more. Pullout hampers are great so you can conceal dirty clothes to keep an elegant laundry room aesthetic.
GET SMART ABOUT STORAGE
Cabinets and shelves store laundry detergents, cleaning supplies, and towels. Selecting a beautiful material and finish will bring your design dreams to life so that everything is cohesive.
GET STORAGE FOR CLEANING SUPPLIES
Yes, even your detergent needs a home. Rather than leaving cleaning supplies out in the open, having a pullout rack for detergents, linens, mops, brooms and other items organize often-used items.
INCORPORATE DOORS AND DRAWERS
Doors are a great way to conceal items while providing style. Drawers keep things organized, and drawer dividers organize what's in your drawer.
PROVIDE UPPER STORAGE FOR PROJECTS
Laundry rooms are also a great place to conduct projects. Upper storage for paper, scissors and tools will organize your project items and give you a creative, collaborative space to work in.
To get started on your laundry room transformation, give the California Closets Dallas team a call. You'll receive a complimentary expert design consultation to discuss your budget and goals, or you can visit the Dallas showroom. Featured on Houzz, California Closets has been in the storage and closet design industry for nearly four decades, transforming homes across the country.