To get a truly functional and beautiful kitchen, you need a customized pantry system. A variety of custom cabinetry and kitchen accessories work together to best organize and find a home for all of your dishware items and ingredients, no matter how much of a chef you are, for homeowners here in Cincinnati, Dayton, Covington, Cleveland, Columbus, Hamilton, Fairfield, Kettering, Lebanon and Loveland.
Create Customized Cabinetry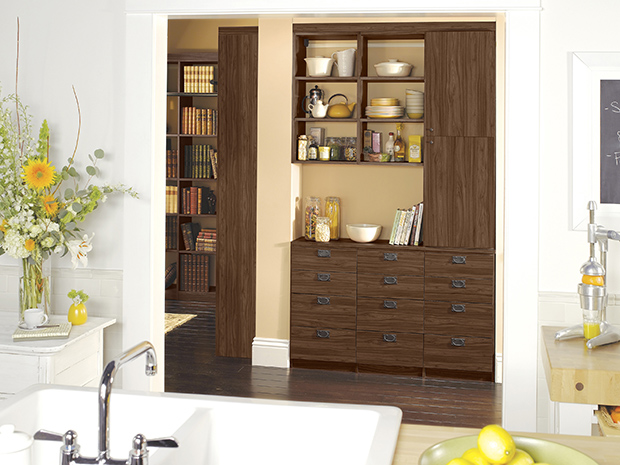 Whether you're a chef who needs ample space for ingredients or a party hostess who needs smart stemware storage, a customized cabinetry system will work for you based on your needs.
Sliding storage shelves allow for easy access to canned goods, while vertical shelf dividers organize everything beautifully.
Pantry drawers are specially designed to be spaced further apart, providing a better view of their contents. Our drawers feature dovetail construction, undermount slides, and quiet soft close mechanisms to ensure superior quality and a lifetime of use.
Drawers conceal utensils and cooking equipment, as well as snacks to make provisions easily accessible for children.
Wine racks and stemware holders cleverly store bottles and glassware.
Counter area creates a space for food preparation.
Pullout racks for linens and vertical shelf dividers for mops, brooms, and cleaning supplies organize often-used items.
Add in Extra Accessories
To take organization a step further, add in accessories that help neatly place all of your items.
Food prep and storage becomes a breeze with smart accessories that make your pantry more efficient.
Drawer dividers provide a perfect place for odd-size items like snacks and cooking utensils.
Shelf dividers separate small appliances and other necessities to keep storage space neat and uncluttered.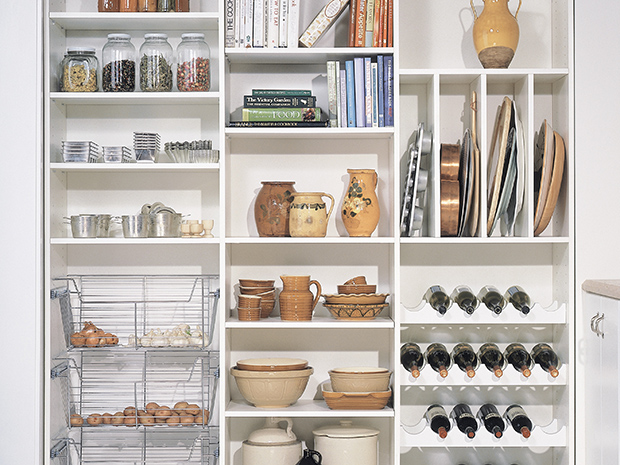 Pullout baskets give you easy access to anything from root vegetables to linens.
By keeping items visible, baskets provide necessary sight lines to things you use often.
A variety of finishes ensures a unified design.
Elevate Wine Storage
For wine collectors and entertainers, having a wine bar or cellar will better organize and display your collection (as well as make for a great conversation starter). Integrated wine rack and stemware storage can create the perfect home for any collection and maximize kitchen storage.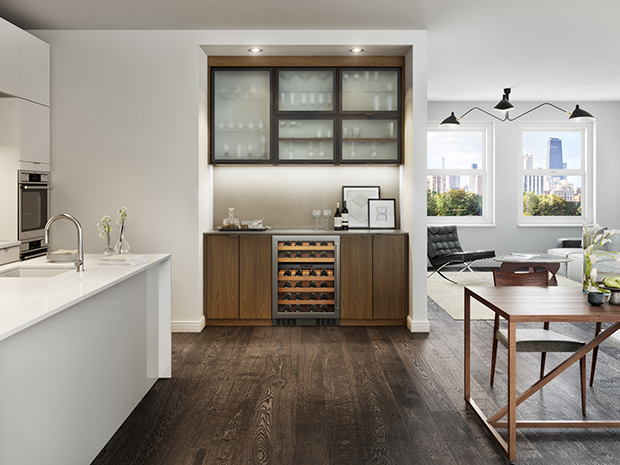 The wine X solution makes storing your favorite bottles effortless and visually appealing.
The durable and elegant stemware system features heavy gauge wire construction and hidden mounting.
A custom designed wine bar creates a perfect space for storing your collection and fits your entertaining needs when hosting guests.
Storage for wine bottles allows for easy viewing and access.
Counter space provides a place for pouring and serving wine.
Lighting in a wine bar enhances functionality and dramatically changes the aesthetic of a simple design. Options include LED, puck, and ribbon lights with multiple switching choices.
Shelves and cabinetry can be designed to accommodate an integrated wine refrigerator.
Racks and accessories display beautiful glassware and stemware.
Doors elegantly conceal liquor bottles and supplies you'd like to keep hidden.
Get started today on your own customized kitchen by contacting the California Closets Cincinnati team today. You'll receive a complimentary in-home expert design consultation to discuss your tastes, budget and style. Featured on Houzz, California Closets has been transforming homes across the country for nearly four decades, and works with all clients one-on-one, from the initial consultation all the way through installation.