Are you ready to take your storage to the next level? Whether for the closet, entertainment area, garage or other part of your home, custom cabinets are a great way to uniquely store and conceal all of your items for a cleaner, more elegant space. Here's what to consider when designing your very own custom cabinets here in Central Valley, Fresno, Madera, Kings County or Tulare.
Consider a Closet Storage System
First things first: you need to decide what kind of system you want to put in place depending on where you need storage cabinets. A closet system acts as a blueprint to build upon to incorporate the best accessories for your space. For example, if you want extra storage in your closet, a combination of drawers, shelves, racks and more will work together beautifully to best organize your items. A garage may have a wall covered with deep custom cabinetry, baskets and shelving.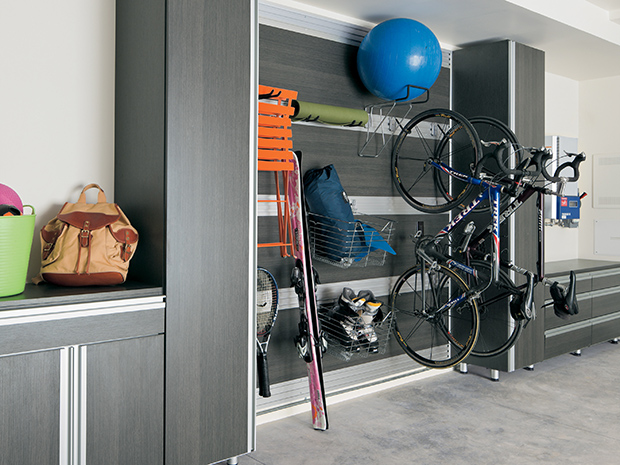 Consider Space-Saving Solutions

Sometimes when you're in a tighter space, you have to think creatively. For instance, closet accessories such as shoe storage, jewelry drawer dividers, slat wall systems, pullout racks and hampers and more utilize the space you already have while keeping items off the floor and out of the way. A Fusion Track Wall System hangs bikes, rakes and more in a garage so that you don't have the dreaded corner clutter issue anymore.

Rely on Accessories for the Kitchen

If you're looking to add custom cabinetry to your kitchen, thinking outside the box is best when it comes to organizing all of your ingredients, dishware, wine collection and more. A pantry system not only incorporates cabinetry, but also the following:

Sliding storage shelves
Pantry drawers
Pullout racks for linens and vertical shelf dividers

The key to remember when it comes to cabinetry is that it goes far beyond a traditional cabinet. Rotating and sliding shelves, dividers and more work together to best organize all of your items. Under-window seating storage, cubbies and baskets work well in playrooms and entertainment areas for kids.

Get started on your very own custom cabinetry discussion by contacting the California Closets Central Valley team. You'll receive a complimentary in-home expert design consultation to discuss your unique budget and goals. Featured on Houzz, California Closets has been the leading closet and storage designer for nearly four decades.