Storage bins just won't cut it. If you want to truly organize your home and keep it that way, you need a customized storage solution. Luckily, the designers from California Closets have been building custom made closets, storage solutions and more for residents living in Albuquerque, Santa Fe, East Mtns Area of New Mexico and Central New Mexico for nearly four decades.
Room by room, we'll explore the best ways to organize your space.
Bedroom
Whether you have an expansive space or are tight on square footage, there's a custom closet that will work for you that will never sacrifice on organization. A walk-in closet is a great solution to truly expand your wardrobe, and add luxurious add-ons such as a center island, bench seating, display areas and more for an extra punch. A reach-in closet provides multiple hanging areas, drawers, shelves and more so that you get the most function for your limited space. A Fusion Track Wall System also hangs accessories and more to keep items off of the floor. And for a more mobile option, a wardrobe is a great solution for something that moves with you. Customized doors give the look of high-end furniture that still incorporates multiple hanging areas and accessories inside to keep things organized. Closet accessories such as jewelry drawer dividers, shelf and drawer dividers, shoes storage and pullout hampers and baskets give you most function so that you have a home for all of your clothing and accessories.
Kitchen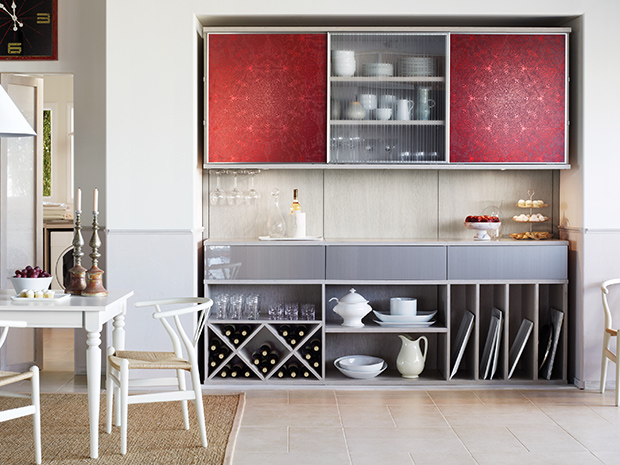 The kitchen is often referred to as the heart of the home. Keep it neat and organized by installing a custom pantry system. A pantry requires organization achieved through excellent functional design. Shelving, drawers, and baskets combine to accommodate specific needs and uses, ensuring accessibility and order in a space where items and continually removed and replaced.
Sliding storage shelves allow for easy access to canned goods, while vertical shelf dividers organize everything beautifully.
Pantry drawers are specially designed to be spaced further apart, providing a better view of their contents.
Drawers conceal utensils and cooking equipment, as well as snacks to make provisions easily accessible for children.
Wine racks and stemware holders cleverly store bottles and glassware.
Counter area creates a space for food preparation
Pullout racks for linens and vertical shelf dividers for mops, brooms, and cleaning supplies organize often-used items.
Garage
The garage is a great spot for storage, yet people often neglect the garage because there's so much "junk" in there, they're afraid to get started. Once you clear the clutter and install custom storage cabinetry, you'll organize all of your seasonal décor items, sporting equipment and gardening tools so that you have enough floor space to park your cars, and even install a workbench to conduct projects in if you so choose. A Fusion Track Wall System hangs bikes and rakes and deep drawers and shelving stores away items you may not need all year. Small drawers and baskets hold balls, nails and screws for easy access.
Mudroom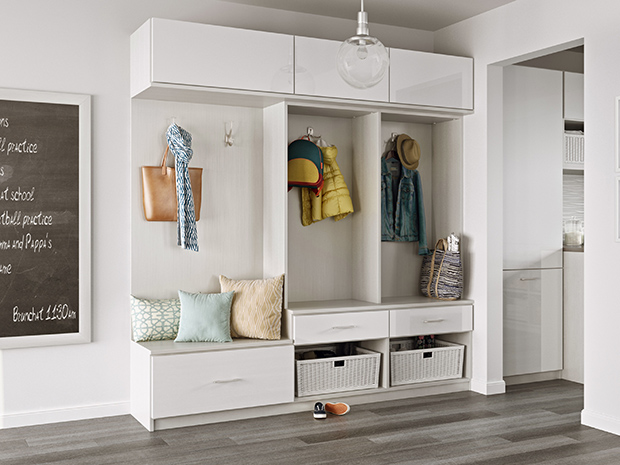 Almost like an entryway closet, a mudroom is a great solution to keep all of your outdoor gear (boots, umbrellas, jackets, purses and more) by the door so you save time and stress searching for items before leaving the house in the morning.
Custom built-in cabinetry, as well as decorative moldings and details, create the look and feel of installed furniture and can be designed to match the rest of the home.
Open storage offers easy access for items used daily as family members go in and out of the home, making these transitions seamless and less chaotic.
Designated cubbies for shoes and children's small belongings, like gloves, help minimize clutter and misplaced items alike.
Hooks make grabbing coats and backpacks easy. Various finishes are available to match the look and feel of the rest of the system.
An integrated bench area provides a place for putting on and taking off shoes and boots, as well as additional storage underneath.
Specialized, out-of-the-way storage areas can be included to house seasonal items, sports equipment, and more, depending on your family's needs.
Of course, everything is customizable through California Closets. Begin the conversation today by contacting the Albuquerque team or stopping by our Albuquerque showroom. You'll receive an in-home expert design consultation to discuss your budget, needs and goals for your space. Featured on Houzz, California Closets has been transforming homes into more organized, better-designed versions of themselves for nearly four decades.