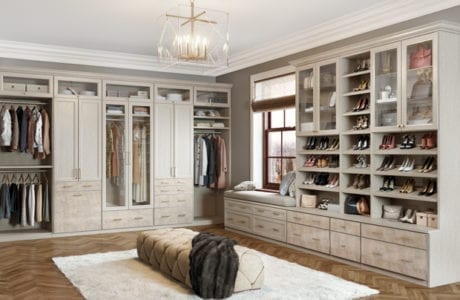 WALK IN CLOSET OPTIONS FROM CALIFORNIA CLOSETS
No matter what your style or budget is, we'll find a walk in closet solution you'll love. Some of our popular styles include:

Stylist Closet – This popular walk in features two levels of hanging space to make sure all of your favorite pieces get a spot. Cabinetry is finished in a modern white style.
Garden Closet – When there's a limited amount of space, the garden style closet can create a storage system for you. With angled areas for storage and a sleek design, you can make sure it all fits.
Stella Closet – Orderly and symmetrical, this option allows for a unique look to your wardrobe system.
Lee Master Closet – There's a place for everything with this type of walk in. Accessories, shoes and everything else can be easily displayed.