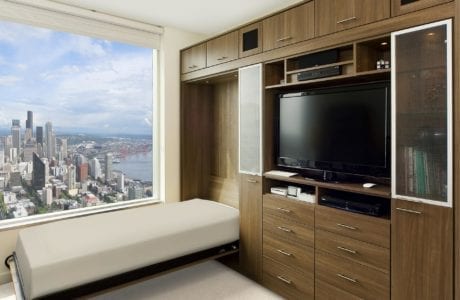 DESIGN IDEAS FOR ROOMS WITH WALL BEDS
When you're trying to get the most out of your living space, wall beds can help make the process easier. These convenient and comfortable setups can be expertly designed and installed by the team at California Closets of Sedona. And wall beds will help give you a room that can be used for so much more than just a spare bedroom.
A Few Spare Room Ideas from California Closets of Sedona.
---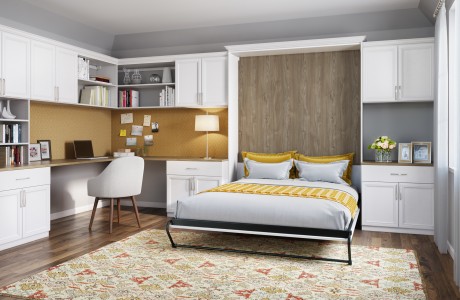 CONVERTIBLE OFFICE
The Campbell Convertible Office system from California Closets takes your home storage even further. Many of us have an extra bedroom that we've designated for our home office. However, bedroom furniture gets in the way (which interferes with a productive office environment).
The Convertible Office solves both problems with one elegant solution. You can keep your bedroom with a custom cabinet installation and a Murphy Bed that folds up when not in use. With a built right alongside, you'll be amazed at how natural and stylish this will look.
---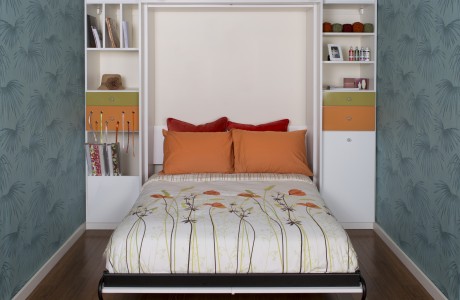 QUICK & EASY PLAY ROOM
Do you need an extra play space for your kids that can quickly convert into a sleeping space for guests? Our team can help you create a functional cabinet space that stores everything you need. This includes the wall bed, the bedding and other items, and even more space for your child's toys or other items.
---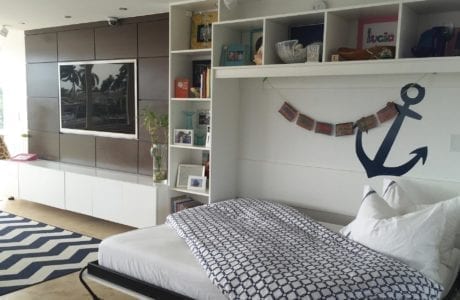 ENTERTAINMENT ROOM
You could even transform your extra space into a wonderful entertainment room with the help of California Closets of Sedona. Wall beds will ensure that your space remains functional for more than one use. We'll design and custom build the premium cabinetry that matches your home's décor. From there, you can create an entertainment room designed just the way you like it – for movies, TV, gaming, and anything else.
---
Your new closet starts with a
— complimentary design consultation —