Northern Kentucky & Cincinnati Wall Beds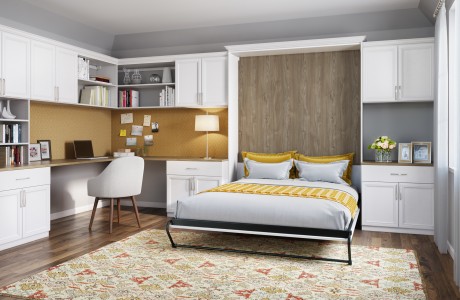 IDEAS FOR SMALL LIVING SPACES
Whether it's a home, apartment, loft, or even a studio – sometimes living space is a premium. For smaller rooms like this, it's important to get as much out of your living areas as you can. Creating a multipurpose area is often a great solution to the problem of cramped living space.
Below, we've provided three beautiful and effective wall bed ideas from California Closets of Northern Kentucky and Cincinnati.
---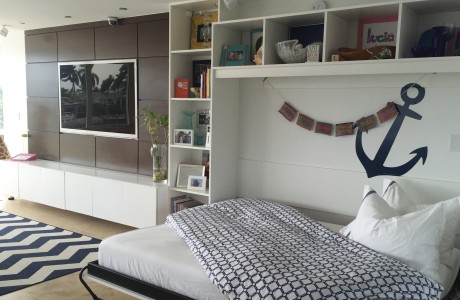 1. Desk/Bed Combo
If you'd like to build that home office you've always wanted, look no further than the guest room. By installing a wall bed, you can fold the bed up and into the wall when not in use to utilize the room as an office.
California Closets of Northern Kentucky and Cincinnati can design a custom cabinet, including a desk and shelving alongside the wall bed installation. That way, you can have a spare bedroom when you need it – and an office when you don't.
2. Side Tilt Beds for Tight Spaces
When you're really trying to maximize your space, our side tilt beds will optimize your space. These are especially effective for very tiny bedrooms that cannot accommodate a traditional fold-down wall bed.
3. Styles that Match Your Cabinetry Trim to Your Current Décor
Your wall bed can be customized to a variety of trim and molding options. That way, you can find an installation that looks like it's a built-in component to your home or apartment.
---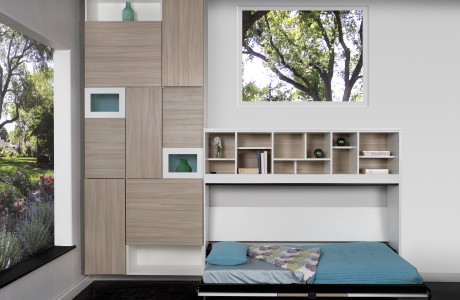 SCHEDULE YOUR CONSULTATION TODAY
The team at California Closets of Northern Kentucky and Cincinnati is here to help you get just the right wall bed for your home. Schedule your complimentary in-home design consultation to get started today.
---
Your new closet starts with a
— complimentary design consultation —