Houston Walk In Closet
A BETTER WALK IN CLOSET
If you're in the process of remodeling in Houston, walk in closets designed by the team at California Closets can bring you more. Our designs are based around you. We'll work with you to find out just what you need – and create an elegant solution to maximize your closet's functionality.
---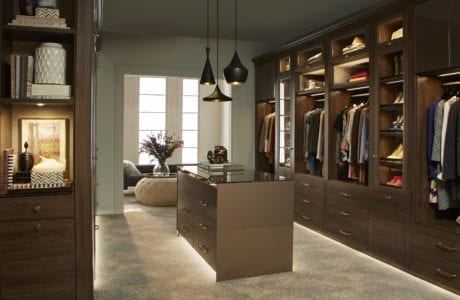 BENEFITS OF A BETTER WALK IN CLOSET
Greater Storage Potential Improved organization can drastically improve your closet's storage potential. An intuitive arrangement of cabinetry and other installations can free up much more space for other uses.
Easier Access to All the Things You Need Intuitive design makes it easier to find and access exactly what you need. This benefit can save you an impressive amount of time in the long run.
Less 'Overflow' from the Closets to Other Rooms More organizational potential -in- your closet means less overflow out into other rooms! This will help you stay clean and organized much more easily.
Less Stress About Your Space Finally, and perhaps most importantly, a better closet means you'll have less stress about your home and storage. With less clutter getting in the way, you can finally start to enjoy living in your home again.
If you're in the midst of your redesign, you should only enlist the help of the very best. Schedule your complimentary design consultation with California Closets today.
---
Your new closet starts with a
— complimentary design consultation —