Dallas Closet Design
Closet Design Ideas from California Closets
A great closet begins and ends with a great closet design. If you're looking to redesign your closet here in Dallas, the experts from California Closets are here to help. Our team brings you nearly four decades of trusted experience designing and building custom cabinetry and closet accessories to build a space that's both functional and stylish.
---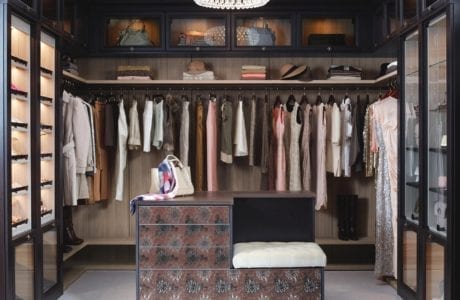 Closet Design Options
All of our closets are completely customizable. Here are a few closet ideas to get you inspired.
Urban Master Hybrid (Top): The Urban Master brings together the beauty of a custom wardrobe piece alongside the convenience of a reach-in credenza. Inspired by mid-century furniture, this option is crafted from Lago Roman Walnut and accented with bronze powder coated aluminum poles. This creates an elegant, classy style with all of the best organizational touches.
Luxe Walk-In (Middle): A high-end luxury walk-in solution, the Luxe offers everything you could ever want in a walk-in closet design. Features include a variety of finishes, five-piece traditional doors and matching drawers, Sable Chroma countertops, textured shelves and pole covers, and so much more.
Fashionista (Right): The Fashionista is a Dallas closet design favorite here at California Closets. This walk-in brings together a gentle color palette and detailed texturization to create a closet that feels like your own personalized boutique.  Built-in drawers, baskets and hampers give you quick access to concealed storage. Lighted glass shelving provides a beautiful space to showcase your shoes, handbags or collectibles.
---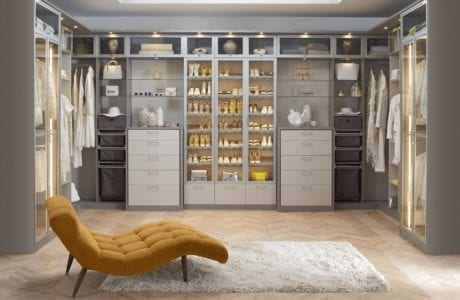 It's All About You
The California Closets process involves having a one-on-one relationship with you at every step of the way. From the complimentary in-home consultation all the way to installation, we work hard to customize the perfect closet design for you.

Schedule your complimentary design consultation with California Closets today.
---
Your new closet starts with a
— complimentary design consultation —