California Closets Northern Kentucky & Cincinnati Giving Back to the Community
California Closets Northern Kentucky & Cincinnati Giving Back to the Community
In 2015, California Closets launched a national partnership with Dress for Success®, a program built on "empowering women to…thrive in work and life" In each unique situation — be it an escape from domestic violence, homelessness, or even suicide — these women need help building themselves back up. Dress for Success provides a support system, professional attire, and career development tools to help them build a better life.
In early 2016, California Closets of Northern Kentucky & Cincinnati was commissioned to create a unique accessories station for our local Dress for Success boutique. "The vision behind this piece was to create a space where we could celebrate the women taking a step towards change and give them a custom piece of furniture and art that would add to their overall experience" – Marcus Hall, Vice President California Closets, Northern Kentucky & Cincinnati .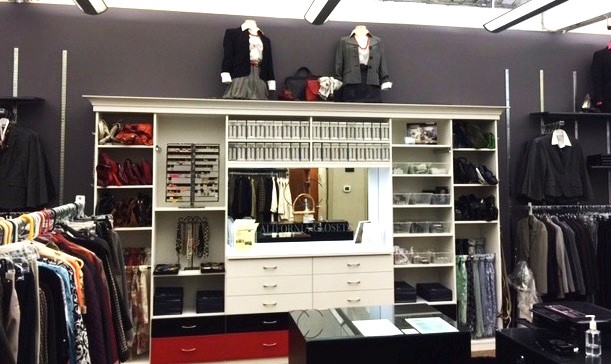 This accessories station was custom-crafted for Dress for Success Indianapolis' suit boutique. Featuring pullout
drawers
, open
shelving
, jewelry racks, and a boudoir mirror, the station allows women to accessorize the perfect suit for a complete interview look. Adorned in bright Bellissima White, the piece was designed energize the women and help them feel feminine, beautiful and confident as they make this positive transition in their lives.
"Women come to us when they are starting a new chapter in their lives, and the lives of their families. Being able to provide a dignified and celebratory experience while she picks out her interview suit, makes this transition that much more special. Thanks to our friends at California Closets, we have a perfect finishing station for women to complete their looks. We couldn't be more thankful for this generous gift, not only to our organization, but also to the women we serve" – Barbara Ellsworth, Executive Director.
As part of our ongoing commitment to Designing Better Lives, we're taking it a step further by gathering donations for our local boutiques. What better way to make space in your new custom closet AND make a difference in someone's life?
If you'd like to get involved, stop by our showroom to pick up a Dress for Success garment bag! Fill the bag with your gently-worn women's office and interview attire, accessories, and shoes, and get it back to us. We'll even help coordinate pick-up with your designer or installation technician if needed.
Thank you to the entire team at Dress for Success for the work you do and the willingness to partner with California Closets of Kentucky & Cincinnati.
California Closets provides a range of unique and beautiful custom closets, closet organizers, and closet storage systems for any room in the home. Call us at (513) 793-3055, visit our Cincinnati Showroom at 8110 Montgomery Rd, Cincinnati, OH 45236 or request a complimentary in-home consultation today.
Why Wait?
Book your free consultation today.
Schedule My Free
Design Consultation