Pantry Perfection for Lifestyle Blogger, Erin Hiemstra
client: Erin Hiemstra
location: San Francisco, CA
design consultant: Paige Gordon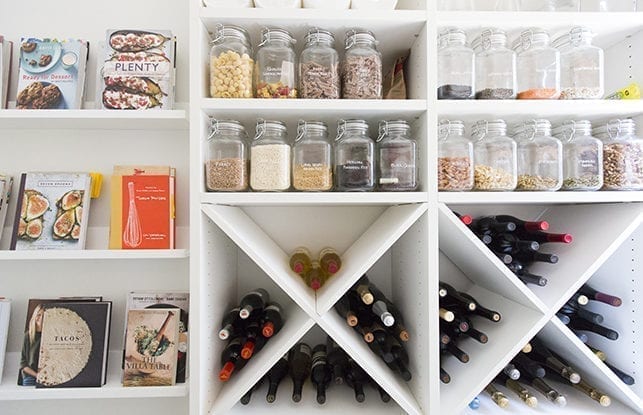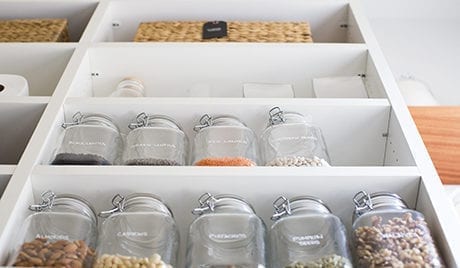 What She Wanted
---
Known for the fresh and well-edited design sensibility she brings to her lifestyle site —Apartment 34—Erin Hiemstra appreciates the beauty of smart spaces.
When it came to achieving her own dream pantry, Erin came to California Closets in the midst of a home renovation journey, to create her dream storage solution. Working with design consultant, Paige Gordon, Erin wanted a modern and functional space that still possessed details nodding to the old-world charm of her Victorian home.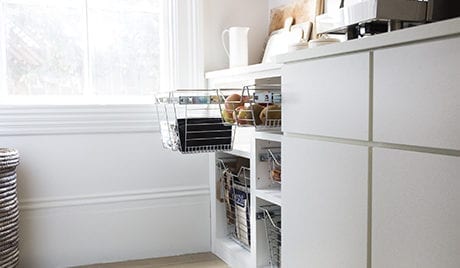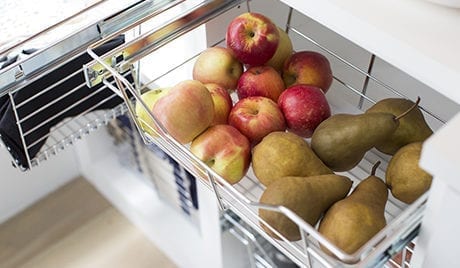 How we did it
---
While the long and narrow space posed certain challenges, Paige used the tall ceiling height to optimize as much vertical area as possible, finding clever ways to give Erin her list of must-haves: room to showcase her cookbooks, open space for fruit and veggies, as well as wine storage. To ensure the tight quarters didn't feel too cramped, Paige chose a crisp white base material for floor-to-ceiling cabinets on the left wall and kept the opposite wall open for the rich wood floating shelves Erin sourced. Paige also created a seamless setup for all of Erin's electrical needs throughout the pantry.
Finally, to achieve Erin's vision of blending the old with the new, Paige gave the pantry system varying custom countertop depths so as not to compromise the original elaborate molding around the doorway and window. The countertops were also installed slightly higher than standard to make use more comfortable for Erin and her husband, who are both tall.
California Closets was the perfect custom solution to give me the pantry of my dreams. I loved working with Paige to devise the perfect design for the space. I smile every time I walk into the space. I certainly consider that a job well done.
final result
---
Erin's warm, accessible and welcoming pantry illustrates simplicity at its best and showcases the potential for how a utilitarian storage space can be exquisitely reimagined. Careful attention to detail and seamless professional organizing from NEAT Method throughout makes it a design Erin and her family can appreciate and enjoy for years to come.
Photo Credits:Original photography for Apartment 34 by Michelle Drewes
---
Design Details
Finish
Lago® Bellissima White
Hardware & Accessories
Concealed press to open door and drawer hardware
Chrome baskets with vinyl liner
Accents
Wine X bottle storage
Slab door and drawer fronts
*Note: product availability may vary by location
---
Meet the team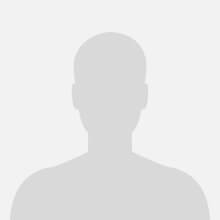 Nassar Espari
Installer
---
Why Wait?
Book a free consultation today – and ask about virtual consultations.