Organized in High Style for Interior Designer Jeremiah Brent
client: Jeremiah Brent
location: Los Angeles, CA
design consultant: Erin Hardy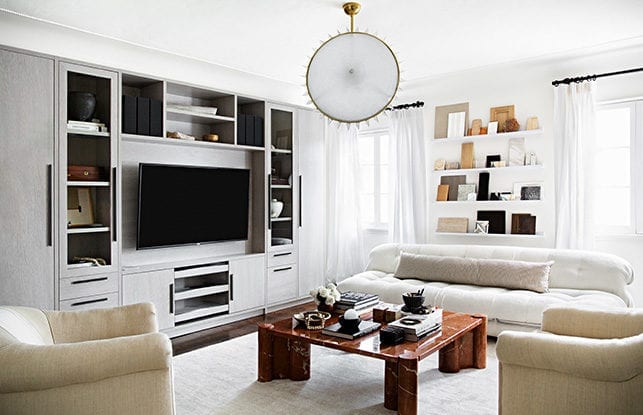 Jeremiah Brent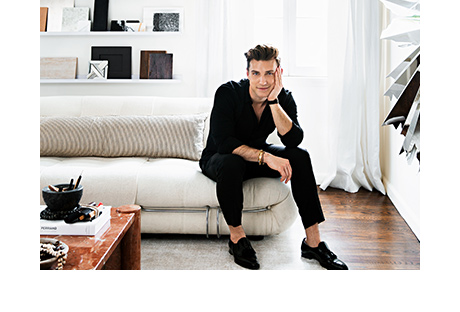 What He Wanted
---
Interior designer Jeremiah Brent understands the importance of a well-designed, organized space—especially in the workplace. Though abundant in light and serenity, his new Los Angeles bungalow-turned-design studio lacked sufficient storage. For his personal office, Jeremiah dreamed of a sleek solution to store and display his vintage record collection while concealing unsightly wires. In the team meeting room, Jeremiah needed a media unit to house electronics and other necessities, and in the design library, ample storage for the firm's myriad materials. And Jeremiah had a vision: he wanted timeless, high-quality designs that reflected his modern point of view. After working with California Closets Los Angeles for his prior offices, Jeremiah knew who to call to achieve his desired look and functionality.
As an interior designer, quality and craftsmanship are essential for me and why I love Paxton's edited design. Hidden hardware, crisp lines and a timeless palette of materials allowed me to create the custom media unit I envisioned.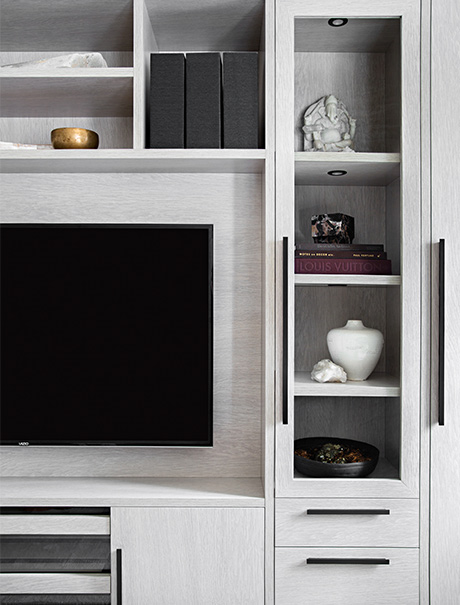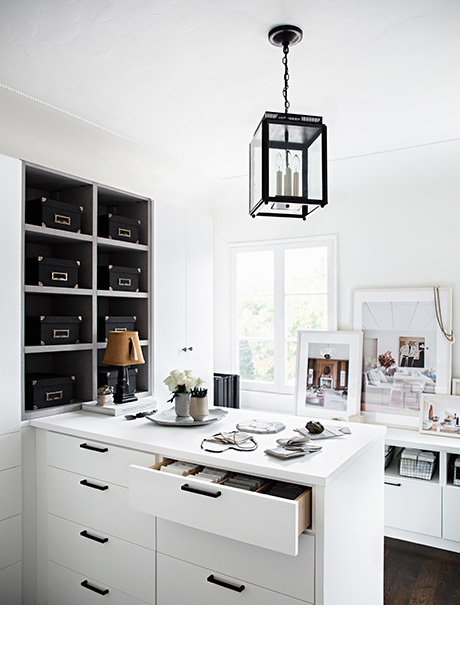 How we did it
---
Considering his vision, California Closets' national manager of design Erin Hardy introduced Jeremiah to California Closets' new transitional modern design collection: Paxton. Featuring clean lines and hidden hardware, Paxton offered the ideal solution for the media unit, which needed to maximize height and organization without feeling heavy in the space. Erin and Jeremiah selected finishes in cool neutrals and graphite accents to complement the room's tranquil color palette. For the record collection, Erin designed a clever console with open drawers and closed cabinets to simultaneously keep records visible and electrical wires hidden. In the design library, Erin combined a center peninsula with a wall unit to catalog materials, store samples, and tuck away bins. Details, like drawer dividers, keep even the smallest items in order.
Jeremiah was the perfect example of an open and trusting client. He had the confidence to know that we'd design solutions that would be ideal for his space. The final result is stylish, organized, collaborative, and fun.
final result
---
Sophisticated and hardworking, each custom solution complements Jeremiah's aesthetic while improving office efficiency across the board. With plenty of new storage keeping their space and minds clutter-free, Jeremiah's team can now easily focus where it matters most: creating beautiful, inspired designs for their clients.
---
Design Details
Finish
Lago® Adriatic Mist
Console = Albero™ Natural
Sample Room = LuxeMatte™ Dove
Tesoro™ Corsican Weave
Graphite metal
Birch Dovetail Drawers
Hardware & Accessories
Paxton Collection
Hidden hardware
Everstyle Drawer System
Accents
Inset, push-to-open, and slab doors and drawers
Charging station
Glass inserts
Spotlights
Drawer dividers
Everstyle remote and ventilated component drawers
*Note: product availability may vary by location
---
Why Wait?
Book your free consultation today.