How to Display and Organize Everything in Your New Closet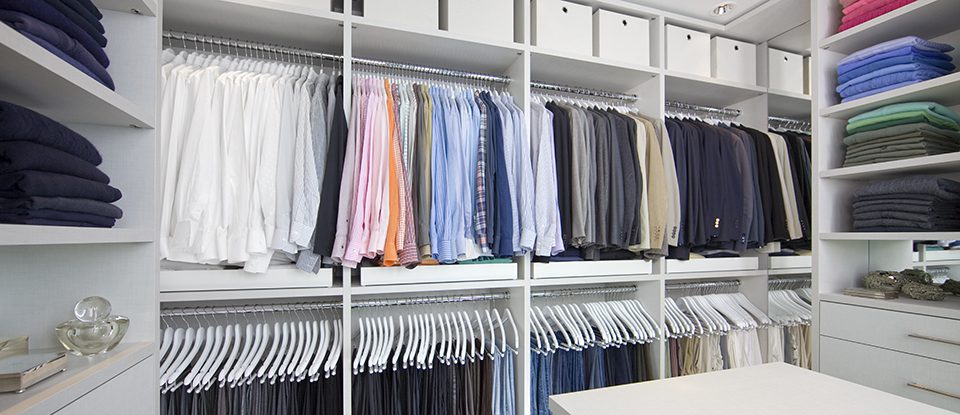 Once your California Closets system is installed, you'll have a stunning blank canvas to work with as you begin to place your items inside.
Naturally, you'll want to ensure that your new space stays as streamlined as possible by properly arranging every piece of clothing. To keep clutter at bay, try the following expert tips from California Closets design consultants that will allow you to utilize your new closet in the most efficient way and keep your items perfectly organized.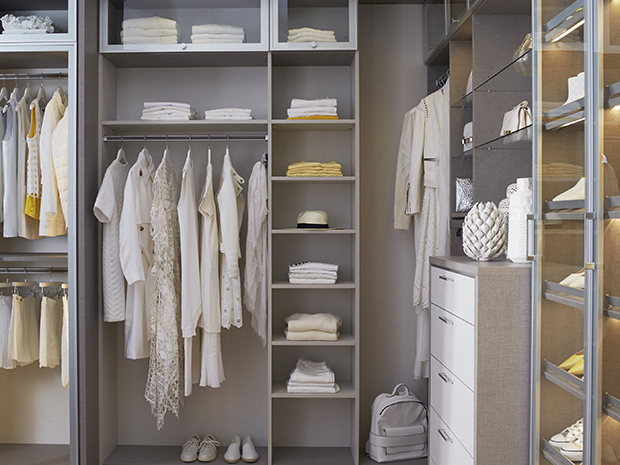 Group like with like: Before putting anything in, sort your hanging clothes by type. Start by dividing your clothing by casual, work and dressy attire. Then, sort items by type (pants, shirts, etc.). Within those categories sort by length, from long sleeves to short sleeves and long skirts or pants to short skirts or pants, or vice versa. Once you have your groups, hang them with a little bit of space in between each section for easy access.
Put pants on top: Fold pants in half and hang them on the top rod, then place your shirts on the rod below. While it may seem odd to have these items hang the opposite way of how you wear them, doing this gives you the illusion of more space because your pants take up less space than your shirts. Depending on the amount of shelving and hanging space you have, pants can also be folded and placed on shelves instead.
Stack sweaters systematically: Little known fact — sweaters should be folded and kept on shelves since hangers can pull the threads at the shoulders and cause major damage over time. Sort your sweaters by weight, then by color, and pile them about four or five high. Creating short stacks will naturally break up your items by season, making it easier to find the exact sweater you need on a given day. Short stacks also ensure that your piles will slip perfectly between your new shelves.
Organize belts by type: Separate your belts by how they match your wardrobe (e.g. business vs casual) and then color. Hang them in a low-traffic location to keep them out of the way but still accessible.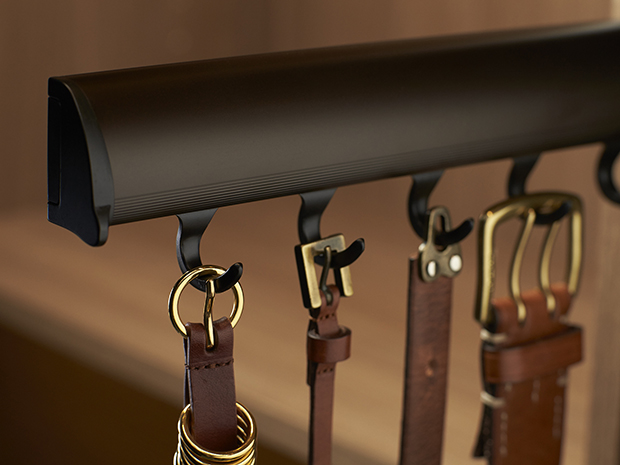 Organize your belts by purpose: Separate your belts by color, and then hang them in a low-traffic location to keep them out of the way but still accessible.
Section off scarves: Divide your scarves into types, from knitted to cloth. Fold your thick scarves and store them on a shelf. Then hang lightweight scarves by length, so they're easy to find.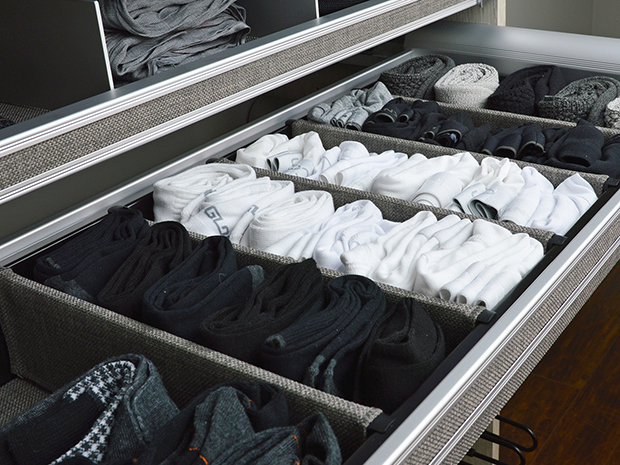 Add baskets as needed: Wicker or wire baskets are perfect for keeping socks, clothing you only wear on vacation and other smaller items. Storing these items in baskets will create greater visibility, allowing you to easily find exactly what you need, unlike if you were to keep them in drawers.
Ban unworthy items: Take stock of any undesirable items as you're filling your closet. Things like promotional T-shirts, wire dry-cleaner hangers, clothes that you haven't worn in years and orphan socks will just clutter your fresh space. Consider donating old items, and store pieces you just can't part with elsewhere.