A Smarter Design for LaVall and Destinee Jordan
client: LaVall & Destinee Jordan
location: Indianapolis, IN
design consultant: Colton LeFevre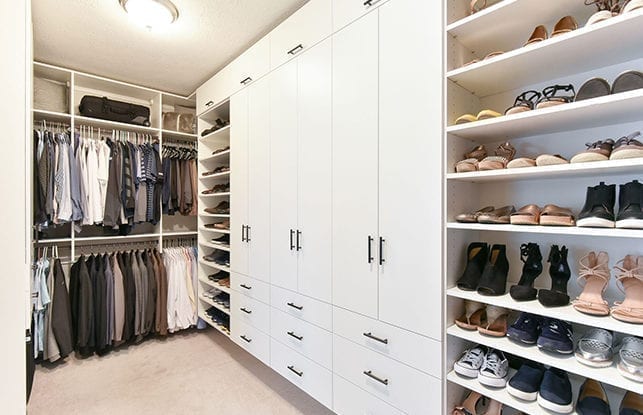 LaVall & Destinee Jordan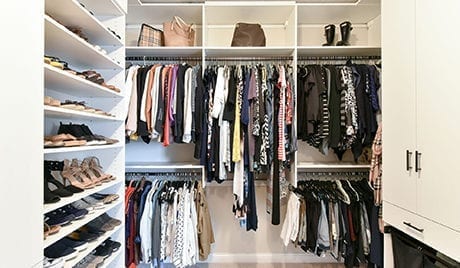 What They Wanted
---
LaVall and his wife Destinee wanted a sophisticated master closet they could comfortably share that accommodated their individual storage needs. The design needed to be clean and calming for the busy couple. Destinee specifically wanted to optimize the closet's back wall with a streamlined wardrobe of cabinets and shelves to keep their folded items, accessories, and shoes well organized. To achieve exactly what they wanted, they called on California Closets of Indianapolis to get the job done.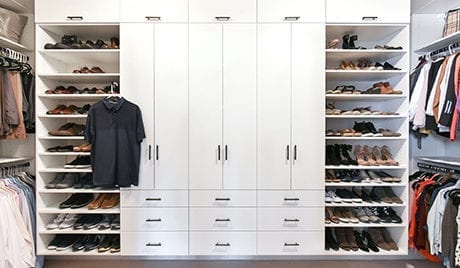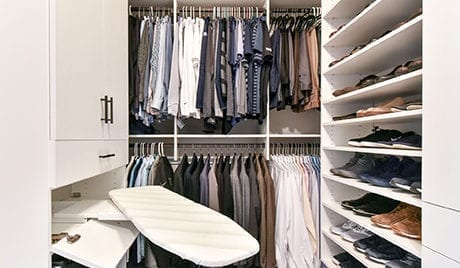 How we did it
---
Working with design consultant Colton LeFevre, the couple contributed their ideas throughout the process. Colton took careful assessment of their inventory to make sure the design would sufficiently store all of their belongings. In addition to ample storage for folded clothing, shoes, and accessories, Colton also included plenty of hanging area. His design even featured laundry storage, as well as a compact and easily accessible ironing board that was one Destinee's wish-list items!
California Closets exceeded our expectations! Colton was amazing to work with and super friendly at every interaction! We love the closet!
final result
---
The collaborative effort between LaVall, Destinee, and Colton made all the difference. Now, the couple can check their storage needs off their list, with a timeless design that makes their everyday routine a little easier.
Photo Credits:Anthony Seitz of Falls City Photography
---
Design Details
Finish:
Lago® Bellissima White
Hardware & Accessories:
Oil-rubbed Bronze decorative hardware
Fluted hanging poles
Pull-out belt, tie, and scarf racks
Pull-out valet rod
Pull-out hampers
Pull-out ironing board
Accents:
Slab door and drawer fronts
*Note: product availability may vary by location
---
---
Why Wait?
Book your free consultation today.