Creating Balance and Order for Nutritionist and Blogger Lindsay Surowitz
client: Lindsay Surowitz
location: Rancho Santa Fe, CA
design consultant: Taylor Prokes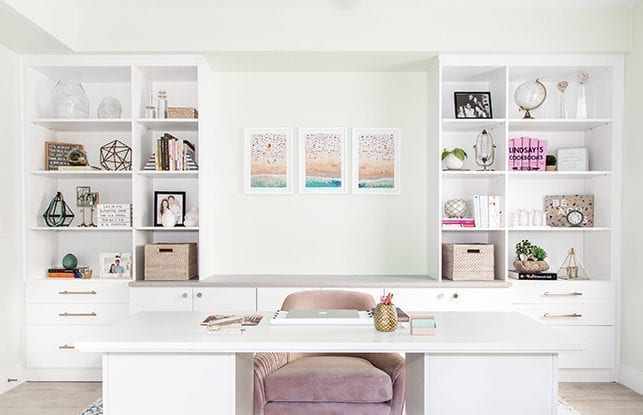 Lindsay Surowitz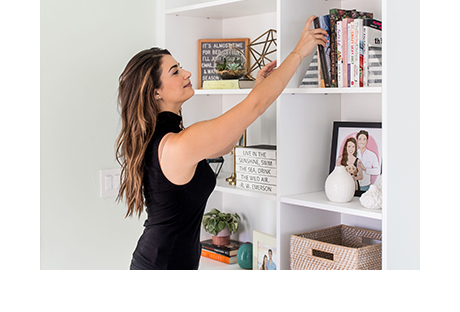 What She Wanted
---
Weeknight Bite nutritionist and blogger Lindsay Surowitz is on a mission to create healthy, balanced lives through holistic health and wellness. However, at Lindsay's California home, two spaces felt off-balance: her unorganized office and underutilized closet (which she shares with her husband, Mitch). Neither space had shelving or designated storage, resulting in a messy office that left Lindsay uninspired and a cluttered closet without defined sections for two. Dreaming of spaces that evoked calm instead of chaos, Lindsay collaborated with California Closets San Diego design consultant Taylor Prokes to achieve peace of mind and a much-needed transformation.
Working from home, I spend the majority of time sitting in my office, and ever since we moved into our house two years ago, I've been dreaming of creating an office space that would inspire creativity with a calm and happy vibe that matches my brand. It needed to be both beautiful and functional.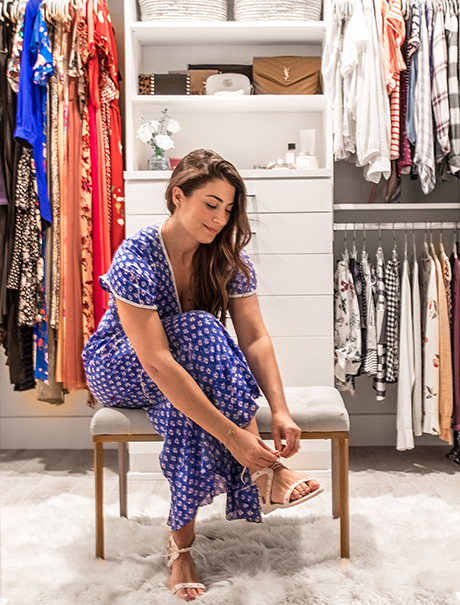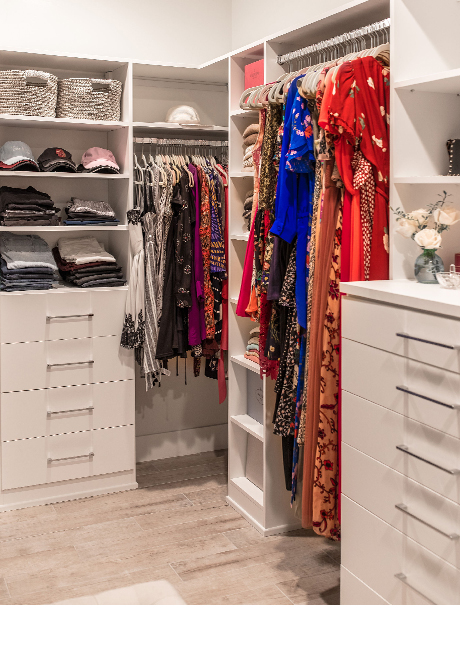 How we did it
---
Lindsay and Taylor clicked immediately, and together set out to create two designs that prioritized organization and reflected Lindsay's personality. For the office, Taylor carefully assessed Lindsay's storage needs and designed a custom built-in that works double duty: closed cabinetry hides file folders, printers, and cords, while open shelving provides a beautiful display case for Lindsay's cookbooks and decorative items. Final touches like a light gray countertop and metallic brass hardware offer contemporary contrast to the system's classic white finish. For the closet, Taylor inventoried every wardrobe item between Lindsay and Mitch—hanging clothes, folded clothes, shoes, and accessories—and designed distinct his-and-hers areas with a place for everything.
…And the closet! Before Taylor came in and gave it a major makeover, it was always a cluttered mess! There's now a perfect spot for every little thing we own, from our carry-on luggage that has its own custom-fit compartment to my jewelry drawer, to our shoe racks. You can really tell everything was perfectly designed just for us!
final result
---
Two beautiful, organized spaces that changed Lindsay's mindset for the better. Sleek, feminine, and fresh, her office inspires both creativity and calm while storing away all equipment and necessities. Equipped with shelving, drawers, jewelry trays, and valet rods, the closet has a dedicated spot for every single wardrobe item, helping Lindsey and Mitch maintain order with ease.
---
Design Details
Accents:
Micro suede Jewelry inserts
Pull out shelves
Letter filing drawer inserts
*Note: product availability may vary by location
---
---
Why Wait?
Book your free consultation today.
Schedule My Free
Design Consultation