A busy professional couple finds harmony in this gorgeous home office.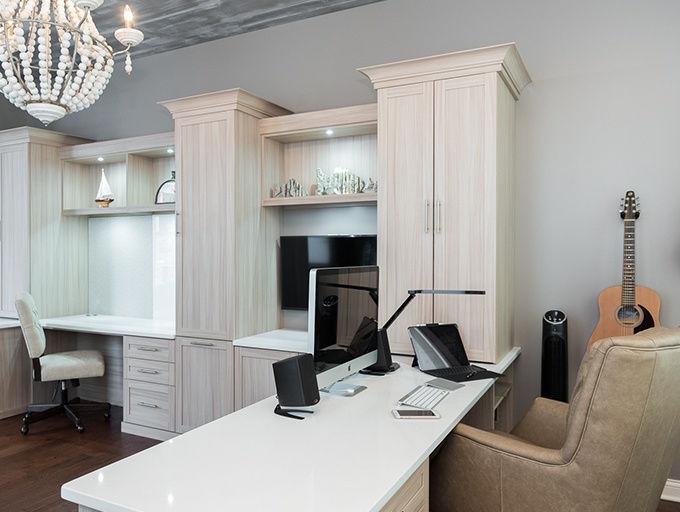 Design Consultant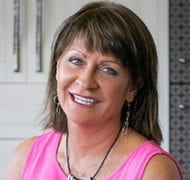 Susan Martin-Gibbons
After a major, life-altering illness, Susan decided to follow her heart and make a career change. Her 30-year career in the optical industry culminated with the position of President, Annual International Optical Buying Group, but after joining California Closets, she's never looked back.
[...]
testing
Read More >
Read Less >
Describe the challenge you were facing. This busy family, comprised of two professionals, two teenagers, and beloved family dog Piper, lived in a traditional home but needed space to support work-at-home days. Lyn was relegated to a small desk area in the kitchen, while Kolin worked in an isolated space removed from the hub of the home. Their sunroom had become a "catch all" without a specific function. As a result, all three spaces felt chaotic and messy.
My jaw dropped when I first saw this project completed…and I had tears in my eyes!

– Susan Martin-Gibbons, Designer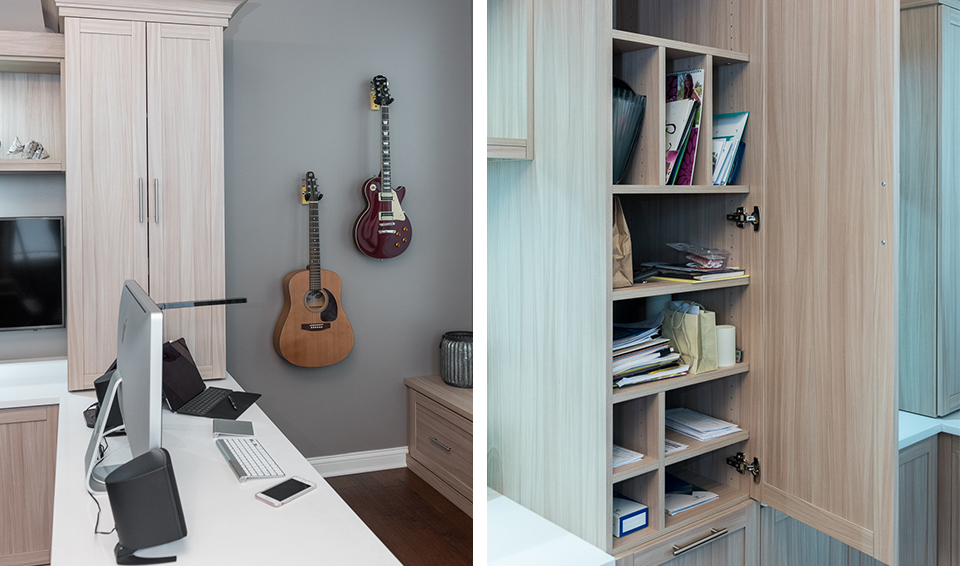 What custom features set this project apart from others you've done in the past? There were so many custom features to this project…a dedicated space for the family dog's crate, a scooped top magnetic backer underneath the desk to hide cords, magnetic white board and Raindrops Quartz fabric board that share space above the desk. An arched toe kick (above a floor vent), a slide-out shelf for the printer, slide-out recycling/trash cans, and pop-up grommets (with USB) are design elements I use over and over again.
What materials/products did you use? This couple had a vision: A nautical/Nantucket theme. Cassini Beach immediately came to mind, complete with Shaker fronts on doors, drawers, and the back of the peninsula desk. Matching crown completed that traditional East Coast effect. Since this was an office, lighting was going to be key so we used puck lights that were dimmable, remote controlled, and programmable. The dedicated drilling in the open areas was simply the "icing on the cake."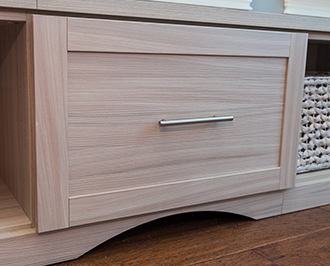 Your new closet starts with a
— complimentary design consultation —