A modern and beautiful home office combines a perfect a balance of textures and finishes.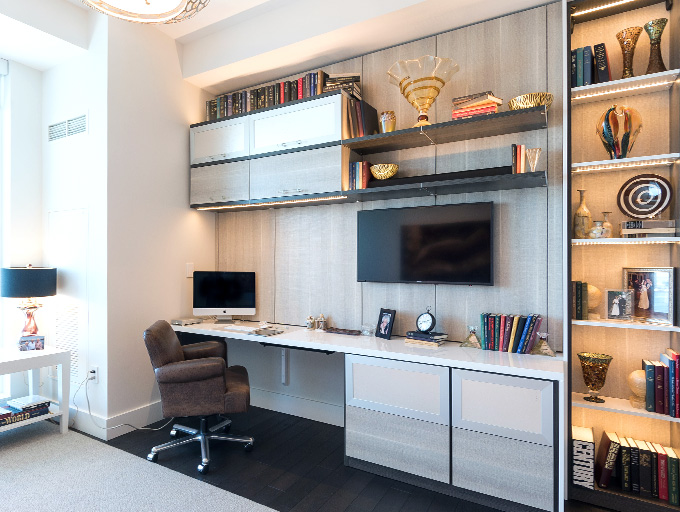 Design Consultant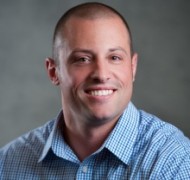 Ryan McAllister
Ryan joined California Closets New England in 2013 after working as a project manager and carpenter for a custom home builder. He contributed to 7 award-winning renovation projects while helping the company establish itself as a leader in Boston's high-end builder market. Prior to this role, Ryan spent nearly 7 years in the construction staffing industry where he developed relationships with many of the premiere builders and contractors throughout New England. As part of California Closets business to business initiative, Ryan will focus on strengthening the company's relationships with builders, developers and real estate brokers throughout the region. He will serve as project manager for all trade partnership' projects and help California Closets develop specific programs to best meet the needs of their business partners.Ryan graduated with a degree in business communications and minor in marketing from Assumption College, where he also participated in football and baseball. He is OSHA certified, EPA lead-safe certified and a certified remodeler.
[...]
testing
Read More >
Read Less >
Describe the client and the style of her home? Our client's home, which is located on Boston's fan pier, had a contemporary and elegant style. Newly renovated, her home featured a soulful art collection, custom furniture, and a vibrant décor that perfectly matched her personality.
How did you collaborate to create the best possible outcome? OThis was our third project with this client and there was a level of comfort that allowed for a really productive design process. She wanted an elevated home office, and she entrusted us with a lot of creative freedom throughout the design process. Conceptually, the idea of installing Virtuoso on a classic system seemed pretty cool and unique, so we started there and ran with it. We had one showroom visit with the client to finalize finishes. 
This project was part of a new chapter in our client's life, one  that has been years in the making.

– Ryan McAllister & Taylor McCarthy, Designers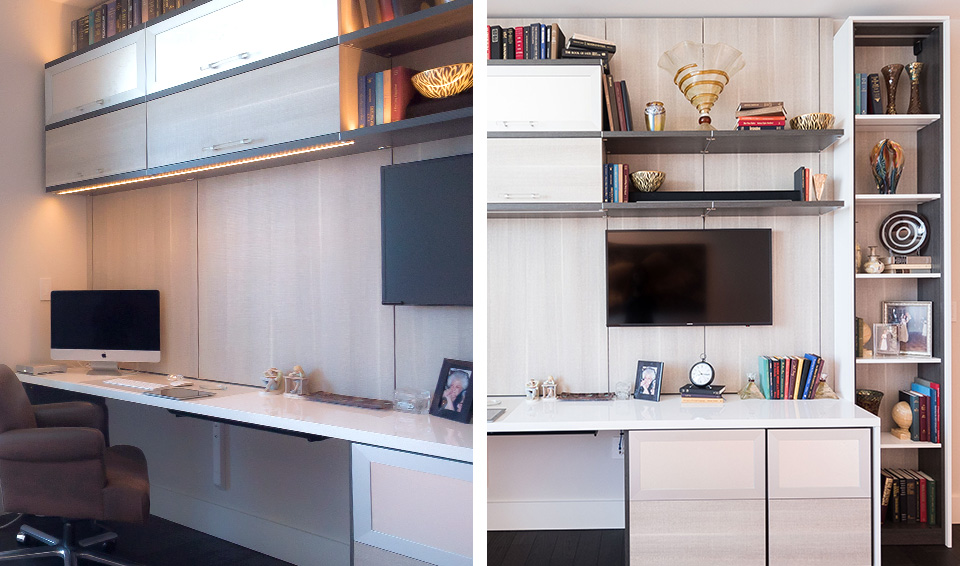 How would you describe the final result? The home office showcases the style and passion our client has brought to her entire home. All of the products and finishes we chose allowed us to successfully bring her vision to life.
Describe how you designed a better life for this client? The completion of our client's home renovation and this new office has given her a sense of accomplishment and a source of pride. She loves the result because it reflects the hard work she's pursued to get to this point in her life.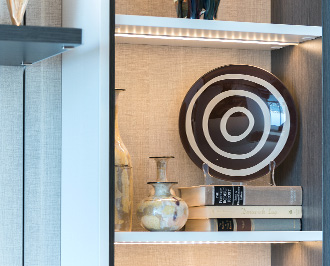 Your new closet starts with a
— complimentary design consultation —