The two most important features for the new space were that it hid everything and matched their custom Mini Cooper.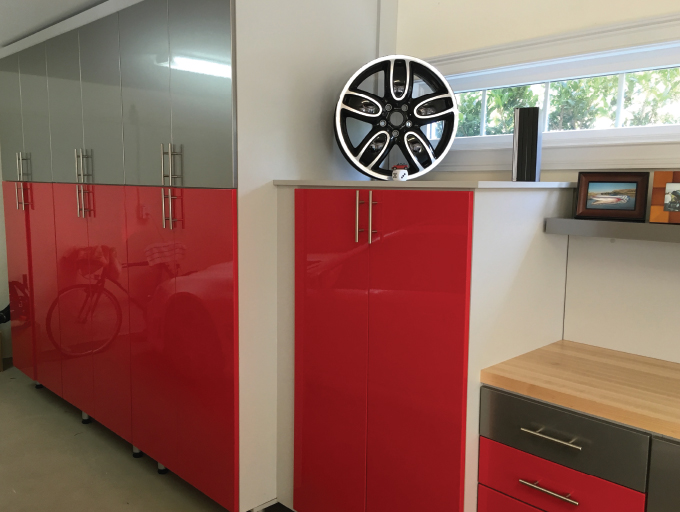 Design Consultant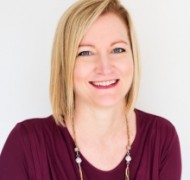 Carmin Francisco
Organization has always been a part of my life. When I was a child, I could spend many hours rearranging my Barbie's clothing and shoes or helping my mom to stack the Tupperware containers in a better way. It's a stress reliever for me. My college career did not prepare me for custom storage but it did show me the importance of personalizing my designs for each client. I came to the custom storage industry after trying my hand at being a professional organizer. Most people were able to sort through their belongings and simply wanted more shelving. I am good with tools but I didn't want to be the expert installer. In February of 2007, I went in search of a company that could fulfill my clients' needs in Minneapolis, MN, and found a company "like" California Closets. It was there that I learned the basics of smart custom storage design. I loved my job and found the challenges to be energizing to me. When my family needed to move to Atlanta due to my husband's career in 2009, I took a slight break from working to get my family settled into our new community. When I went looking for a job in Atlanta, I went first to California Closets. I wanted to work for the industry leader and have a national company to support my efforts. At my interview, it was very evident that I needed to join the West Atlanta franchise.
Since that day, I have been traveling around the metro creating smart, beautiful California Closets. I look forward to each appointment to share my enthusiasm for storage with my clients. I promise to listen to your storage needs, create fresh designs and be responsive to your requests throughout your design experience with California Closets. I love working with the West Atlanta team and I look forward to sharing our expertise with you.
[...]
testing
Read More >
Read Less >
Who is the client and what is the style of their home? The clients are empty nesters with multiple homes across the country. Their garage has three garage stalls that are two cars deep. Because it was unfinished and messy, it didn't suit their needs functionally or aesthetically.
Tell us more about the project. There were a lot of obstacles to work around, including knee walls, concrete walls, and electrical outlets.
How did you collaborate to create the best possible outcome? How did you involve the client in the process? Collaboration was accomplished mainly using the multiple tools that we have - most prominent being the iPad. The client lives far from the showroom, so using our resources, like CAD and finish samples in their home, was important.
It's her favorite room in the house now.

– Carmin Francisco, Designer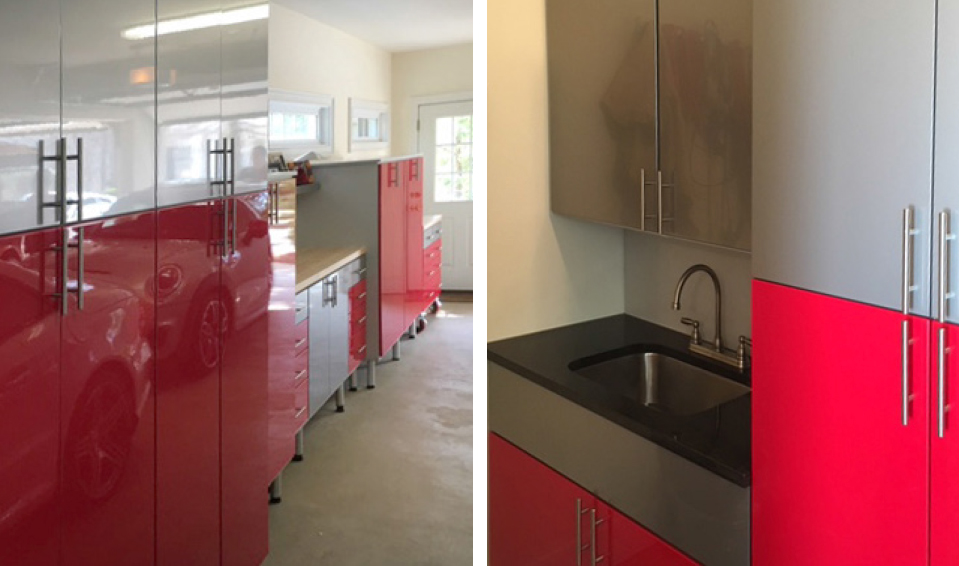 How did you use your creativity and passion for design to meet the client's needs? Taking cues from the rest of their home, it was obvious that they appreciated fine details. The finished outcome wasn't just about matching finishes to their custom car; it was also about creating a seamless look and stress-free environment.
How did you use our product – design and materials – to offer value to your client? Because our product offering is so vast, there is so much opportunity to hone into a specific look and feel. The steel and red gloss are perfect matches to the clients' Mini Cooper - which is more than a car to them, it's a passion.
In what way did you design a better life for this client? There is now a sense of pride and a special connection for this space. They feel like they can leave the garage door open for people to see. They feel relaxed.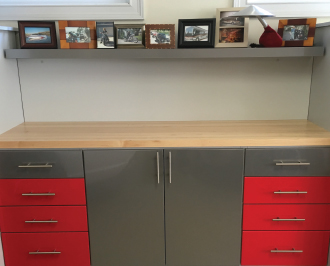 Your new closet starts with a
— complimentary design consultation —