A sophisticated, functional multi-purpose space serves a number of needs in the most aesthetically pleasing way.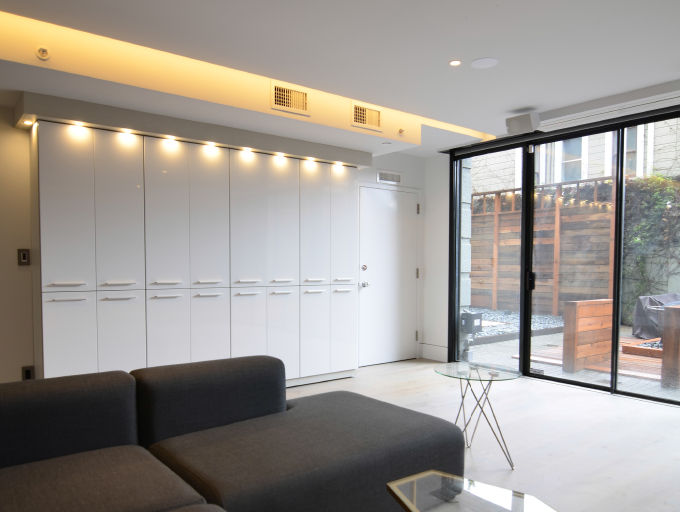 Design Consultant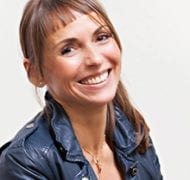 Monika Kerstens
With my European background and having lived in London, New York, Chicago and San Francisco over the past ten years, there is one thing I can say – I really had to learn how to organize the available space and squeeze every inch out of it in the most efficient way, within aesthetic constraints.
After having obtained a Masters degree in Law, I decided to pursue my true passion and enter the design world. In 2000 I designed my first furniture, which reflected very contemporary streamlined European design trends.
I obtained my Interior Design degree and certificates from colleges in London and Chicago. As an Interior Designer, in 2007 I won a design competition for a restaurant in Chicago. In 2008 one of my projects was published in the November issue of Home Improvement Magazine Chicago.
My first interaction with California Closets was through projects for my Interior Design clients in Chicago. After moving to San Francisco, I discovered that I share a similar professional philosophy as California Closets – passion for very good product quality and excellent customer service…. and so, I decided to join the San Francisco team.
I am thrilled to have been given the opportunity to help people define their needs and provide them with the optimal solution. As a European I am particularly excited about the Lago product and the new Virtuoso line, as this beautifully represents the clean contemporary style that I favor. I truly believe in my motto that accompany me all the years on my design carrier –
"…to Change and Idea into Concept and Execution….Your Space"
[...]
testing
Read More >
Read Less >
Who is the client and what is the style of their home? The project was a referral from an architect. The client works at a large tech company out of Japan. Located in Nob Hill in San Francisco, the traditional home has been renovated in a very minimalistic style.
Tell us more about the project. They needed the space to serve many purposes – including working, entertaining, and hosting overnight visitors from overseas. The design needed to include two wall beds with hidden storage, wine and glassware storage. They wanted the look to suit the existing style of the home.
How did you collaborate to create the best possible outcome? How did you involve the client in the process? I tried to be as flexible with my time as possible and keep clear lines of communication. The parties involved included the architect in New York, the final decision maker in Japan and the homeowner and myself in San Francisco. Together we discussed fundamental questions about color and finish options. I showed them my portfolio for example images.
The final result looks simple but required many hours from production and installation.

– Monika Kerstens, Designer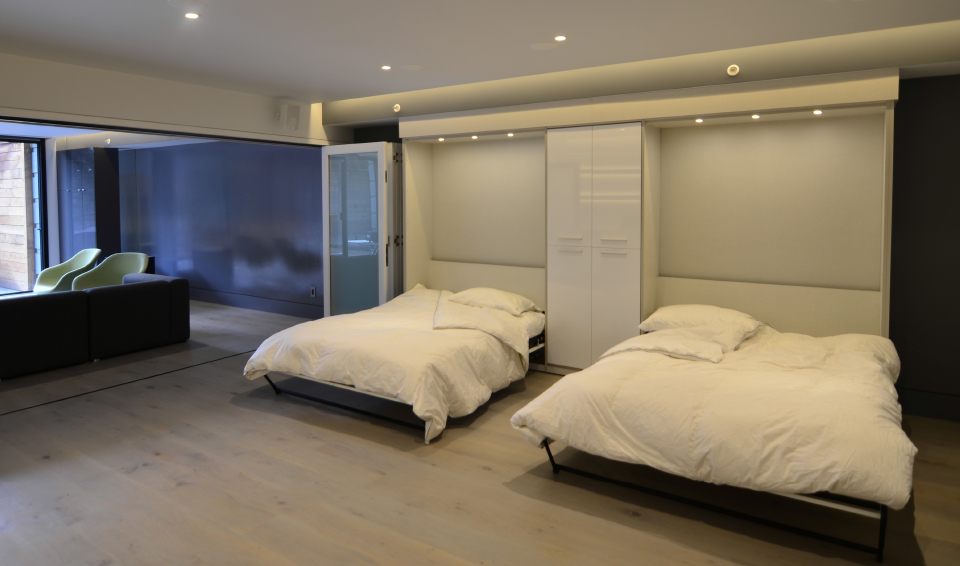 How did you use your creativity and passion for design to meet the client's needs? Using my passion for design was easy. This suited my design style and they knew exactly what they wanted - a clean, simple, and minimalistic look.
How did you use our product – design and materials – to offer value to your client? The client originally wanted the entire unit to be in high gloss, but I proposed an alternate option of Tesoro Linen with high gloss doors. We matched the paneled look on the murphy bed to the adjacent cabinetry.
In what way did you design a better life for this client? We facilitated the entire process and executed exactly what they wanted and needed. They now have a functional multipurpose space that helps them to be more productive in an otherwise unusable space.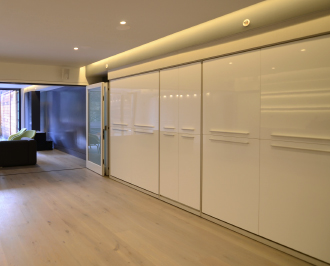 Your new closet starts with a
— complimentary design consultation —