A media center can be an eye-catching showpiece when designed with style in mind. Smart storage and stunning features come together to transform a living room into a gorgeous space.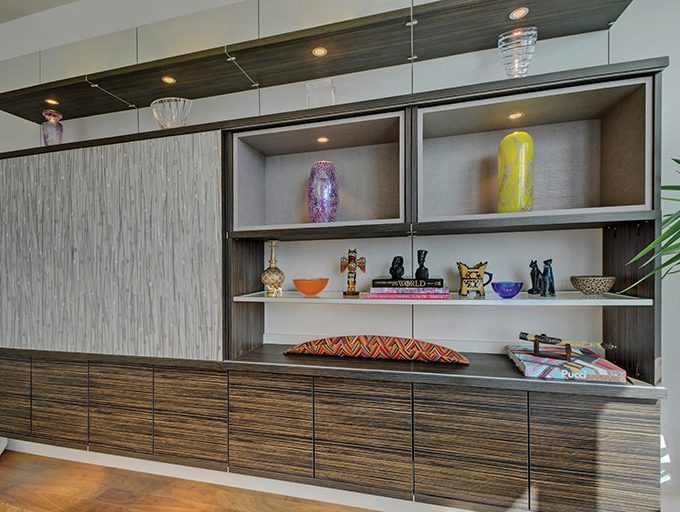 Design Consultant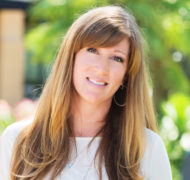 Shanna Davis
From a very young age my chores included organizing the linen closet, the pantry, the kitchen cabinets, my brother's nightmare of a room and closet and well you get the picture now. So imagine to my surprise graduating with a degree in Interior Design and then finding a company, which embodied the very essence of what I was searching for in a career! I think it's very rare today to find people who actually LOVE what they do and I consider myself to be one of the lucky few. I know queue the cheese factor but no I seriously do LOVE it!
I am here to simplify my clients' daily lives and who doesn't need that? Each appointment is a new adventure to help a friend find the solution they are searching for and I wouldn't be in this position if I didn't love a challenge. I tell each of my clients that I will work for them as long as they need me whether it's right now or 10 years down the road.
I have now been with California Closets for 10 years as a senior designer and it just keeps getting better. I have been so lucky to have worked with a majority of my clients for years now! Literally the best part of my day is getting to walk through and see an installation come to life and hearing what a difference it's making in my clients quality of life which in return inspires me to work even harder! The greatest compliment I can receive is a referral or a repeat client and I strive to give each and every one the experience they deserve. If I can make you laugh in the process well that's a bonus. Life is messy and chaotic and I want to deliver the calm after the storm.
[...]
testing
Read More >
Read Less >
Tell us a little bit about your clients and their design needs. My clients were in their late fifties with grown children who no longer lived at home. We had worked together to create a floor-to-ceiling master closet in their bedroom, and for this project, they wanted a similarly stunning design to improve the functionality of their living space without sacrificing style.
What was their home like? Their home was very modern. Everything was neat, clean and organized.
What are some of the key features of the design you created? I incorporated a sliding door with Hollywood Silver Ecoresin that could slide across to cover the TV when it's not in use. The clients did not want to see any hardware in the design, so I also added push-to-open cabinet doors.
I loved working with my clients on this design, making sure every detail was to their liking. When the installation was complete, I brought them a bottle of champagne so they could celebrate!

– Shanna Davis, Designer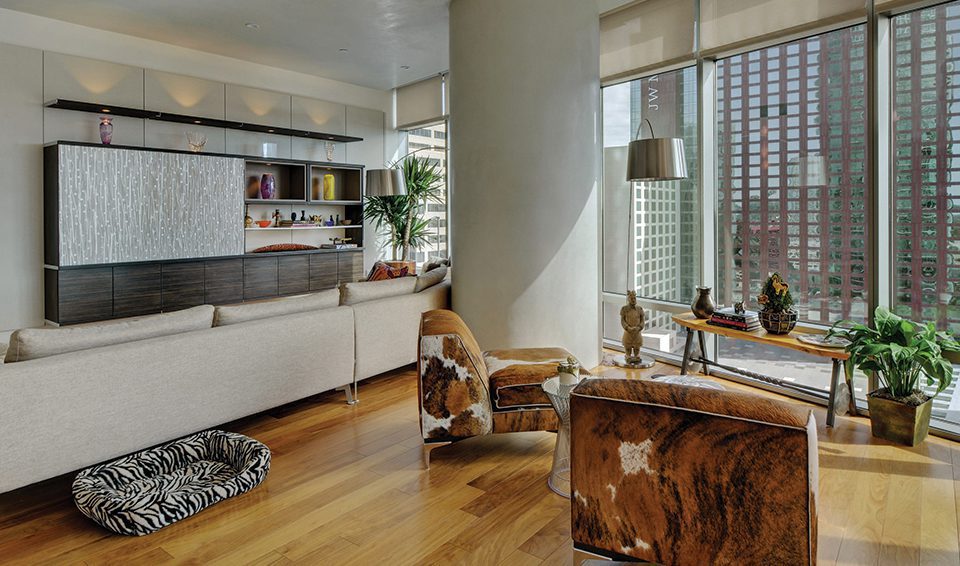 What materials were used in the design? The design features Tesoro Linen back panels with the lower cabinets in Ebony. The inset light boxes are Tesoro Corsican Weave. Accent puck lights illuminate the top shelf and underneath the unit to create visual interest and visibility.
How was the palette decided? The clients saw a similar design in the showroom that helped provide some inspiration. They wanted to bring in lighting elements because they have a lot of glass art pieces that they wanted to illuminate. I brought samples to their house to compare with the lighting in the space to guide them as they chose their final palette.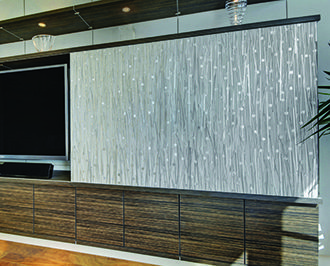 Your new closet starts with a
— complimentary design consultation —