Playing off a palette of turquoise and textured grey, this contemporary media center is reminiscent of driftwood and the sea, complementing the overall look of the room.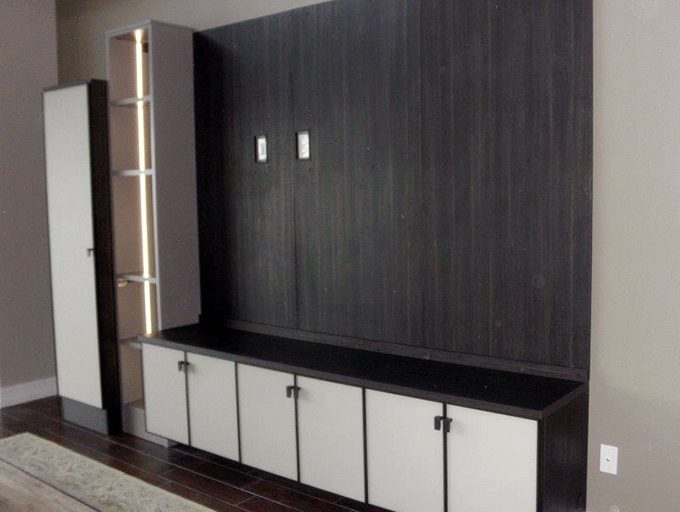 Design Consultant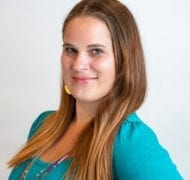 Dusty Deal
Dusty Deal has worked in the Interior Design field for approximately 8 years now, however has been employed with California Closets for the past 4 years.  She has a Bachelor's Degree from Seminole State College in Orlando, FL and Designing is her LIFE. Dusty has dabbled in all areas of design (Commercial and Residential) and loves to take on challenging projects. The mixing of several design elements and taking on detailed space planning is her specialty! Her inspiration comes from the whole experience from start to finish and being able to see the change Dusty has made in people's lives.
[...]
testing
Read More >
Read Less >
Tell us a little bit about your clients and their design needs. My clients were a middle-aged couple with one child. They had just moved to Apollo Beach from Michigan and wanted to add style and functionality throughout their home. I created storage designs for the master closet,a pantry and a media center to make their new home feel like their own.
What was their home like? They lived on a bay, so there is a lot of design inspiration from the ocean. The overall look is contemporary but not overly modern. They had many eclectic pieces, as well as a lot of turquoise throughout the home and in the master closet.
What are some of the key features of the design you created? The design provided closed shelving under the television for organization and storage, as well as open vertical shelving to the left of the TV to display decorative items. This balanced the overall design, so it was both functional and beautiful.
I loved closely collaborating with my clients to create a sophisticated palette that matches the rest of their home.

– Dusty Deal, Designer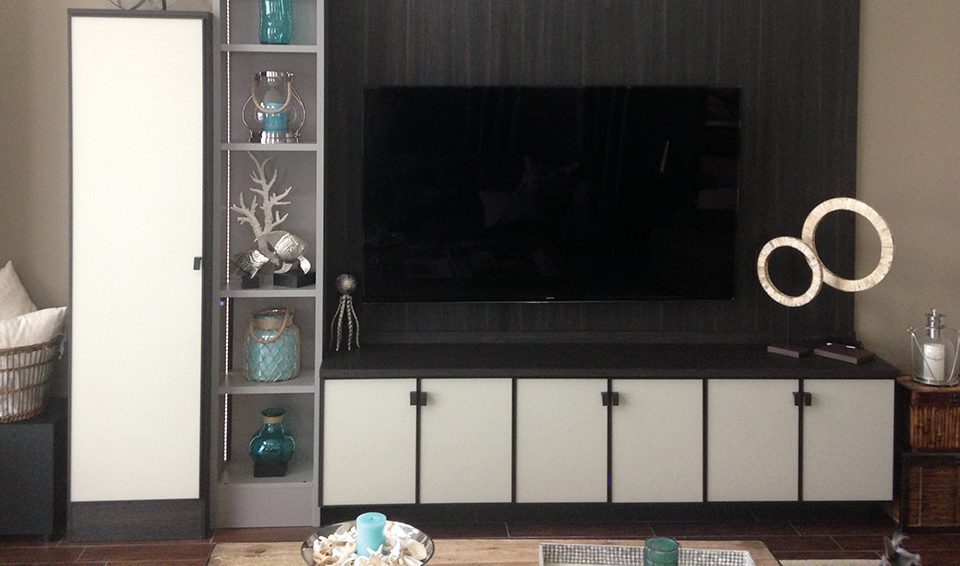 What materials were used in the design? In this media center, I incorporated our Tesoro Cappuccino finish as the base material and backing, and then I used Classic Cashmere shelving with three different back panel sections for visual interest and texture. The double doors are oil-rubbed Bronze powder-coated Aluminum frames with matte back-painted glass inserts in Sand.
How was the palette decided? My clients like the dark, rustic look, and they wanted the unit to match the ocean-inspired look of the rest of the house. The matte glass in Sand matched the color of their couch and some of their other home décor, too.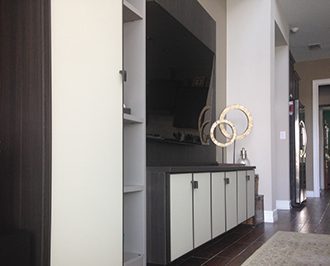 Your new closet starts with a
— complimentary design consultation —