A Creative Storage Solution for a Contemporary Loft
client: Natalie Levy
location: Indianapolis, IN
design consultant: Erin Moore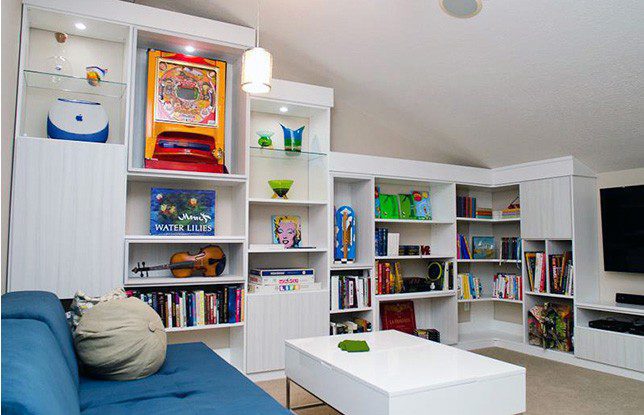 Natalie Levy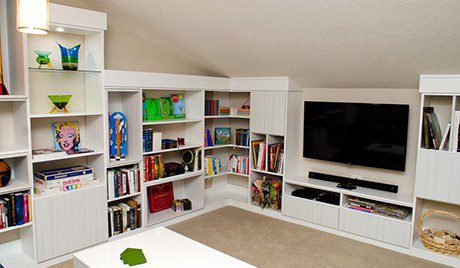 What She Wanted
---
Natalie Levy, an empty-nester, was a longtime admirer of California Closets and finally decided to purchase a custom storage system for her home. She had been struggling with her loft's sloped ceiling, which posed a design challenge. Levy also longed for proper storage and functionality in her home.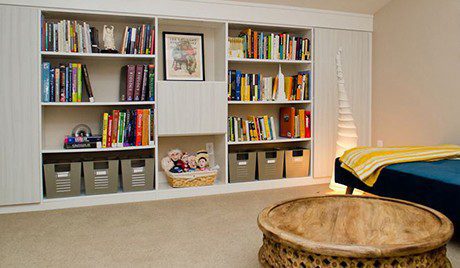 How We Did It
---
Design consultant Erin Moore created a stair-step storage solution that was cut to fit the slope of the wall. By choosing a white finish that blended into the existing space—and adding texture to the white cabinet doors as opposed to choosing a contrasting color—the unit became seamless with the rest of the room. The resulting amount of added storage space was not only functional but beautiful.
final result
---
I loved that my client had a more modern taste for design and that she had great pieces to feature in the units, which made the result look amazing.
The unit Moore created looks as if it was always there and provided Levy with some much-needed storage. She was pleased to have a space that's now more functional and allows her to show off her design style, too.
---
Design Details
Hardware & Accessories
Push-to-open hardware
Accents
Tesoro™ Tuscan Moon door and drawer fronts
Tesoro™ Tuscan Moon lighted boxes
Glass shelves
LED puck lights
Flush-mounted square fascia
*Note: Product availability may vary by location
---
---
Why Wait?
Book your free consultation today.
Schedule My Free
Design Consultation