For Designer Anthony D'Argenzio's Rustic Cabin, Functional Storage Adds Modern Convenience
client: Anthony D'Argenzio
location: Stuyvesant, NY
design consultant: Alicia Novak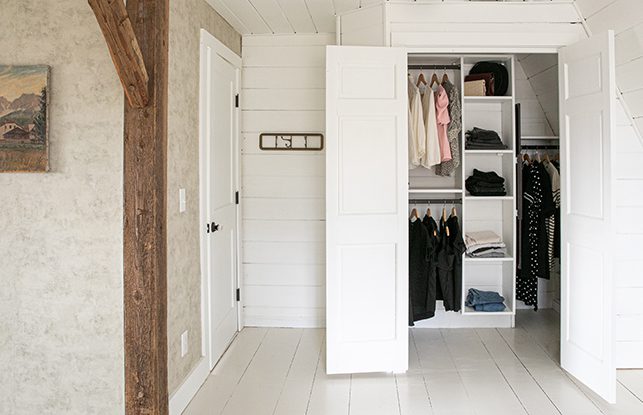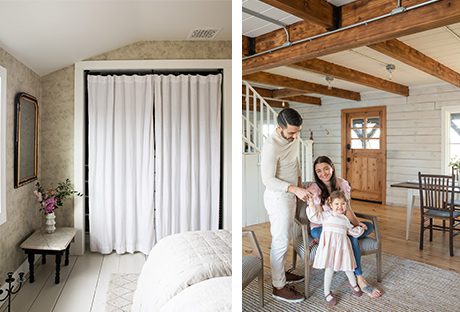 What he Wanted
---
As the founder of bespoke design studio Zio and Sons, Anthony D'Argenzio has turned his passion for home interiors into a business that emphasizes old-world details with a modern twist.
So when Anthony and his wife, Hillary, first visited Hudson, NY, they were drawn to the architecture and history of the small upstate town. Now, a decade later, they were ready to expand their presence and purchase a country home just 20 minutes outside of Hudson.
While this beloved log cabin home was long on rustic charm, it was definitely short on storage space. Designing custom bedroom closets quickly became a priority.
I fell in love with the Hudson Valley, the people who live here, the quality of life.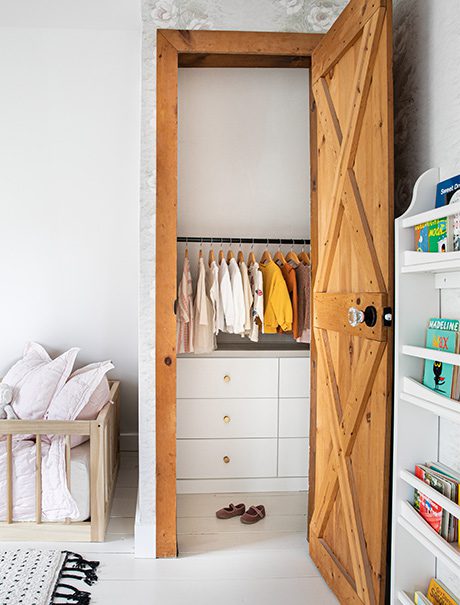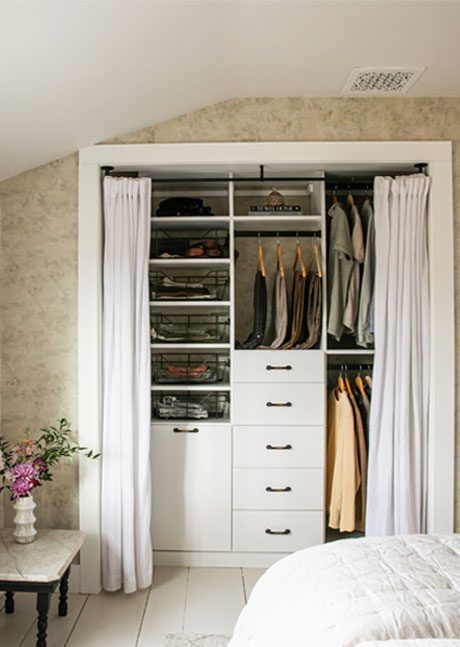 HOW CALIFORNIA CLOSETS DID IT
---
Given his love for design, Anthony worked closely with design consultant Alicia Novak and the California Closets Syracuse team to create his and her closets, as well as a functional kid's closet in 2-year-old Havana's room.
For Anthony's wife Hillary, an existing but small walk in closet was transformed with a mix of adjustable shelves, hanging areas, and cubbies – all taking into account the space's sloped ceiling. For Anthony, the room's shallow reach in closet was outfitted from floor to ceiling with upper and lower hanging rods, open shelving, and a center dresser unit to keep the bedroom's floor space open.
Anthony himself then sourced floor-length drapes in lieu of customary bi-fold doors that would have limited his access to the closet.
In the second bedroom, a small walk in was thoughtfully redesigned with a functional and accessible system to accommodate clothing and toy storage that can adapt over time.
I had never designed a closet with baskets higher than waist height… But the results were great!
final result
---
With this country home just a short drive from their city life, Anthony and his family find themselves spending more and more time away from it all. And now they have the optimized storage this home needed to support year-round use.
---
Design Details
Finish:
Luxe Matte Dove
Kid's closet: contrasting grey counter in Wood Grain Grigio
Metal:
ORB
Hardware: SCB 777-AZ Cast Bronze
Mountain Handle 5" (from our Traditional hardware collection)
Kid's: Transitional Domestic Bliss knobs in Matte Gold
Additional Accessories:
Doors & Drawers: Slab, Dove
Pole & Accessory Finish: ORB fluted poles
Drawer Box Material: 12mm birch
Tilt-out hamper (his)
Pull-out Valet rod (his)
Pull-out baskets (his)
Pull-out swivel mirror (hers)
*Note: product availability may vary by location
---
---
Why Wait?
Book a free consultation today – and ask about virtual consultations.