Client Stories:

Murphy Bed Redesign Solution
client: Tony and Javier
location: Montreal, Quebec, Canada
design consultant: Murphy Bed Redesign Solution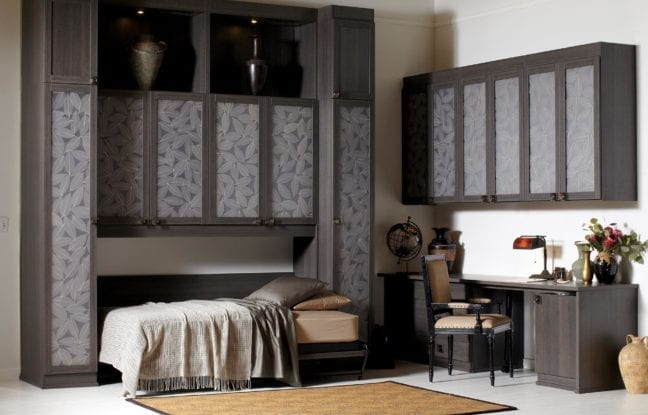 Tony and Javier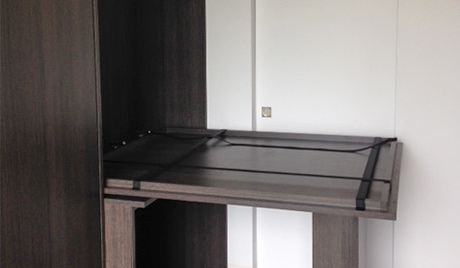 What They Wanted
---
As Tony and Javier bought and moved into their new two bedroom condo, it was really important for them to create a multi-purpose space in the second bedroom as it would be shared by both them and their guests. Javier loves to do jigsaw puzzles and was hoping that we could take on the challenge of not only creating a guest bedroom for their guests and a home office for him and Tony but also a functioning jigsaw puzzle table. They were also hoping to maximize the storage despite the design challenges of the small size of the room and the huge window that took over a complete wall.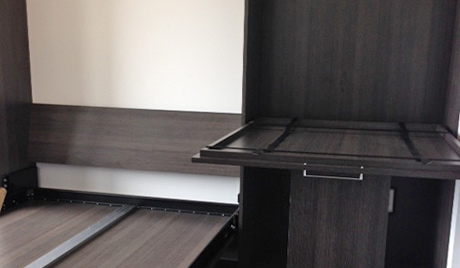 How we did it
---
By understanding exactly how this space was going to be used and working with Tony and Javier to understand exactly what elements they would need integrated into their space, we were able to create a balanced design that features a pull-down Murphy bed and night table, a desk with upper cabinet storage and filing cabinets, and a pull-down Jigsaw puzzle table with all of the necessary straps and supports so it could be easily tucked away when not in use.
final result
---
Once their installation was complete, Tony and Javier now have a multi-functional space, which meets all of their needs. Although we had one small room to work with, they now have a space that they can both enjoy.
Your new closet starts with a
— complimentary design consultation —