Gone are the days where every homeowner has an entire room dedicated as a home office. Today, people have to get creative with their limited space. With an expert design, you can make space for all of your office dreams, along with having ample storage for your home. Here in Tucson, having a tranquil space that boosts productivity and creativity is a must. Whether you live in Vail, Marana, Green Valley, Sahuarita, Quail Creek, Tubac or other areas of Southern Arizona, having an organized, space-saving office is key – and it starts with maximizing the space you already have.
Whether you want a quiet, cozy office or a collaborative, creative shared workspace, functional storage solutions should always be incorporated. Everything from the finishes to the lighting should reflect your personality and style.
Accessories that Keep Your Office Organized
Custom-designed bookshelves
Counter surface for collaborative workspaces
Lower desk cabinets to conceal home office supplies
Upper storage cabinets to allow for easy access to supplies
A keyboard tray or sliding drawer to be tucked away when not in use
Floating shelves to display collectibles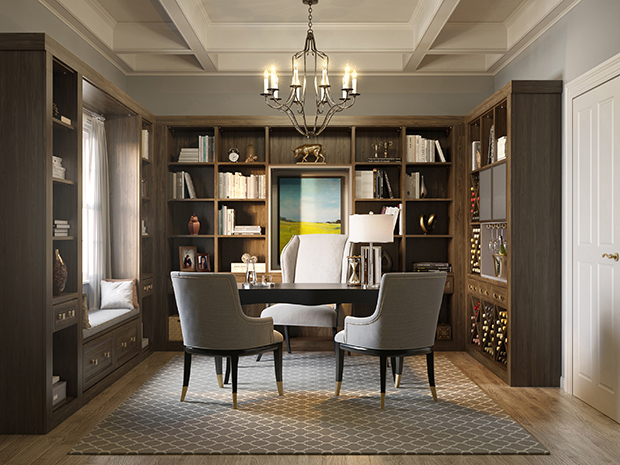 Space-Saving Home Offices
Every home is unique, and every personal style and taste should be reflected in a home office. Popular, space-saving home office ideas include:
If you have a spare room but are debating whether to turn it into an office or guest room, how about both? With a Murphy bed solution, you can house guests when they're in town, and use the room as an office at all other times. Or, if you're in a very tight living space, you can use your bedroom as an office. A Murphy bed folds up and into the wall during the day so you have free roam to work.
Keeping with the multipurpose room theme, having a beautiful space to work and lounge in is space saving in itself. Design touches such as floating shelves, display shelves, slab doors and puck lighting illuminate the space so you can easily transition from work to play.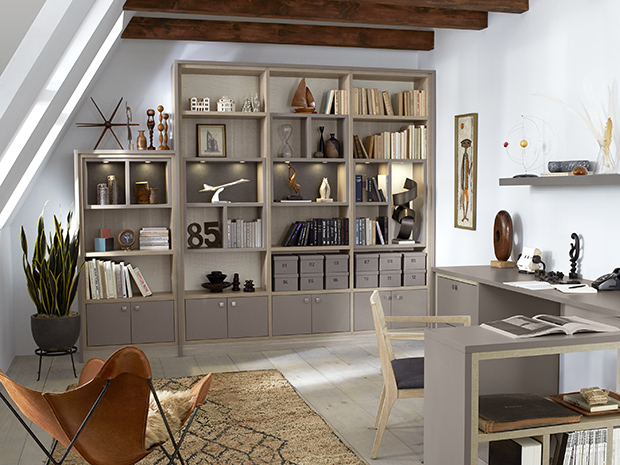 For a sophisticated feel that doesn't need an entire room, a library creates a warm, scholarly aesthetic that will help keep you focused all day. Custom shelving creates storage and displays books, while artwork and lighting elevates your office – even if it's just on one side of the room.
Wouldn't it be nice to get your kids to focus when they do their homework? With working and relaxing zones all in the same area, this system allows for productivity and comfort in one tailored space – so mom and dad can work while the kids can do homework or read. White walls make the space feel airy, while slab drawer fronts contribute to a seamless look. Adjustable shelving and integrated multiple working stations allow for the space to be flexible, for whatever at-home work needs to be done.
Featured on Houzz, California Closets Tucson is the leading expert in organization, storage and closet design. With the Tucson team, you'll receive an expert complimentary in-home design consultation to discuss your unique space, whether in your home or by visiting our Gallery Row and Costco Place showrooms. Get to work with a beautiful, custom home office you'll love.