Living in Vail/Aspen means having plenty of outdoor gear for skiing, snowboarding, snowshoeing, snowmobiling and more. So where exactly do you put all of these items, especially if you're limited on space? The design experts from California Closets have put together solutions unique to your Vail or Aspen home, so that you can finally find a designated place for all of your items.
The mudroom is perfect for outdoor-loving homeowners. Right when you walk in to your home, you basically have an open closet. Well-designed hanging space, shelving, hardware, and sitting areas create organization and efficiency – without sacrificing style.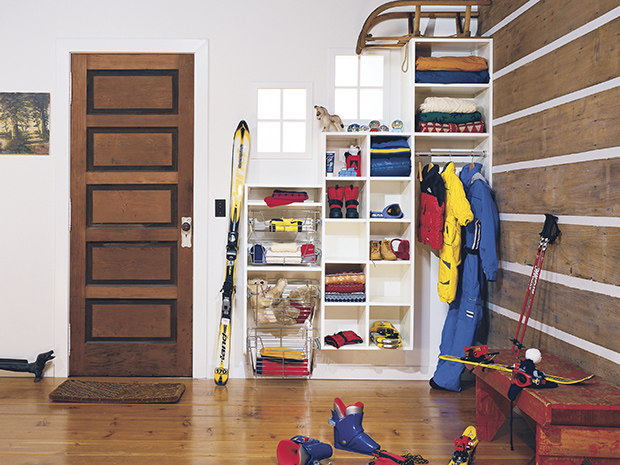 Custom-built in cabinetry, as well as decorative moldings and details, create the look and feel of installed furniture and can be designed to match the rest of the home.
Open storage offers easy access for items used daily as family members go in and out of the home, making these transitions seamless and less chaotic.
Designated cubbies for shoes and children's small belongings, like gloves, help minimize clutter and misplaced items alike.
Hooks make grabbing coats and backpacks easy. Various finishes are available to match the look and feel of the rest of the system.
An integrated bench area provides a place for putting on and taking off shoes and boots, as well as additional storage underneath.
Specialized, out-of-the-way storage areas can be included to house seasonal items, sports equipment, and more, depending on your needs.
Whether for your snow gear or office wear, having a distinct place for everything makes life much easier. Closet accessories such as pullout racks, hampers and baskets, multiple hanging areas, shelving, drawers and shelf dividers, jewelry drawer dividers and even bench seating not only organize and store your items but provides a relaxing, ambient atmosphere. Some popular options from California Closets include: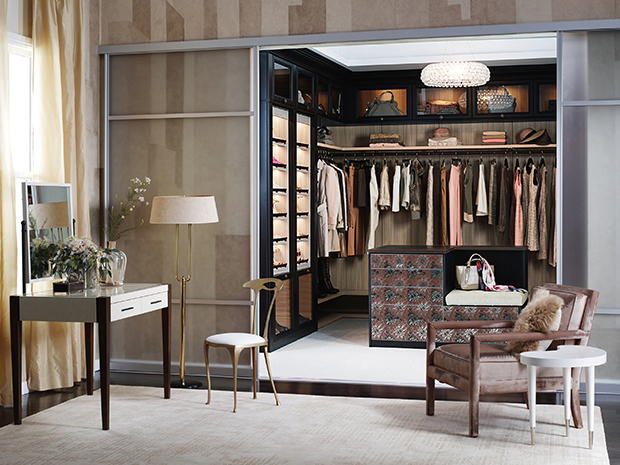 Fashion Blogger's Wardrobe – A fresh modern color palette with accent cubbies and dramatic lighting showcases your ever-evolving wardrobe and accessories collection.
Sophisticated Couple's Walk-in Closet – Classic finishes and subtle details create a large walk-in closet that is refined and luxurious but also warm and inviting.
Modernist Closet– White, high-gloss surfaces and flat drawer faces create a sleek, contemporary closet.
Hotel Wardrobe – Designed as a custom piece of furniture, this wardrobe adds essential storage to any small space.
Urban Master – By pairing a reach-in wardrobe with a built-in credenza, this elegant mid-century-inspired master closet provides storage and classic style.
The garage is the perfect place to store seasonal décor and seasonal outdoor wear, as well. Custom cabinets, drawers, shelving, and a Fusion Track Wall System (a hanging rack on the wall for bikes, rakes and more), keeps your items off of the floor and out of the way. Workbenches and crafting areas are available for hobbyists and carpenters in the making. Baskets provide storage for sporting equipment and open countertops provide a space to work.
If you're ready for a better organized home for your active lifestyle here in Vail, Aspen Eagle or Summit Counties, give the California Closets
Vail
team a call. You'll receive an
expert design consultation
that's absolutely free right in your home. Featured on Houzz, California Closets is the leading design and organization team that helps organize homes all over the country. Get started today by visiting our
Edwards showroom
.