It's amazing what extra storage and custom cabinets can do for your home. If you're ready for a home makeover, installing custom cabinetry and space-saving storage will not only improve your home and its value, but it will give you peace of mind and more time to focus on what truly matters.  Whether you live in the Silicon Valley area, Redwood City or San Jose, having effective storage is best for those with a busy life.
Room by room, you'll discover the best ways to organize your items with smart and space-saving storage.
Bedroom
The bedroom can easily get out of control – with clothing and books strewn about when you're in a hurry. The key is to build a custom closet that works for your lifestyle, whether you have a lot of clothing and shoes for a luxurious walk-in closet, or you need something more simple and space-saving, such as a reach-in closet.  The key to organization in closets lies in the details. Closet accessories are what keeps your clothing and accessory items organized for good.
Designated shoe shelves and jewelry drawer inserts give accessories a proper home.
Pullout accessories such as belt, tie, scarf and valets maximize space and organization.
Multiple hanging areas, adjustable shelving, drawers, baskets and hampers give space-saving options.
A set of drawers, shelving and displays give you the freedom to choose if you want to conceal or showcase your items.
Kids and teens closets with adjustable shelving grow as they do.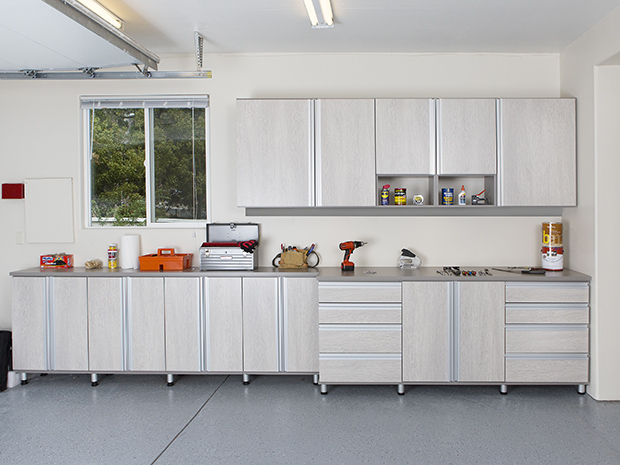 Garage
The oft-neglected garage is actually a vital extension of your home, if you utilize it properly. With custom storage cabinetry, drawers, shelves and specialty racks, you can create a purposeful room for efficiently storing tools, sports equipment, keepsakes, and holiday decorations.
Baskets provide easy access to sporting equipment or gardening supplies.
Durable drawers hold smaller items, such as nails, screws and sandpaper.
Deep custom-designed cabinetry stores everything from seasonal décor to sporting goods.
A Fusion Track Wall System holds anything from large tools to auto equipment.
Deep countertops offer a large work surface area for projects.
Kitchen
If you love to entertain or you have a big family, you know that the kitchen is one of the most often used rooms in the home. A pantry system is a great way to organize all of your dishware, ingredients and cooking supplies in a beautiful display.
Sliding storage shelves allow for easy access to canned goods, while vertical shelf dividers organize cleaning supplies.
Pantry drawers are specially designed to be spaced further apart, providing a better view of their contents.
Drawers conceal utensils and cooking equipment, as well as snacks that are easily accessible for children.
Wine racks and stemware holders cleverly store bottles and glassware.
Counter areas create a space for food preparation.
Pullout racks for linens and other miscellaneous items help organize further.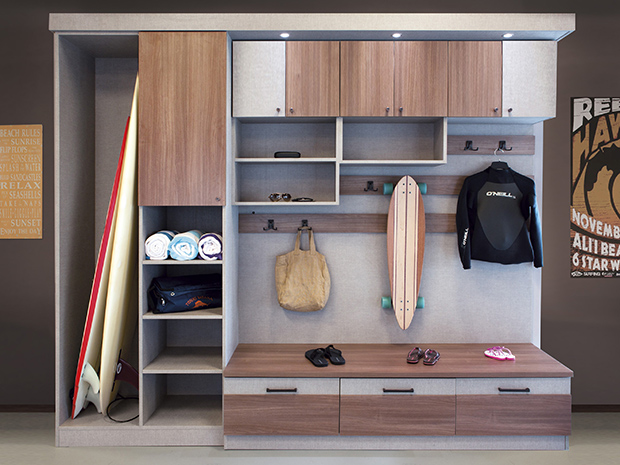 Mudroom
A mudroom is a great way to keep the house clean as soon as you walk in the door. Well-designed hanging space, shelving, hardware and sitting areas create organization and efficiency, without sacrificing style.
Custom built-in cabinetry, as well as decorative moldings and details, create the look and feel of installed furniture designed to match the rest of the home.
Open storage offers easy access for items used daily as family members go in and out of the house.
Designated cubbies for shoes and children's small belongings, like gloves, help minimize clutter.
Hooks make grabbing coats and backpacks easy.
An integrated bench area provides a place for putting on and taking off shoes.
Home Office
With working from home becoming more and more popular, it's crucial to get a home office that's not only beautiful and inspiring, but also space saving and efficient.
Custom-designed bookshelves store large or small collections.
Counter surface provides a workspace for collaboration.
Lower desk cabinets conceal home office supplies and technology, corralling cord clutter.
Upper storage cabinets allow for easy access to supplies.
A keyboard tray or sliding drawer can be tucked away when not in use.
Floating shelves display collectibles.
A Murphy bed creates a multipurpose room to accommodate out-of-town guests without interrupting the everyday functionality of a home office.
For the best in storage and space-saving design, California Closets  San Jose is your go-to solution. With nearly four decades in the industry, the leading closet and storage design company has been building beautiful solutions across the country for families and individuals of all budgets, lifestyles and tastes. Every new client receives a complimentary in-home design consultation to ensure everyone is on the same page, and that the homeowner will absolutely love his or her new addition. Get started today by scheduling your free consultation.