Do you ever walk into you closet and then immediately walk right back out? Unfortunately, this is common. Not many people like to spend time in their garage – they're messy, outdated and cluttered, and not at all comfortable. Here at California Closets, we believe the garage is a valuable extension of your home if you design it correctly. It's a great place for storage and conducting miscellaneous projects. Whether you live in Malibu, Los Angeles, Santa Monica, Topanga or Woodland Hills, you deserve a garage that's not only clean, but also functional and valuable.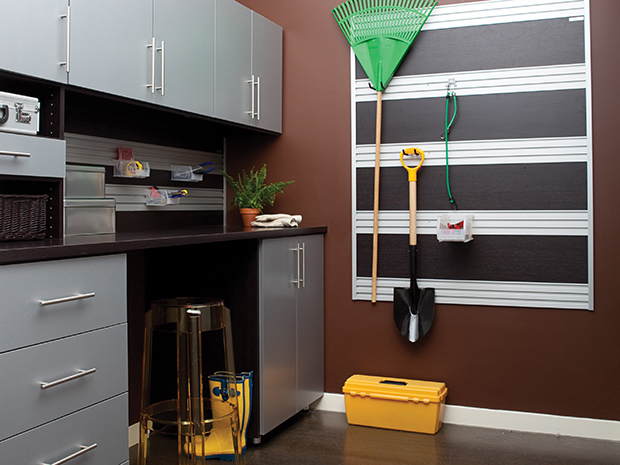 Custom Cabinets in the Garage
The garage is one of the best places to truly take advantage of custom cabinetry. Designed in the size, style and finish that you like, cabinets hold everything from sporting equipment to tools to seasonal décor. Deep drawers, shelves and specialty racks create a purposeful room for efficiently storing whatever you need.
Durable drawers hold smaller items, including workshop accessories like nails, screws and sandpaper.
Baskets provide easy access to items that are often needed, like baseball gloves and balls or gardening supplies.
A Fusion Track Wall System holds anything from large tools to auto equipment.
Deep countertops offer a large work surface area.
Finishes
Once you've selected your custom cabinetry, it's time to decide on what finishes and materials you'd like to use. At California Closets, we find inspiration for our unique materials and color palettes through artisans and designers from around the world. To meet the varied needs and design styles of our clients, we provide a broad range of finishes, from classic shades to distinctive textures imported from Italy, allowing for superior flexibility. While our Lago® line replicates the sophisticated look of real wood, our Tesoro™ line offers a richer wood-grain and texture. The materials can be easily tailored to your personal style, plus they're more durable (and easier to care for) than wood, as well as eco-friendly.
All of our board is compliant with the California Air Resources Board (CARB) , which consists of some of the most rigorous regulations for emission standards, and is available in a variety of substrates, including low-emitting formaldehyde. This certification applies to our three finishes – Classic, Lago®, and TesoroTM – which come in a wide range of beautiful colors and textures.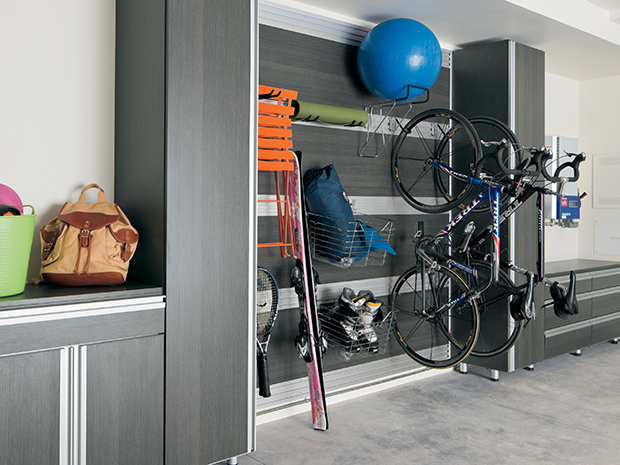 Garage Organization
Now that you've stored away your items and everything is off of the floor and out of the way, you'll have space for your cars and projects. Our workbenches are versatile storage options, including cabinets and Fusion track Wall Systems that organize often-used tools and equipment for easy access. A personalized and integrated workspace maximizes efficiency and square footage.
Whether you want to conduct projects in your garage or you simply want an organized space, custom cabinetry is the way to get there. Featured on Houzz, California Closets is backed by nearly four decades of industry experience, and provides the most organized, customized options for clients here in Malibu. Schedule your complimentary expert design consultation or visit our Santa Barbara or Westlake Village showrooms to get started today.