When improving your home, you need to think about its property value, especially in today's market. A well-designed closet speaks volumes for newcomers, so that it can easily become a comfortable, organized space for all belongings. Below are tips from our expert designers from California Closets on how to create a beautiful, organized custom closet here in Maine, Bangor, Rockland, Camden or Portland.
Not all closets are created equal. Some are larger than others, some have outdated furniture or accessories, and some may be tougher to work with than others. The great thing about custom closets is that you can work around your unique space, to achieve the optimal closet that works as a storage solution and beautiful addition to your home.
Whether you dream of having a modern, expansive walk-in closet to house your shoe collection, or desire a simple, minimalist reach-in closet, your options are endless when it comes to creating your very own custom closet.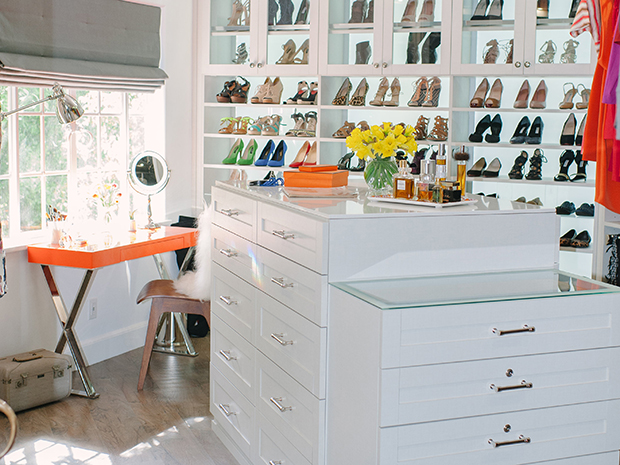 If you want to maximize the space you do have (even if it's a small closet), you can achieve this with smart closet accessories. Some of our popular accessories to help maximize space and achieve organizational solutions include:
Shoe Storage – Create an incredible display for your shoe collection that's integrated into your closet.
Drawer and Shelf Dividers – Keep your shirts away from your socks for good with smart dividers.
Jewelry Drawer Dividers – Display and store your precious heirlooms and jewelry in a fun shopping experience.
Hampers & Baskets – Keep dirty clothes concealed with pullout hampers and baskets.
Pullout Racks and Accessories – Store ties, belts and scarves on a rack or valet.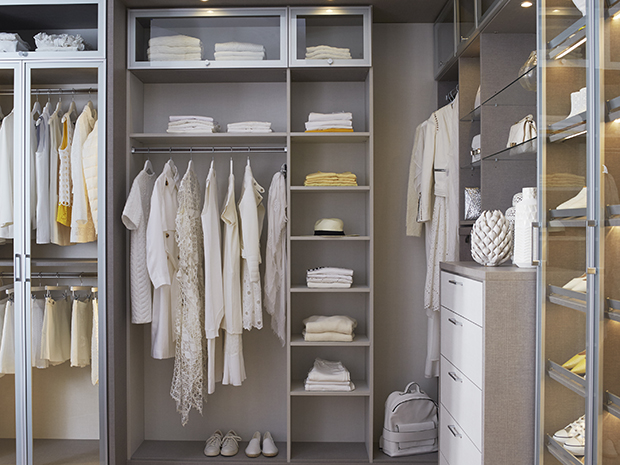 From modern to traditional, closet design inspiration is endless.
Fashionista Walk-In – A soft color palette with accent cubbies and dramatic lighting showcases the ever-growing wardrobe collection.
Sophisticated Couple's Walk-In – Classic finishes and subtle details create a large walk-in closet that is refined, luxurious, warm and inviting.
Hotel Wardrobe – Designed as a custom piece of furniture, this wardrobe adds essential storage to any small space.
Urban Master – By pairing a reach-in wardrobe with a built-in credenza, this elegant mid-century inspired master closet provides storage and classic style.
Richmond Closet – Beautiful and efficient, this sophisticated and masculine design ensures every item is within reach.
Arizona Dressing Room – High-end finishes reminiscent of a posh boutique make this dressing room truly decadent.
Soho Built-In Wardrobe – Clean lines and a plethora of behind-closed-doors storage areas create a centerpiece that's both minimalist and timeless.
Your desired closet is just a phone call away. Call the California Closets Maine team today to schedule your expert design consultation that's free and conducted right in your home. Featured on Houzz, California Closets is the leading name with nearly four decades in the closet and storage design industry. Get a better closet today and increase your property value for your home here in Maine.