Are you at odds with your garage? The garage is often a neglected use of space, and many homeowners don't realize how valuable it can be. Here in Greater Hartford, you need all the storage space you can get, so designing a garage that gets you organized will benefit those who live in Hartford, Springfield, Windsor Locks or Longmeadow.
Nothing conceals and stores items away better than storage cabinets. Custom-designed cabinetry, drawers, shelves, and specialty racks create a purposeful room for efficiently storing tools, sports equipment, keepsakes and holiday decorations – maintaining order and making organization simple.
Deep custom-designed garage storage cabinets store everything from seasonal décor to sporting goods to tools.
Durable drawers hold smaller items, including workshop accessories like nails, screws and sandpaper.
Baskets provide easy access to items that are often needed, like baseball gloves and balls or gardening supplies.
A Fusion Track Wall System holds anything from large tools to auto equipment securely to your garage wall.
Deep countertops offer a large work surface area.
Now with all of this free space, take advantage of it by conducing projects. With plenty of craft space and workspace available, it's best to get that organized, too.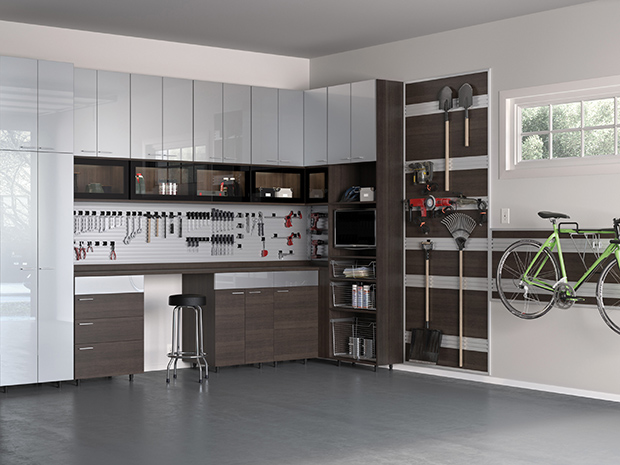 A Fusion Track Wall System displays tools and equipment, keeping items needed regularly in close reach without sacrificing counter space.
A work counter provides ample space for gardening or working on projects.
Baskets can be designated to hold drop cloths, garden supplies, or objects for recycling.
Custom cabinetry holds items for your hobby and gardening needs, as well as necessary tools.
Get in Touch with the Design and Organization Experts
Once you're ready to reorganize your garage, give the California Closets Greater Hartford team a call. You'll receive a free expert design consultation right in your home, so your designer can go over your unique space with you, your goals and your budget.Featured on Houzz, California Closets has been the leading designer in closet and storage organization for nearly four decades. Stop by the West Hartford showroom to schedule your consultation today.