The garage: often an avoidable topic of conversation. When left un-cleaned and unorganized, the garage can be a scary place. However, with the right design and organization, the garage is actually a valuable extension of your home and a great place to store out-of-season items (like holiday decorations). The design team from California Closets put together several solutions for those living in Western Massachusetts, Hadley, Springfield, Cape Cod, South Shore, CT, Rhode Island, South Eastern New Hampshire or Hartford.
The Power of Storage Cabinets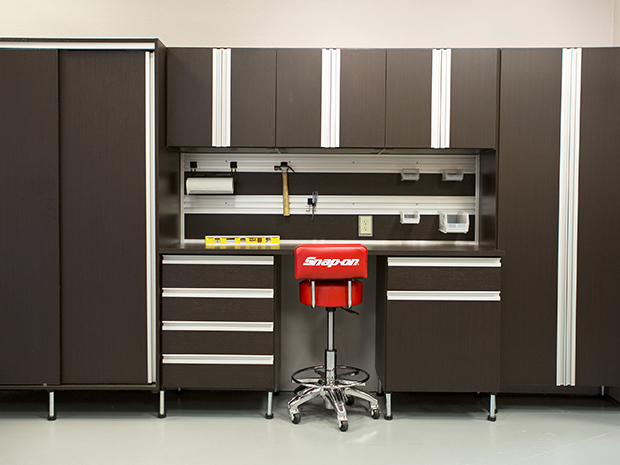 The best way to organize your out-of-season items so that they are not visible is with custom storage cabinets. Deep custom-designed garage storage cabinets house everything from seasonal décor to sporting goods to tools. Durable drawers hold smaller items, including workshop accessories like nails, screws, and sandpaper. A variety of finishes and layouts are available depending on your unique style, budget and layout of your garage.
For additional storage that's also space saving, baskets provide a great way to house balls and gardening supplies. A Fusion Track Wall System holds anything from large tools to auto equipment, and deep countertops offer a large work surface area.
A couple ideas of how you could design your garage for maximum storage potential include:
Margarido Garage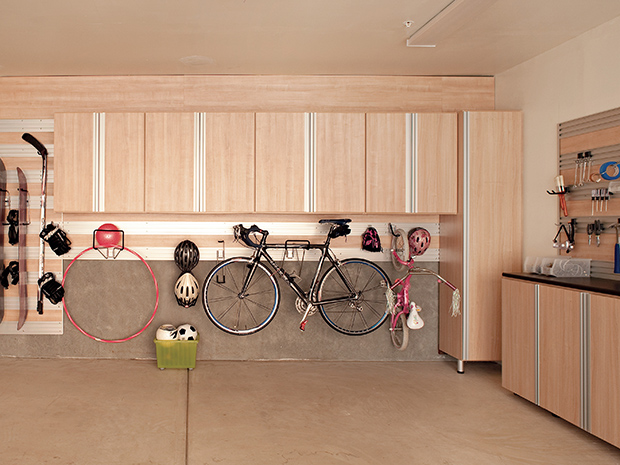 With plenty of storage and a variety of organization options, this garage blends function with smart style.
Lago® Umbrian Oak finish.
Fusion Track Wall System with accessory hooks for storing gardening tools and sports equipment.
Additional Fusion Track Wall System over countertop for easy access to smaller tools and supplies.
Ample counter space for working on projects.
Large storage cabinets offer space for oversized items.
Cabinets help conceal clutter and keep the garage looking tidy.
Schafer Garage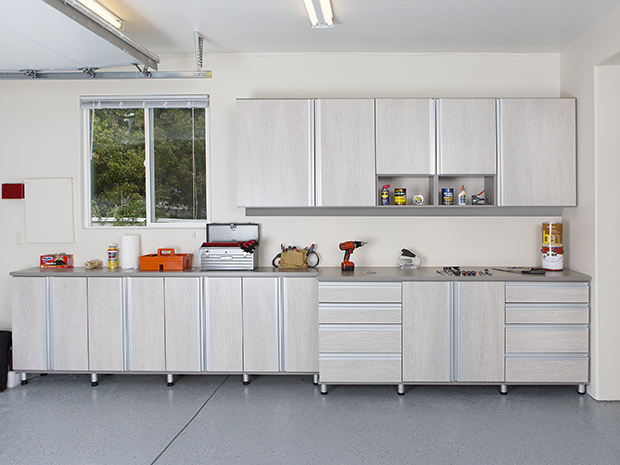 Closed storage cabinets with multiple types of drawers ensure that every item has a specific place, creating a well-organized garage.
Lago® Adriatic Mist finish creates an airy color palette.
Lago® Adriatic Mist slab door and drawer fronts contribute to the seamless look.
Integrated Aluminum extrusion finger pull detail extends the full length of the door for a seamless industrial look.
Classic Cashmere countertop complements overall look.
Concealed storage cabinets include adjustable shelving for changing needs.
Get started today by contacting the California Closets Western Massachusetts team. You'll receive a complimentary in-home expert design consultation. Featured on Houzz, California Closets has been transforming homes for nearly four decades.