Are you running out of space due to clutter in your Orlando home? Then it's time to clear out space and get organized. The California Closets Orlando team put together ways to create custom storage solutions for your home here in Orlando, Lake Mary, Johns County, Glagler, Volusia, Seminole, Orange or Lake.
Custom-designed cabinetry, drawers, shelves, and specialty racks create a purposeful room for effectively storing your items. Their main purpose is to get things off the floor and discreetly stored away. Here's a closer look at storage cabinets:
Deep custom-designed cabinetry holds everything from seasonal items to sporting tools
Durable drawers hold smaller items such as nails and screws
Baskets help store smaller items such as papers, gardening tools or sporting equipment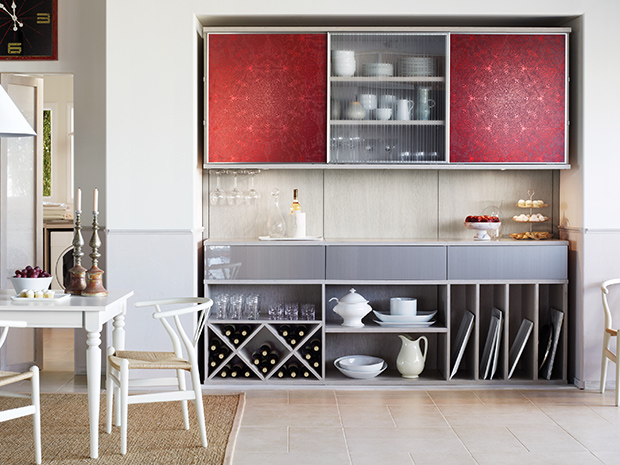 The kitchen is the heart of the home – especially for those who enjoy cooking and entertaining. You want a clutter-free space where you know where everything is. A customized pantry system will transform your kitchen into a beautiful, organized space where every item can be easily placed and retrieved. Here are some ideas for smart storage:
Pantry drawer inserts will separate coffees, teas, utensils and more
Pantry pullout baskets will give you easy access to foods or supplies
Wine & Stemware Storage will beautifully display your wine collection and allow you to entertain with ease
Organizing your closet is often the most difficult for people—it's hard to properly find a place for all of your items. But with great design, you'll get ready in the morning with a sense of calm and happiness with a beautiful, functional closet or bedroom storage solution. Closet systems and closet organizers are the answer when it comes to effectively storing your items and maximizing space. Some popular closet accessories include:
Shoe Storage – Display your collection beautifully
Drawer and Shelf Dividers – Keep your t-shirts separate from your socks
Jewelry Drawer Dividers – Give your jewelry and heirlooms the treatment they deserve
Hooks and Polls – Hang bags, hats and scarves
Hampers & Baskets – Have an optional pullout solution for keeping your dirty clothes and accessories separate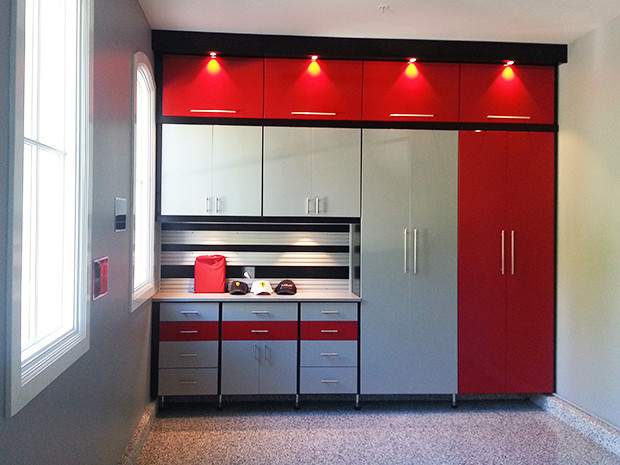 The garage is often a neglected area. However, we believe it's a great space to utilize as an extension of your home. Whether you need a space for your tools, outdoor equipment, crafts or all of the above, there are plenty of solutions.
Garage storage cabinets – store away everything you don't want seen with beautiful cabinetry
Fusion Trak Wall System – Keep bikes, auto equipment and gardening tools off the floor and out of the way
Baskets – Store balls, gloves, and miscellaneous items where you can see them
Did you ever think about using your kids' playroom as a valuable storage area? Toy storage should be simple and easy. Cabinetry, drawers, shelving, baskets and cubbies make for easy access and cleanup.  Here's a closer look at how you can effectively store toys and more in the playroom.
Drawers and baskets make it easy to clean up after playtime
Window seat shelving creates a perfect reading nook with storage underneath
Pullout baskets are ideal for toys of all shapes and sizes
Integrated desks create a space for homework with optional storage within the desk
Shelving keeps items off the floor and out of the way
Cubbies are a great way to display cool toys while having their designated space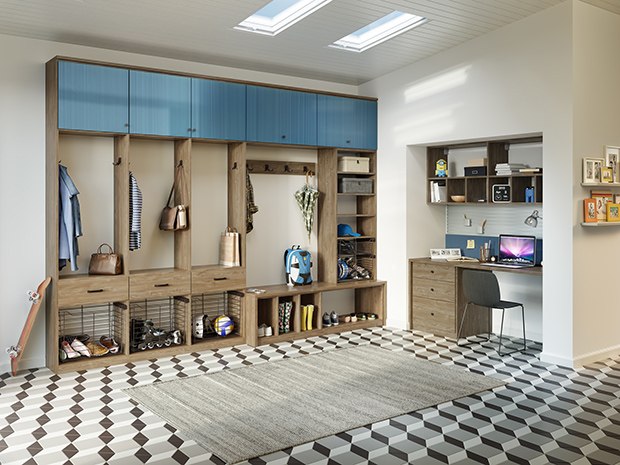 Have you ever thought about integrating storage in the entryway of your home? A mudroom is the perfect place to store your shoes, umbrellas, jackets, bags and sporting gear. Well-designed hanging spaces, shelving, hardware and sitting areas create organization and efficiency. Designated cubbies and small storage areas are great for kids' shoes.
Get started today by contacting the California Closets Orlando team. You'll receive a complimentary in-home expert design consultation, or you can visit the Winter Park showroom to see for yourself.