Are you running out of space in your home here in New Hampshire? With smaller spaces becoming more common, now is the time to get more creative about storage. The designers from California Closets put together ideas to store and organize so that you can have a clutter-free home, no matter what size here in Merrimack, Wolfeboro, Manchester, Bedford, Amherst, Hudson, Nashua, Windham, Sunapee, Hampstead, Atkinson, Andover, Tyngsboro or Pelham.
Garage Storage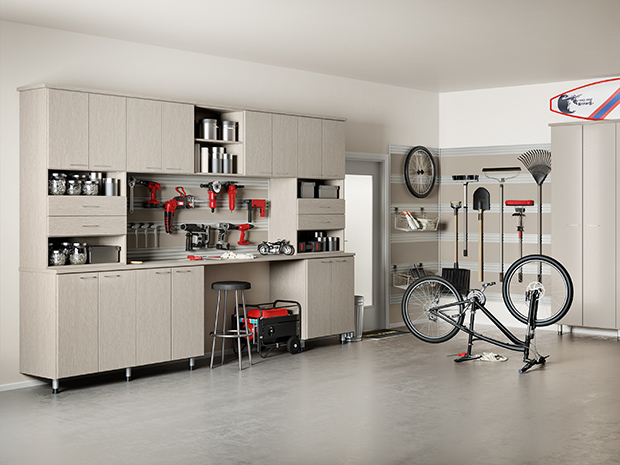 Although many people neglect their garages or use them as an unofficial "junk drawer" we at California Closets believe the garage is a vital extension of your home. Take advantage of all the space you have by getting your things in order. Custom storage cabinetry conceals everything from gardening tools to sporting equipment to holiday décor, and drawers and baskets store items that are used more frequently. A Fusion Track Wall system stores bikes, rakes, and more to keep everything off of the floor and out of the way.
Mudroom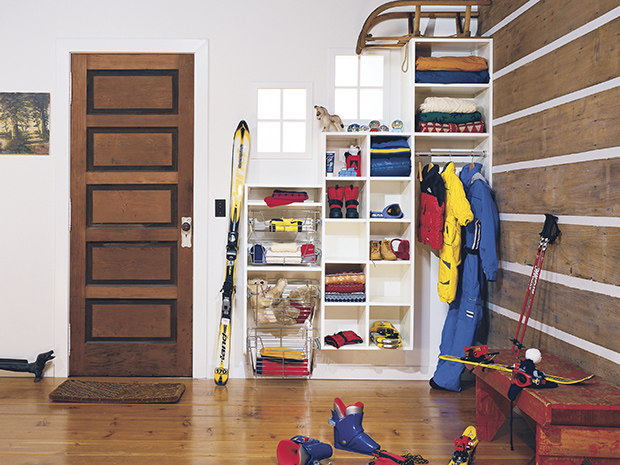 A great way to store outdoor gear is right when you walk in the door with a mudroom. Well-designed hanging space, shelving, hardware and sitting areas create organization and efficiency—without sacrificing style – in a transitional area of the home. Keep gloves, shoes, purses and keys in their designated space so you save time and stress searching for them before having to be somewhere.
Laundry Room Storage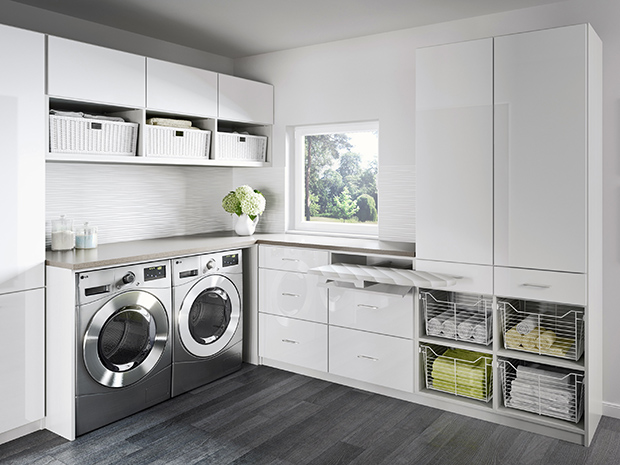 To keep a better-organized laundry room and extra space to store household items, a custom cabinetry system can be put into place to keep everything tidy. Baskets and bins make sorting laundry easy, cabinets and shelves store detergents, cleaning supplies or other items for the home, pullout racks for linens and vertical shelf dividers for mops, brooms and cleaning supplies organize often-used items and doors and drawers provide concealed storage to things you don't want shown.
Kitchen Pantry System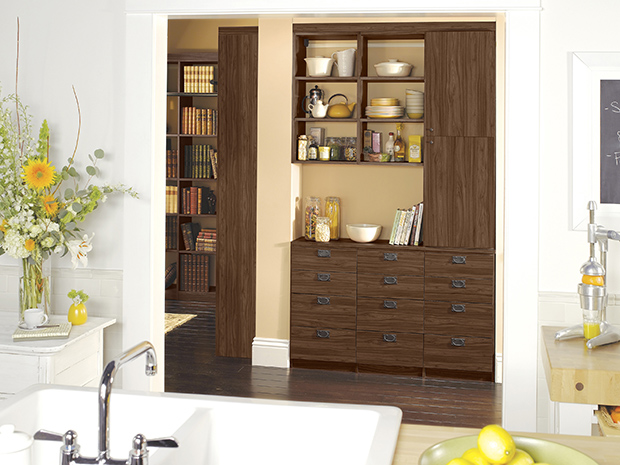 If most of your storage involves things around your kitchen, a custom pantry system is a great way to organize your pots, pans, ingredients, wine and more. Shelving, drawers, and baskets combine to accommodate specific needs and uses, ensuring accessibility and order in a space where items are continually removed and replaced. Sliding storage shelves allow for easy access to canned goods, while vertical shelf dividers organize everything beautifully. Pantry drawers are spaced further apart, providing a better view of their contents. Drawers conceal utensils and cooking equipment, as well as snacks to make provisions easily accessible for children.
Get started today by scheduling your complimentary in-home expert design consultation to discuss your unique budget and goals. Featured on Houzz, California Closets has been transforming homes across the country for nearly four decades.