Are you dreading organizing your closet? Fear not – the California Closets Inland Empire team consolidated organizing your closet into three simple steps, so that it not only gets your closet organized, it stays that way. Enjoy a more organized, stylish and beautiful closet here in Inland Empire, Rancho Mirage, Red Mountain, March AFB, Murrieta, North Palm Springs, Palm Desert, Ontario, Lytle Creek, Lucerne Valley, Indio, Joshua Tree, Hemet, Hesperia, Highland and Forest Falls.
Get Rid of Everything You Don't Need
First things first—conduct a closet purge every season. Go through absolutely every single piece of clothing item, shoe, sock, letter and more and ask yourself if you still use it frequently. If not, donate it or get rid of it – you'll feel much better afterward and your closet will be much more clutter-free.
Add in the Accessories
The details of organization lie in the accessories. Shoe storage, drawer and shelf dividers, jewelry drawer dividers, pullout baskets and hampers, poles, racks and hooks work together to better organize your space, so that you actually have a permanent home for all of your items, no matter what.
Add the Finishing Touches
Whether you decide to invest in custom cabinetry or closet doors, adding in that finishing touch item will greatly elevate your closet to a place you'll want to spend time. Sliding doors, cabinetry, or even a fresh coat of paint can do your closet wonders. A giant mirror to expand small spaces, bench seating or even glass shoe storage will instantly add luxury to your closet. LED lighting will greatly enhance the dramatics of your space.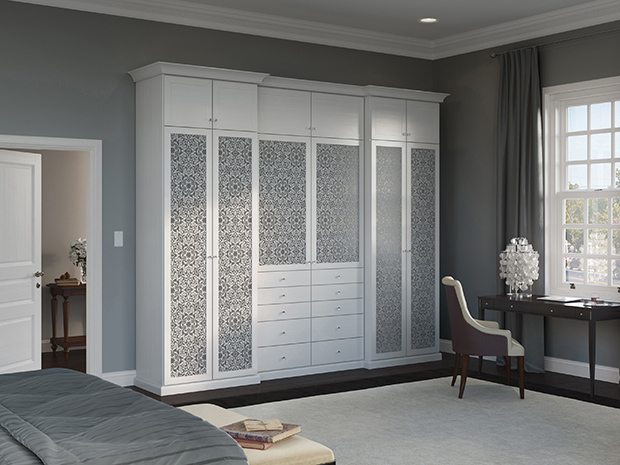 Get started today on your closet organization project by contacting the California Closets Inland Empire team. You'll receive a complimentary in-home expert design consultation to discuss your unique budget and goals. Featured on Houzz, California Closets has been the leader in storage and closet design for nearly four decades.