There's a belief that if you clean and organize your external world, your inner world will change – and vice versa. When it comes to the home, organizing your closet especially is essential. Your closet holds your favorite clothing and accessories and the items that express who you are. To achieve this optimal organization, it's best to design a custom closet that works for your home here in Ft. Worth, Tarrant County, Trophy Club, Southlake, Richland Hills, N. Richland Hills, Lewisville and Mansfield.
IT STARTS WITH THE DESIGN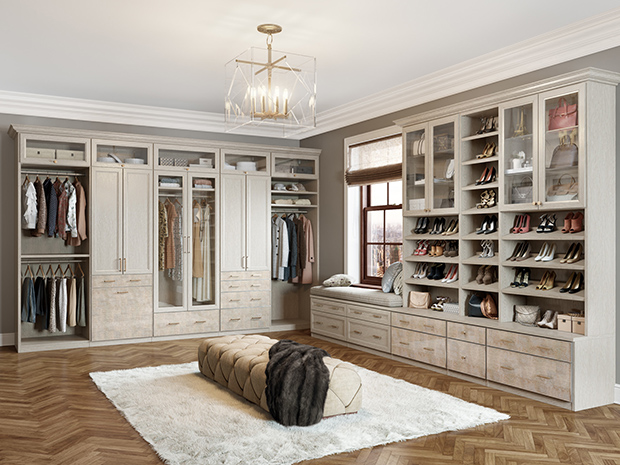 Innovative custom designs are the key to creating your optimal closet. Accessories, finishes and lighting will take your closet to the next level or organization and style, and will take your closet to the next level no matter your needs, style and budget.
A custom organization solution for your walk-in closet amplifies usable space, taking advantage of every square foot while showcasing personal style.
A reach-in closet system allows you to increase the use of a small space and make adjustments based on evolving needs.
A sophisticated and functional wardrobe provides a closet system wherever you need it, organizing belongings behind closed doors.
A kid's bedroom system includes adaptable closet organizers to grow with your child.
Specialized racks and other clever accessories provide further utility and efficiency.
Once your design is put in place (or a closet system ), accessories such as shoe storage, pullout racks and hampers, multiple hanging areas, drawer dividers and more will truly give your closet the much-deserved functionality it needs in order to have an orderly space that sticks. For a luxurious walk-in closet, LED lighting, bench seating and more can be utilized to elevate the space and make it look like a high-end boutique.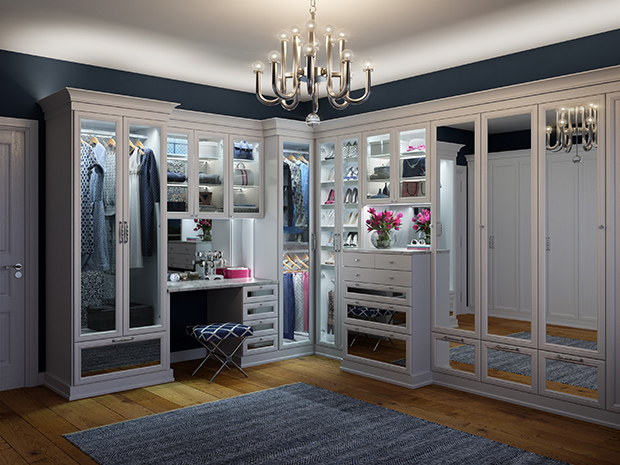 Below are just a couple of examples of what your custom closet can look like.
SOHO BUILT-IN WARDROBE
Clean lines and a plethora of behind-closed-doors storage areas create a centerpiece that's both minimalist and timeless.
Lago® Roman Walnut finish create seamless, minimalistic look.
Tesoro™ Linen inset accents offer contrast and a light touch.
Roman Walnut slab door and drawer fronts create a sleek aesethetic.
Brushed Nickel decorative door hardware adds polish.
Wardrobe provides deep concealed storage.
Insert countertop area offers a place to display collectibles.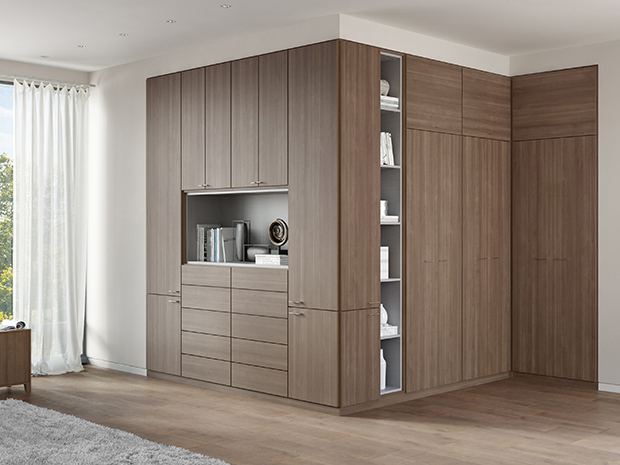 SOPHISTICATED COUPLE'S WALK-IN CLOSET
Classic finishes and subtle details create a large walk in closet that is refined and luxurious but also warm and inviting.
Lago® Sorrento finish with Tesoro™Corsican Weave accents.
LED lighting illuminates the space with toe kick lights, wardrobe lights, shelf lights and cubby lights.
Backpainted glass waterfall countertop in Bronze Gloss.
5-part Modern Miter doors with clear glass
Aluminum Frame doors with Oil-rubbed Bronze finish and Bronze Gloss backpainted glass
Modern Bronze hardware
Traditional crown molding, fascia and vertical trim add substance to the design
Angled shoe shelves with Oil-rubbed bronze fences
To create your own custom closet, contact the California Closets Ft. Worth team. You'll receive a complimentary expert design consultation to go over your space, budget and needs. Featured on Houzz, California Closets has been transforming homes across the country for nearly four decades.