Oftentimes the toughest part of the home to organize is the closet. There's simply not enough space to put everything. The design experts at California Closetshave put together five tips to improve your closet's organization for homeowners in Boulder, Metro Denver, Castle Rock, Colorado Springs, Pueblo or Ft. Collins.
First and foremost, you need to clear out the excess clutter in your closet. Comb through every single article of clothing and accessory and ask yourself: 'Do I wear or use this?' If not, donate or get rid of it – it's simply taking up precious space in your closet. You'll be amazed how much better you'll feel after this 'closet purge' is complete.
No matter if your closet organization project is for your bedroom closet or your garage closet, you have to come up with a system. A closet system creates a highly organized and well-designed storage area in any room of the home with features such as hanging rods, a pantry system, a Murphy bed system or cabinet system. Think of the closet system as the foundation to the home, and what comes next lies in the details.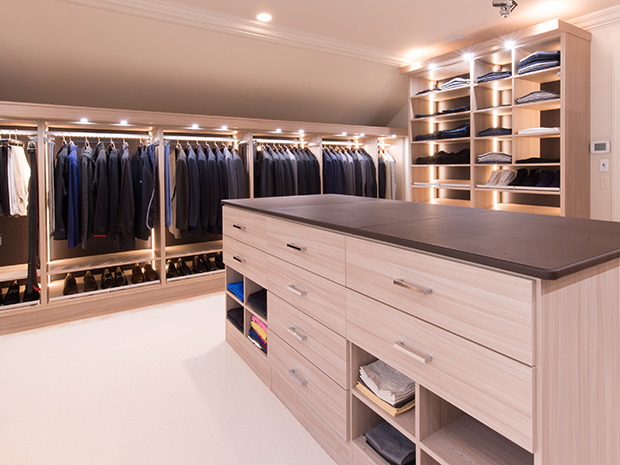 Tip 3: Add in the Accessories
Once your foundation is laid in your closet, now is time to fill it up with space-saving closet accessories. From drawers to specialty racks, closet poles to hampers, an array of accessories work together to meet the most unique storage needs. Accessories include:
Shoe Storage
Drawer and Shelf Dividers
Jewelry Drawer Dividers
Hooks and Poles
Pullout Accessories and Racks
Hampers and Baskets
Once the accessories are chosen, it's time to choose the materials, finishes and more to create a look you'll love. If you love your closet – you'll more want to keep it clean and organized.
The Tesoro™ Collection is imported from Italy and with a unique play of rich wood textures, classic textile patterns, and intriguing color contrasts, it evokes stunning dynamics of the fashion industry.
The Lago® Collection is defined by its rich Italian-inspired finishes and unique wood grains, as well as its exceptional craftsmanship. The unique grain texture and colors provide the look, feel and quality of real wood veneer.
The versatile Classic Collection can be used as the base for an entire system or layered in as a complementary color or design accent. Its color palette was chosen to balance and harmonize with other material finishes as well as a range of decorative styles.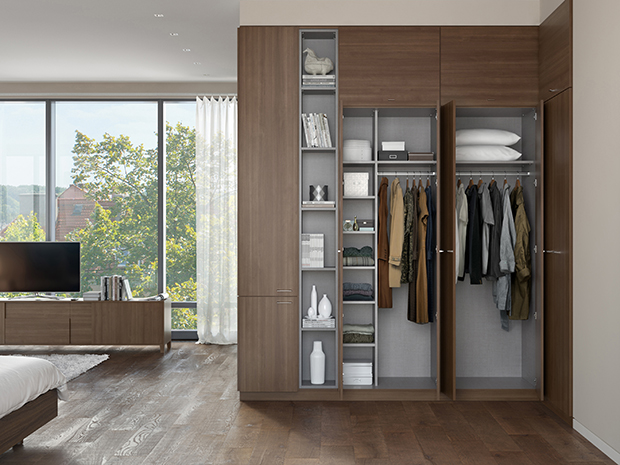 All materials are California Air Resources Board (CARB) compliant and eco-friendly. Additions such as leather doors, LED lighting and bench seating elevate your closet to make it somewhere you truly want to stay awhile.
Tip 5: Enlist the Help of the Professionals
You can't expect to do this all yourself! Leave it to the design experts at California Closets Boulder. They've been in the closet, storage and design industry for nearly four decades. Designers work with all clients one-on-one, to ensure all needs are met based on budget, style and more. Every client gets an expert design consultation that's in-home. Get your closet organized for good with the leading designers in the industry.