San Jose Walk In Closet
YOUR DREAM WALK IN CLOSET
Have you ever dreamed of having a luxurious, custom-made walk in closet? Make that dream a reality with the help of California Closets San Jose. We'll sit down with you one-on-one to discuss your budget, size dimensions, style and goals. From there, we work diligently to get the best materials to build your dream closet.
---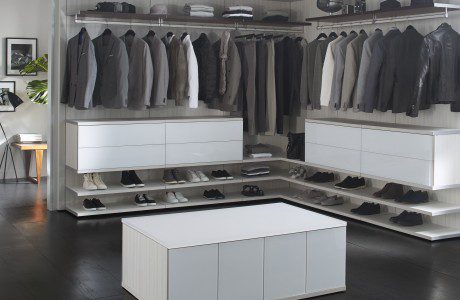 WALK IN CLOSET ACCESSORIES
Listed below are a few of the more popular items people choose to include in a closet remodel:

- A center island: This luxurious statement is also functional: it doubles as a storage solution and a place to sit while getting ready in the morning.
- Custom lighting: We do spotlighting over your favorite accessories (looking like a store display), as well as added lighting to find everything you need.
- Space savers: Built-in shoe racks, adjustable shelves, and belt, tie, and valet rods allow for additional space-saving solutions.

What are you waiting for? Schedule your complimentary in-home design consultation in San Jose today.
---
Your new closet starts with a
— complimentary design consultation —