Sacramento Closet Systems
YOUR DREAM CLOSET
Do you ever see a perfectly organized closet on blogs or magazines and wonder: can I ever get something like that? At California Closets of Sacramento, you can. With nearly four decades in the industry, the experts in closet and storage design know how to make any closet beautiful and functional. Our closet systems are the first step to achieving this goal.
---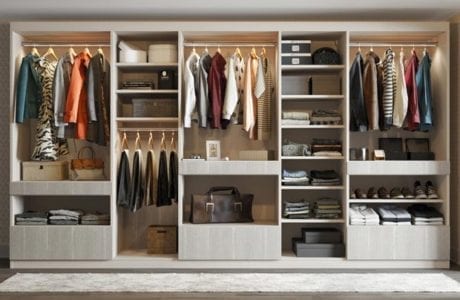 CLOSET SYSTEM FAQ's
What exactly is a closet system?
To put it simply, a closet system is an organizational layout for storage in every room of your home. From your kitchen or bedroom to the attic or basement, we offer custom-designed closet systems for spaces of all sizes.

What types of options can I have for my closet system?
Our experienced team can design and recommend all sorts of organizational aids for improved storage potential. These include wall hangings, closed drawers, cabinets, shelving and more.

Do I need to have lots of closet space for the best results?
If you don't have a lot of closet space to work with, don't worry. We'll provide you with a variety of options to maximize every last inch of your square footage.

Can I create a closet system for my kitchen, pantry, or other room?
Yes! We'll give you a customized closet system for any storage area in your home. We work with customers individually, so you can be sure that your solution will be perfectly matched to your exact specifications.

Schedule your complimentary in-home design consultation today.
---
Your new closet starts with a
— complimentary design consultation —